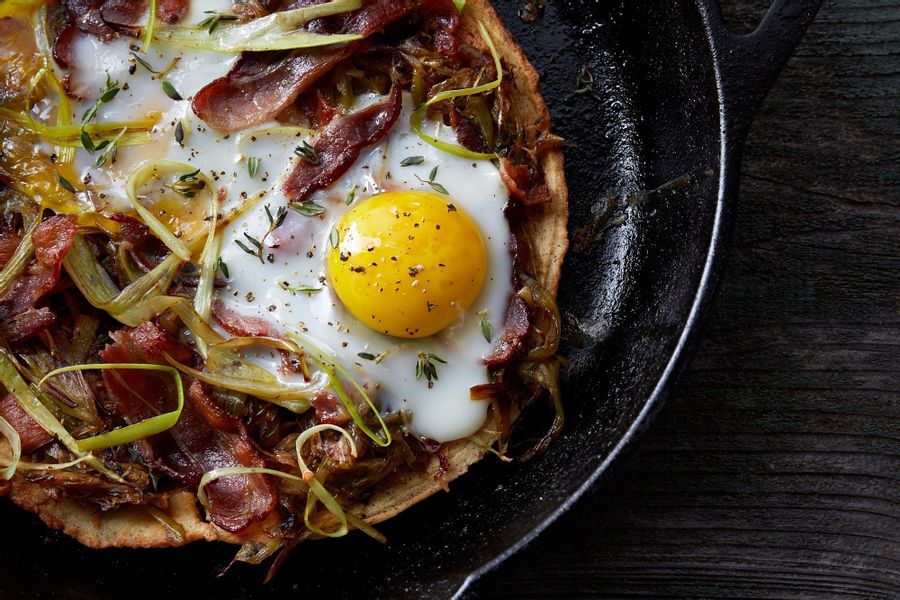 Paleo bacon, egg and leek pizza
Paleo
Gluten free
Vegetarian
Dairy free
Soy free
Nut free
The crust for this delicious breakfast pizza is made of eggs and coconut flour and is more like a crepe than a traditional pizza base.
Ingredients
2 medium leeks
2 thyme sprigs
4 bacon strips
¼ teaspoons red-pepper flakes
5 eggs
2 tablespoons coconut flour - sifted
¼ teaspoon salt
3 tablespoons olive oil
Pinch freshly ground black pepper
Instructions
1
Cook the bacon and leeks
Heat the oven to 350°F.
Slice the leeks in half lengthwise, and then cut into half moons.
Strip the thyme leaves from the stems and chop the leaves.
In a frying pan over medium heat, cook the bacon until the fat has rendered and the bacon is crisp, 5 to 7 minutes.
Transfer the bacon to a paper-toweled-lined plate to cool, but leave the bacon grease in the pan. Reduce the heat to medium-low. Add the leeks, thyme, and red pepper flakes, to the pan and season with salt, and cook until the leeks are tender and just beginning to caramelize, 8 to 10 minutes. Transfer to the plate with the bacon.
2
Make the pizza crust
In a mixing bowl, whisk together 2 eggs and 1 egg white until opaque and fluffy. Sift in the coconut flour and salt, and whisk until smooth.
In the same pan over medium heat, warm 1 tablespoon oil until hot but now smoking. Pour the batter into the pan. Cover and cook until bubbles start to appear on top of the batter, 3 to 4 minutes. Flip and cook until set, 1 to 2 minutes.
3
Assemble the pizza
Once the bacon has cooled, chop into bite-sized pieces. Scatter the leeks and bacon over the pizza crust. Crack the remaining 2 eggs directly on top of the crust and transfer the pan to the oven. Cook until the whites are set but the yolks are still runny, 5 to 7 minutes.
4
Serve
Carefully remove the pan from the oven. Season with salt and pepper, slice, and serve.
---
Nutrition per serving: Calories: 660 Protein: 25 grams, %DV Protein (50 grams): 50%, Total Fat: 58 grams, 17 grams Cholesterol: 595 mg, Sugar: 4 grams, 0 grams Sodium: 850 mg, Carbs: 18 grams, Fiber: 3 grams, % DV 25 grams (Fiber): 12%