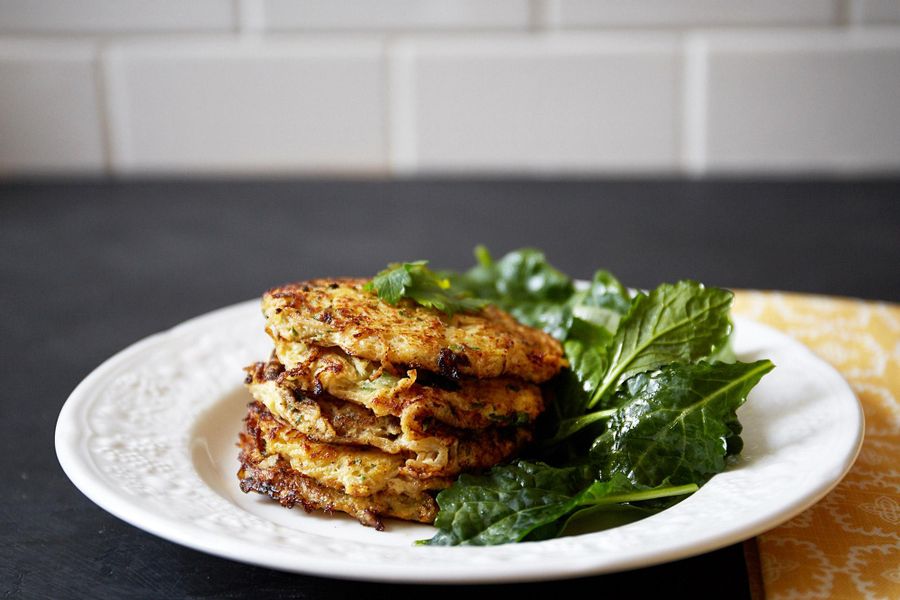 Paleo savory spaghetti squash pancakes
Paleo
Gluten Free
Dairy Free
Vegetarian
Soy Free
Nut free
These garlicky grain-free fritters rely only on cooked spaghetti squash and eggs to stay together. Cooking the garlic briefly in a little oil tames its bite, while a heaping half cup of fresh parsley adds most of the flavor.
Ingredients
One 16-ounce spaghetti squash
Fresh parsley
2 eggs
Kosher salt
Freshly ground black pepper
2 tablespoons olive oil
2 to 3 large garlic cloves
Instructions
1
Bake the spaghetti squash
Heat the oven to 400°F.
On a sheet pan, bake the spaghetti squash in the hot oven until tender when pierced with a fork, 30 to 35 minutes. Remove from the oven and let cool.
Halve the squash lengthwise. Remove and discard the seeds.
With a fork, scrape out the flesh. You should have about 2 cups cooked squash.
While the squash cooks, prepare the other ingredients.
2
Prep the remaining ingredients
Finely chop the garlic.
Finely chop the parsley.
Beat the eggs.
3
Make the batter and cook the garlic
In a mixing bowl, combine the squash, parsley, and eggs. Season with salt and pepper. In a frying pan over medium heat, warm 1 tablespoon oil until hot but not smoking. Cook the garlic until fragrant, 30 seconds to 1 minute. Let the garlic cool and then stir into the squash batter.
4
Form and cook the pancakes
With your hands, form the batter into ½-inch-thick pancakes and squeeze out any remaining liquid. In the same pan over medium heat, warm the remaining oil until hot but not smoking. Cook the pancakes, flipping once, until crisp and heated through, 2 to 3 minutes each side.
5
Serve
Transfer to individual plates and serve.
---
Nutrition per serving: Calories: 250, Protein: 9 grams, %DV Protein (50 grams): 36%, Total Fat: 20 grams, Saturated Fat: 3.5 grams, Cholesterol: 225 mg, Sugar: 5 grams, Added Sugar: 0 grams, Sodium: 360 mg, Carbs: 15 grams, Fiber: 3 grams, % DV 25 grams (Fiber): 12%