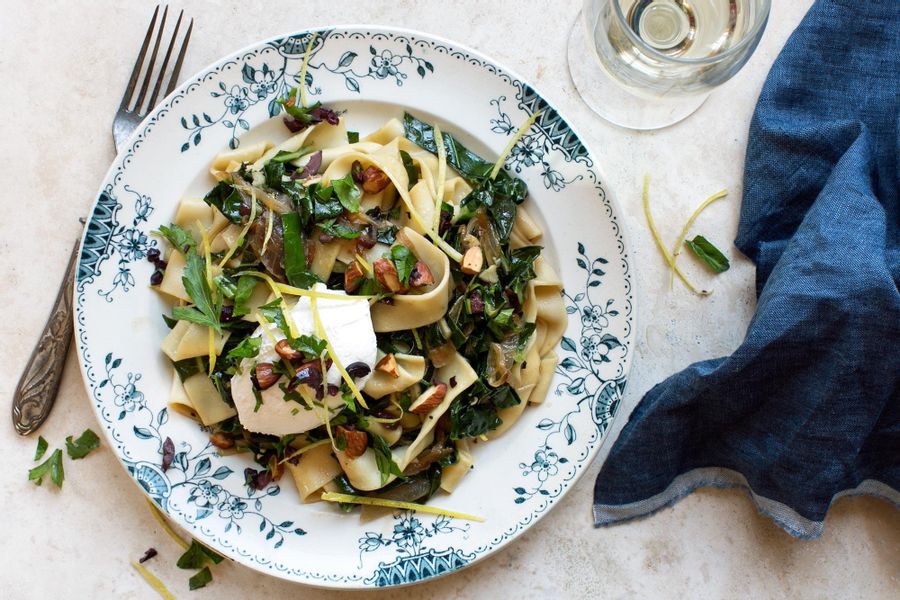 Pappardelle and collard greens with almond-olive relish
In the South, collards are often cooked for hours, usually with a bit of pork. In this recipe, Chef Justine tosses them with egg noodles and tops the dish with an elegant almond-olive relish. The greens are rich in vitamins A and C, B2 and B6, and a good source of manganese, folate, fiber, calcium and potassium. Their sulfur-containing phytonutrients are believed to have antioxidant properties.
Ingredients
5 ounces pappardelle
1 red onion
1-2 garlic cloves
½ pound collard greens
2 sprigs thyme
1 ½ ounces Kalamata olives
Fresh flat leaf parsley
1 ½ ounces almonds
1 lemon
4 ounces cup ricotta
Instructions
1
Cook the pappardelle
In a sauce pot over high heat, bring 3 quarts of heavily salted water to boil. Cook the pappardelle until tender, 4 to 6 minutes. Drain the pasta, reserving 1 cup of the cooking water. Prepare the remaining ingredients while waiting for the water to boil.
2
Prep the onion, garlic and collard greens
Peel and thinly slice the onion.
Cut the garlic into thin slices.
Rinse and coarsely chop collard greens.
3
Cook the collard greens
In a frying pan over medium heat, warm 1 tablespoon oil until hot but not smoking. Add the onions, season with salt, and cook until tender and just caramelized, 8 to 10 minutes. Add the garlic and thyme sprigs cook until fragrant, about 1 minute. Add the collards and 1 cup of the reserved pappardelle cooking water. Bring to a boil, then reduce to a simmer. Cook until the collards turn bright green and are just tender, 5 to 7 minutes. Add the pasta and toss until combined, 2 to 3 minutes. Season with salt and pepper and remove from the heat. Meanwhile, make the relish.
4
Make the relish
Coarsely chop the olives.
Coarsely chop parsley leaves.
Coarsely chop almonds.
Zest lemon, cut the fruit into wedges.
In a small bowl, combine the olives, parsley, almonds and lemon zest. Season with salt and pepper and mix to combine.
5
Serve
Divide the pasta and collard greens evenly between two bowls. Top with the ricotta and olive-almond relish. Serve with the lemon wedges.
---
Nutrition per serving: Calories: 680, Protein: 26 g, Total Fat: 32 g, Monounsaturated Fat: 11 g, Polyunsaturated Fat: 2.5 g, Saturated Fat: 6 g, Cholesterol: 90 mg, Carbohydrates: 90 g, Fiber: 11 g, Added Sugar: 0 g, Sodium: 950 mg