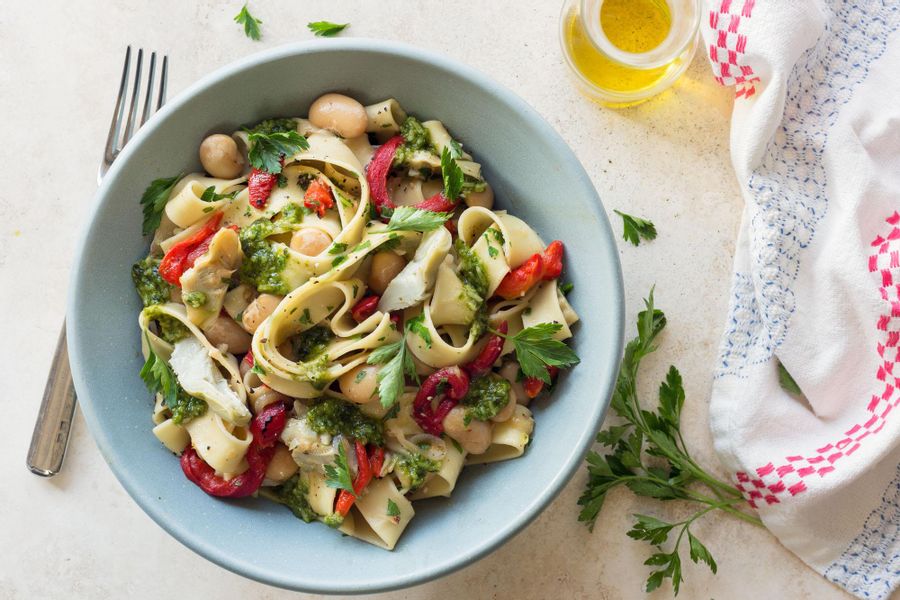 Pappardelle with artichokes, butter beans, and basil pistou
Pistou is France's answer to Italian pesto. The ingredients—basil, garlic, and Parmesan—are similar, though pistou doesn't usually include nuts, and the flavor is equally wonderful.
Ingredients
5 ounces pappardelle
1 to 2 shallots
2 to 3 garlic cloves
3 ounces roasted red peppers
1 lemon
Fresh flat-leaf parsley
1 cup butter beans
¾ cup marinated artichoke hearts
Pistou (basil leaves - Parmesan - garlic - salt - oil)
Instructions
1
Cook the pappardelle
Bring a pot of salted water to a boil.
Add the pappardelle to the boiling water and cook until al dente, 10 to 12 minutes. Drain the pasta and reserve 1 ½ cups of the cooking water. While the pasta is cooking, prepare the vegetables.
2
Prep the vegetables
Peel and slice the shallot.
Finely chop the garlic.
Slice the roasted red peppers into ¼-inch-thick strips.
Zest the lemon, then cut into wedges.
Coarsely chop the leaves from the parsley.
3
Cook the vegetables
In a pan over medium-high heat, warm 1 to 2 teaspoons oil until hot but not smoking. Add the shallots, season with salt, and cook until softened, and just starting to caramelize, 2 to 3 minutes.
Add the garlic and cook until fragrant, about 30 seconds. Add the butter beans, artichoke hearts, peppers, and 1 cup of the pasta water. Bring to a boil, then lower the heat and simmer vigorously until the liquid has reduced by half. Stir in the remaining ½ cup pasta water. Add the drained pasta to the pan, and cook, stirring, until some of the liquid has absorbed, 1 to 2 minutes.
Remove from the heat, stir in the lemon zest and parsley, and season with salt and pepper to taste.
4
Serve
Transfer the pasta to individual bowls. Garnish with the pistou, and serve with the lemon wedges on the side.
---
Nutrition per serving: Calories: 770 Protein: 22g Total Fat: 39g Monounsaturated Fat: 25g Polyunsaturated Fat: 3g Saturated Fat: 6g Cholesterol: 5mg Carbohydrates: 90g Fiber: 11g Added Sugar: 0g Sodium: 1340 mg