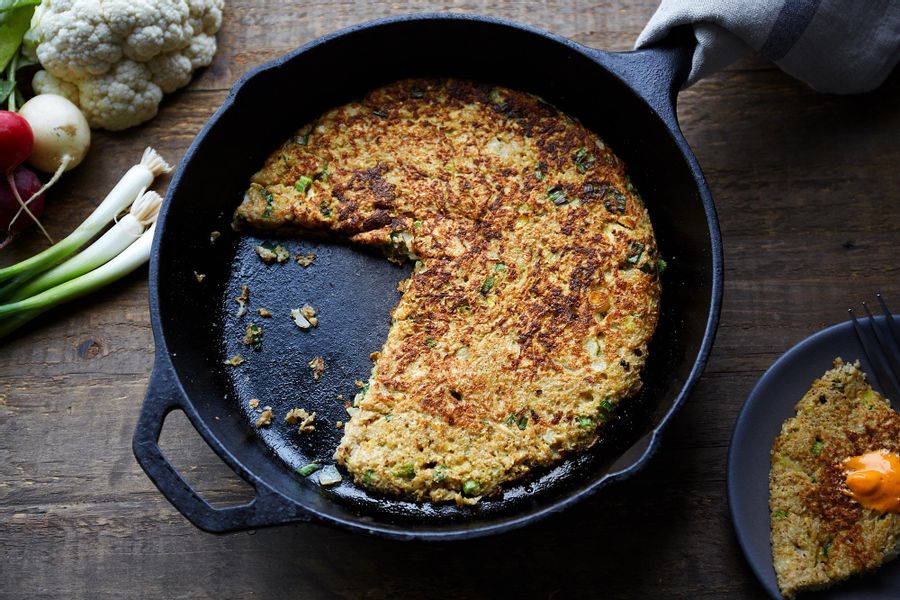 Scallion cauliflower paleo pancake
Paleo
Gluten Free
Vegetarian
Dairy Free
Soy Free
Nut Free
Watermelon radishes look quite ordinary until cut open to reveal their brilliant pink cores. Here, we rely on the radishes crisp texture and bright flavor to perk up these savory Chinese-style pancakes.
Ingredients
1 small head cauliflower
1 onion
1 small watermelon radish
4 scallions
2 eggs
1 teaspoon five-spice powder
2 tablespoons coconut oil
Kosher salt and freshly ground pepper
Instructions
1
Cook the cauliflower
Cut the cauliflower into florets. In a food processor, pulse until minced. (Alternatively, grate with a grater).
In a sauce pot, bring 1/4 cup of salted water to a boil over high heat. Add the cauliflower, cover, and remove from the heat. Let stand until the cauliflower is soft, i10 to 12 minutes. Drain. Wrap the cauliflower in cheesecloth or a kitchen towel and squeeze out any remaining water. Meanwhile, prepare the remaining ingredients.
2
Prep the pancake batter
Finely chop the onion and radish.
Chop the scallion into ¼-inch-thick slices.
Beat the eggs.
In a mixing bowl, combine the onion, radish, half the scallions, the eggs, cauliflower, and five-spice powder. Season with salt and pepper.
3
Cook the pancake
In a frying pan over medium heat, warm the coconut oil until hot but not smoking. Pour the egg mixture into the pan and use a spatula to spread it in an even layer. Cook until golden brown, 4 to 6 minutes. Flip the pancake and cook until set on the other side, 2 to 3 minutes.
4
Serve
Cut the pancake into wedges, garnish with the remaining scallion, and serve.
---
Nutrition per serving: Calories: 300, Protein: 14 grams, %DV Protein (50 grams): 28.%, Total Fat: 19 grams, Saturated Fat: 13 grams, Cholesterol: 225 mg, Sugar: 10 grams, Added Sugar: 0 grams, Sodium: 430 mg, Carbs: 25 grams, Fiber: 8 grams, % DV 25 grams (Fiber): 32%