The Very Best Way to Cook a Turkey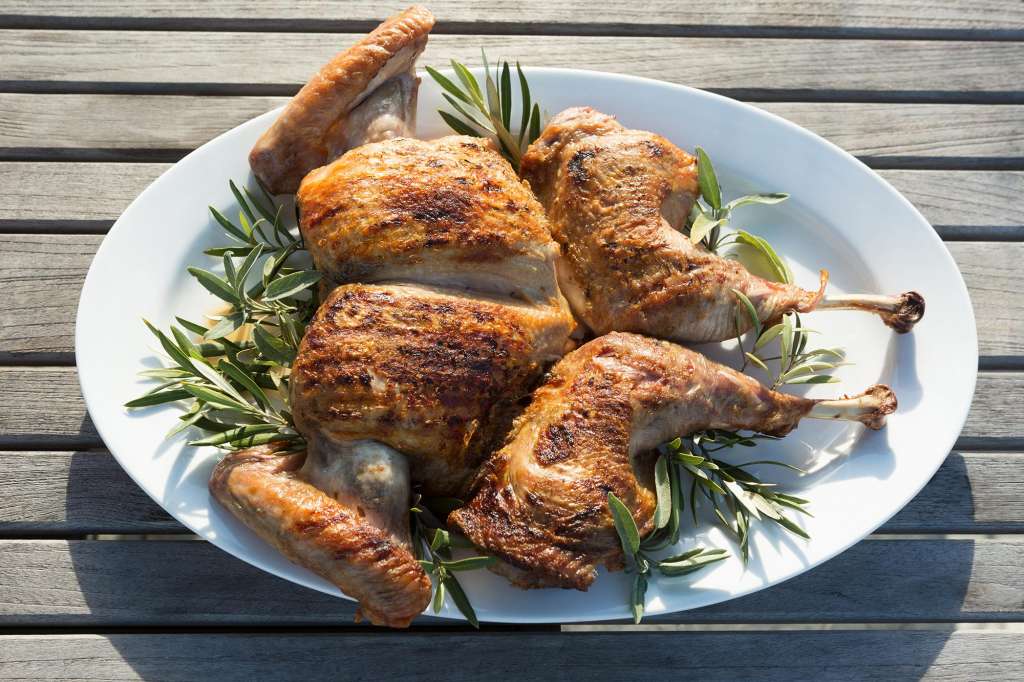 Our turkey recipe veers from tradition in several ways. First, we remove the backbone and spatchcock, or open, the turkey so that it lies flat. If you're feeling ambitious you can do this yourself, but an easier option is to get the butcher to do it instead. Spatchcocking has several advantages: the flattened bird will cook faster and more evenly, it will be easier to carve, and, because all the skin is on top, the meat beneath is juicier and there's more crisp skin in every bite.
But before grilling, treat the bird to a salt cure. This dries the skin, which helps it crisp, keeps the meat moist, and seasons the bird more deeply.
Serves 8 to 12 people
Ingredients 
One 12-to 16-pound organic turkey, giblets and backbone removed 
Kosher salt
Tools
Small bowl, roasting rack at least 15 3/4 x 12 x 3 inches, sheet pan, foil
1 Spatchcock the turkey
Remove the giblets and neckbone from the turkey cavity. Using sharp kitchen shears, cut out the backbone from the turkey. Set the turkey on a sheet pan, breast side up, and press down on the breastbone to flatten. Or have a butcher spatchcock the turkey for you.
2 Season the turkey
In a small bowl, measure out 1 teaspoon kosher salt for every pound of turkey. 
Place the turkey skin side up on rack set on a sheet pan. Using your hands, gently separate the skin from the breast and leg meat, careful not to tear the skin. Season the turkey all over with the kosher salt, including under the skin. Refrigerate, uncovered, for 48 hours. 
3 Cook the turkey
Heat a gas or charcoal fire to medium-high and clean and oil the grill rack. Set the turkey on the grill rack breast side up, cover the grill, and cook over medium-high heat until an instant-read thermometer inserted into the thickest part of the breast registers 150°F and the thighs register at least 165°F, 60 to 90 minutes. 
4 Serve the turkey
Use 2 large spatulas to transfer the turkey from the grill to a clean sheet pan or serving platter. Cover loosely with foil and let rest at room temperature for at least 20 minutes before serving. Taste any juices that accumulate and if they're not too salty, whisk them into your gravy. 
Nutrition per serving: Calories: 160, Protein: 32g (64% DV), Fiber: 0g (0% DV), Total Fat: 2.5g (4% DV), Monounsaturated Fat: 0.5g, Polyunsaturated Fat: 0.5g, Saturated Fat: 0.5g (3% DV), Cholesterol: 95mg (32% DV), Sodium: 920mg (38% DV), Carbohydrates: 0g (0% DV), Total Sugars: 0g, Added Sugars: 0g (0% DV). Not a significant source of trans fat.
Bonus recipe—ingredients not included in box.