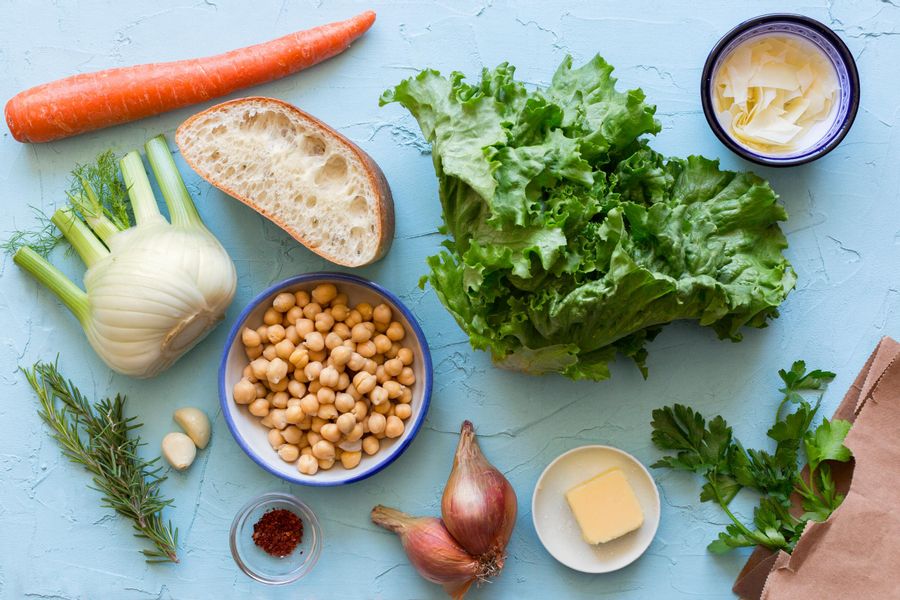 Share
Turn our Sicilian Chickpea and Escarole Soup into a Panzanella
We're proud of all our Sun Basket recipes, but we do love it when our cooks improvise with the meals we send and turn them into something completely different. This week, our chef Paul Conte suggested that the ingredients for our Sicilian Chickpea and Escarole Soup could easily be turned into a panzanella, a traditional Tuscan bread salad. Here's how he did it.
From your basket
1 ciabatta
Fresh rosemary
Peeled fresh garlic
¼ teaspoon piment d'Espelette, optional
2 tablespoons unsalted butter
1 or 2 shallots
1 fennel bulb
1 carrot
1 cup cooked chickpeas
Fresh flat-leaf parsley
1 wedge escarole
¼ cup shaved Parmesan
From your pantry
Kosher salt, freshly ground black pepper, olive oil, 2 tablespoons fresh lemon juice or vinegar, preferably sherry or white wine, optional
Tools
Peeler, optional, garlic press or fine-toothed grater, optional, mandolin, optional, colander, small bowl, large bowl, large frying pan, sheet pan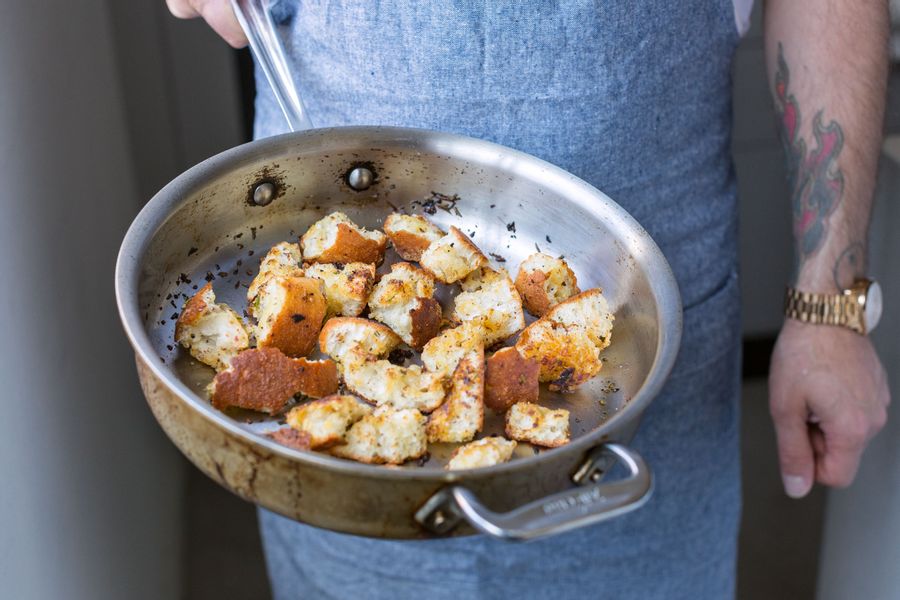 1 Prep and toast the ciabatta
• Tear the ciabatta into 1-inch pieces.
• Strip the leaves from the rosemary; coarsely chop the leaves.
• Finely chop, press, or grate enough garlic to measure 1 teaspoon.
In a large bowl, combine the ciabatta, rosemary, garlic, and piment d'Espelette. Drizzle with 1 to 2 teaspoons oil; season with salt and pepper, and toss to coat.
In a large frying pan, melt the butter over medium heat. Add the bread and cook, stirring occasionally, until golden brown, 3 to 5 minutes. Transfer to the large bowl and let cool slightly.
While the ciabatta crisps and cools, prep the remaining ingredients.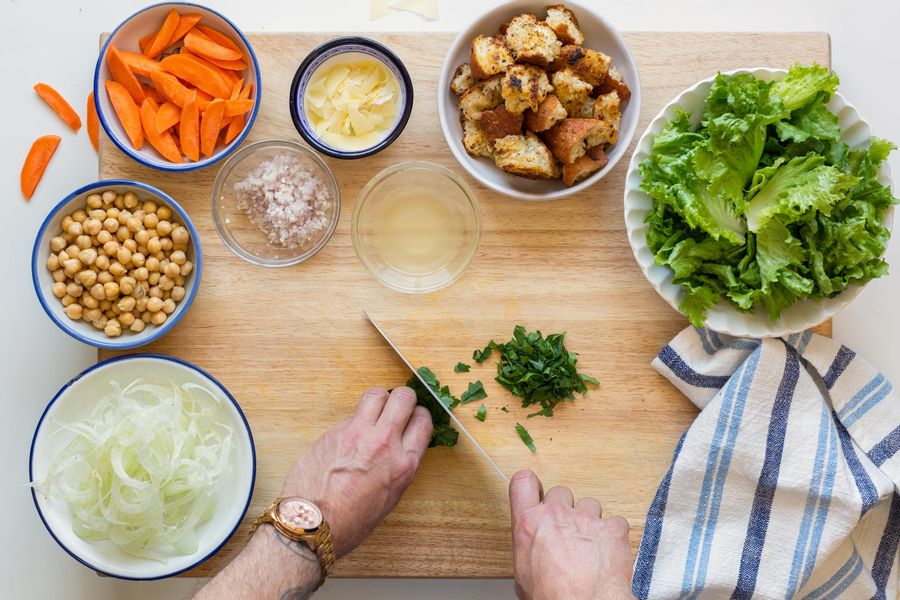 2 Prep the remaining ingredients
• Add lemon juice or vinegar, if using, to a small bowl.
• Peel and finely chop the shallots; add to the small bowl and let stand.
• Cut the fennel in half lengthwise, cut away the core, then thinly slice. Alternatively, using a mandolin, thinly slice the fennel.
• Scrub or peel the carrot, trim the root end; using a peeler, cut the carrot into thin strips or, with a knife, cut crosswise into ¼-inch-thick pieces.
• Rinse the chickpeas.
• Strip the parsley leaves from their stems, coarsely chop the leaves.
• Trim the root end from the escarole, separate the leaves and tear into smaller pieces.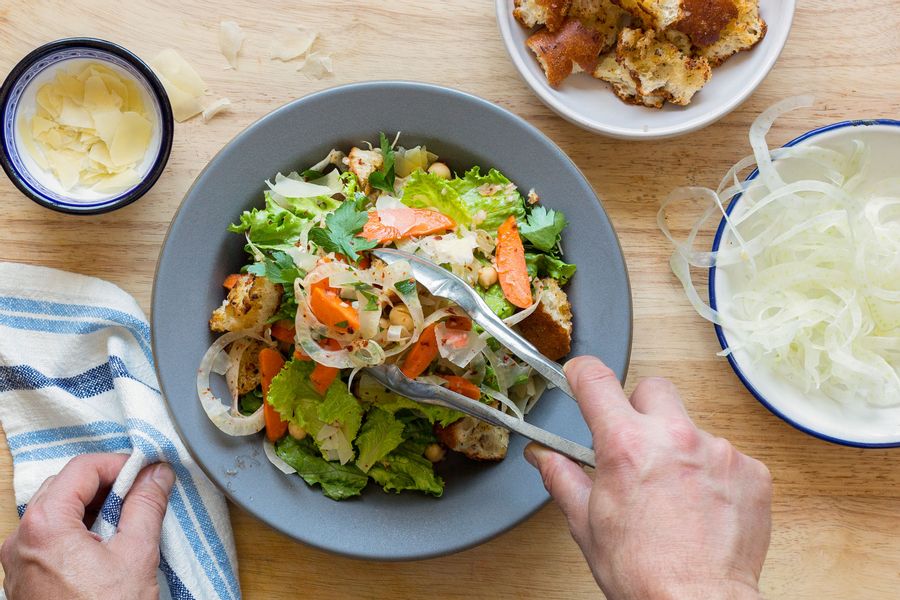 3 Make the salad
To the large bowl with the ciabatta, add the fennel, carrot, chickpeas, parsley, shallots and lemon juice or vinegar, if using, and the Parmesan; drizzle with oil, season with salt and pepper, and toss well to coat.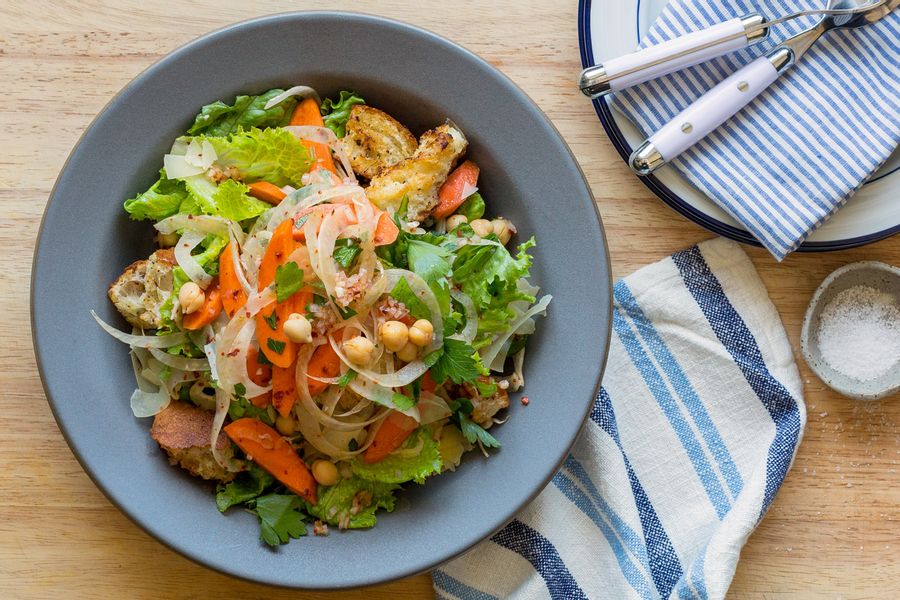 4 Serve
Transfer the salad to individual bowls and serve.