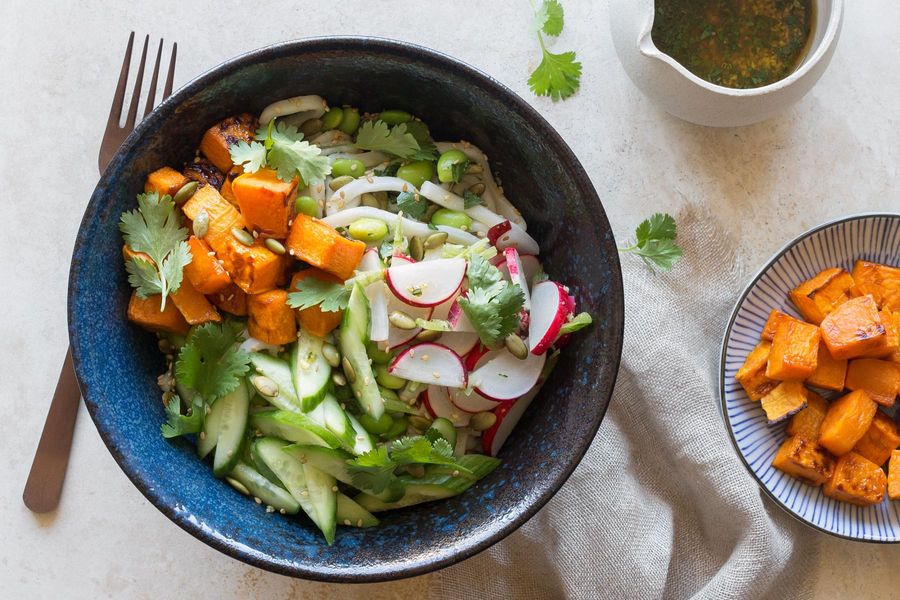 Tokyo udon noodle bowls with roasted butternut squash
Vegetarian, Dairy-Free
2 Servings, 780 Calories/Serving
25 – 35 Minutes
For this vegetable-packed, Japanese-inspired dinner, our blend of rice vinegar and brown sugar doubles as a base for the noodle dressing and a seasoning for the roasted butternut squash. The brown sugar brings out the natural sweetness of the squash. For a hit of spice, add a dash of your favorite hot sauce to the dressing before tossing it with the noodles.
In your bag
¾ pound chopped peeled butternut squash
Rice vinegar blend (rice vinegar - brown sugar)
¾ pound fresh udon noodles (contain wheat)
2 or 3 red radishes
Fresh ginger
1 or 2 Persian cucumbers
1 tablespoon sesame oil
1½ tablespoons sesame seeds
Fresh cilantro
3 tablespoons edamame
2 tablespoons roasted pumpkin seeds
Nutrition per serving
Instructions
1
Roast the squash
Heat the oven to 400ºF.
In a large bowl, combine the squash with the rice vinegar blend and 1 teaspoon oil. Season with salt and pepper and toss to coat. Using tongs or a slotted spoon, transfer the squash to a sheet pan and spread in an even layer. (Set aside the remaining rice vinegar dressing in the bowl for the salad.) Roast the squash, stirring halfway through, until tender and browned, 18 to 20 minutes.
While the squash roasts, prepare the udon noodles.
2
Cook the udon noodles
Bring a medium sauce pot of water to a boil. Add the udon and cook until tender, 2 to 3 minutes. Drain and rinse with cold water to stop the cooking.
While the water heats and the udon cooks, prepare the vegetables.
3
Prep the vegetables
Trim the ends from the radishes. Cut them in half, then cut the halves into thin half-moons.
Grate or peel and finely chop the ginger.
Trim the ends from the cucumbers; cut the cucumbers in half lengthwise, then thinly slice on the diagonal. Set the cucumbers aside.
To the bowl with the reserved rice vinegar dressing, stir in the radishes, ginger, and sesame oil.
4
Toast the sesame seeds
In a dry small frying pan over medium heat, toast the sesame seeds, stirring frequently, until lightly browned, 2 to 3 minutes. Transfer to a plate to cool.
5
Assemble the salad
Coarsely chop the cilantro.
To the bowl with the radishes, add the roasted squash, cucumbers, udon, cilantro, and edamame and toss well. Season to taste with salt.
6
Serve
Transfer the salad to individual bowls. Garnish with the sesame seeds and pumpkin seeds and serve.
---
Calories: 780, Protein: 25 g, Total Fat: 17 g, Monounsaturated Fat: 6 g, Polyunsaturated Fat: 6 g, Saturated Fat: 2.5 g, Cholesterol: 10 mg, Carbohydrates: 131 g, Fiber: 6 g, Added Sugar (Brown Sugar): 7 g, Sodium: 1200 mg

Contains: soy, wheat