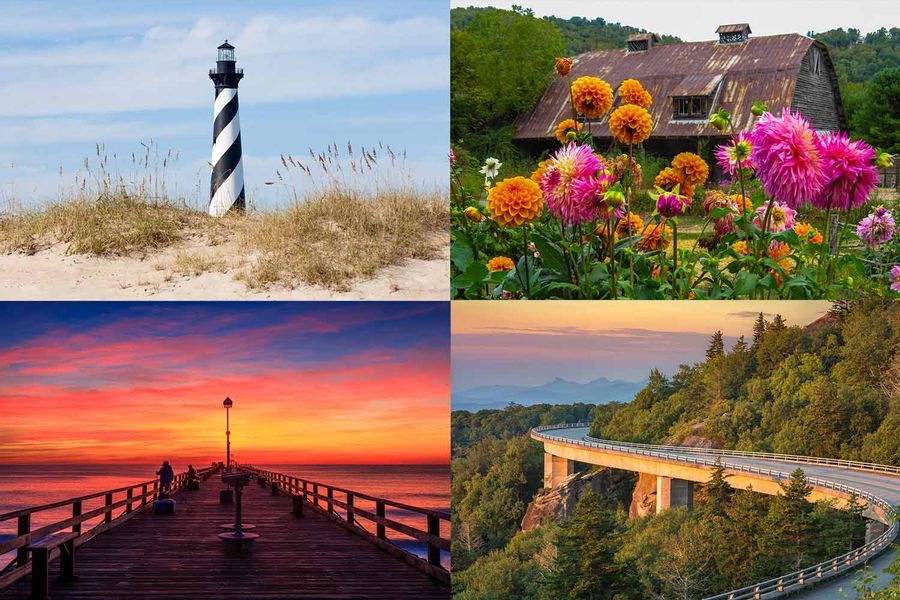 Fourth Stop—North Carolina.
East vs West: The Great Barbecue Battle
How you define North Carolina-style barbecue depends on where you're from. The one thing that's not up for debate is that pork is the indisputable king of 'cue. But the cut of meat, how it's cooked, and what goes in the sauce are hotly contested from one side of the state to the other. Which one is the true North-Carolina-style barbecue? We're staying out of that fight. In the meantime, we encourage you to follow your barbecue-loving heart and make your own decision.
In Lexington County in the western part of the state, you'll find "Piedmont-style" barbecue made from wood-smoked pork shoulder with a ketchup and vinegar-based sauce. One of the best places to find the authentic Piedmont-style is at Lexington Barbecue (100 Smokehouse Lane, Lexington, NC 27295) where the pork shoulder is smoked over oak for 12 hours.
In the eastern region of North Carolina, whole hogs are cooked over wood and charcoal, then the meat is chopped and served with the crackling-crisp skin and a sauce of cider vinegar and chile flakes. You can watch it happen in the open kitchen at The Pit in Raleigh (328 W Davie St, Raleigh, NC 27601).
If you want to go deep into the state's barbecue tradition, strike out on the North Carolina Barbecue Historic Trail. Developed by the North Carolina Barbecue Society, this self-directed tour includes two dozen stops that have been chosen as "the best" to represent the styles of barbecue across the state. In order to qualify for the list, the pork must be cooked over charcoal or wood-burning pits, the pitmasters must make their own sauce, and the pit must be at least 15 years old. There can only be two pits per town on the list, which means that you can cross the state and find NCBS-approved barbecue just about anywhere. Hit up the recommended Richard's Bar-B-Q (522 N Main St, Salisbury, NC 28144) in Salisbury where they've been serving hand-chopped Eastern-style barbecue pork since 1935, and get a plate of Western-style pulled pork at Switzerland Café (9440 NC-226A, Marion, NC 28752) in Little Switzerland where the NCBS says the hickory-smoked pork is "as tender as a mother's love."