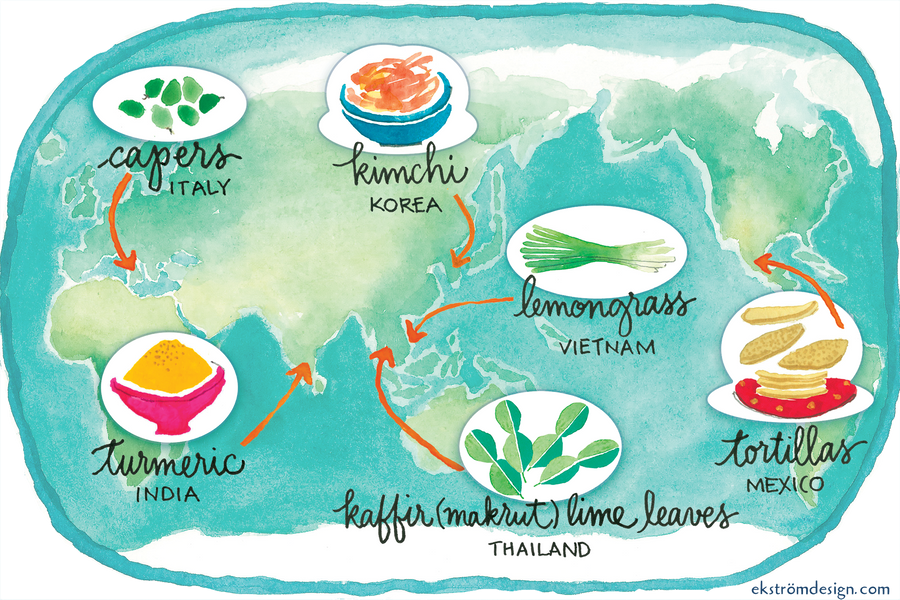 Celebrate the International Flavors of Sun Basket
Indian Turmeric
This brilliantly colored rhizome (that means it's a stem that grows underground) has a sweet, slightly bitter flavor that's unlike anything else. It's assertive without being overpowering, making its presence known without stealing the show. Nutritionists love to promote turmeric's anti-inflammatory properties, while cooks from Southeast Asia, to North Africa, Iran, and Britain love its intriguing floral flavor. Americans are most familiar with turmeric as a key ingredient in many Indian curries, including these Turkey Meatballs with Curried Cauliflower.
Korean Kimchi
Pungent and funky in the best possible way, kimchi delivers an umami-grenade of flavor to our Kimchi Fried Rice with Peas, Nori, and Eggs. Because it is in an active state of fermentation, kimchi's flavor continues to develop over time in the same way that cheese and wine do. It's also a superfood, loaded with antioxidants, vitamins A, B, and C and—most importantly—probiotic bacteria that promote a healthy gut.
Mexican Tortillas
America's second most popular bread was first made by the ancient Mayans. It's hard to imagine what Mexican food would be without tortillas. So many iconic dishes from tacos to tlayudas depend on them, including our Tex Mex Tostadas with Pickled Carrots and Avocado Crema.
Sicilian Capers
No ingredient says Sicily louder than the tiny caper. These bold buds take any dish straight to Southern Italy. To simply call them "salty" short-changes their floral, fruity flavor. They have far more depth than they often get credit for. Pair capers with lemon and you've got a classic piccata, the simple-to-make sauce that brings bold flavor to our Sole Piccata with Red Pepper Vinaigrette and Baby Broccoli.
Thai Kaffir (Makrut) Lime Leaves
Thick, two-tiered kaffir lime leaves have a sharp, citrusy aroma that's hard to define but unmistakable once you taste it. It's one of the defining flavors of Thai cuisine. Tear the leaves to release their essential oils, but don't try to eat them. Kaffir (makrut) limes are used to infuse a dish with their intriguing fragrance but are too tough to chew. Try them in our Thai Shrimp and Rice Noodle Soup.
Vietnamese Lemongrass
This tropical grass brings a citrusy flavor into soups (hello, pho), braises, and marinades. Vietnamese cooks pound the thick, bulbous stalk to unleash its fragrance. Here at Sun Basket, we blend it with ginger and garlic to make a potent paste to season the marinade for our Bahn Mi Chicken Salad.
Artwork by Ekström Design