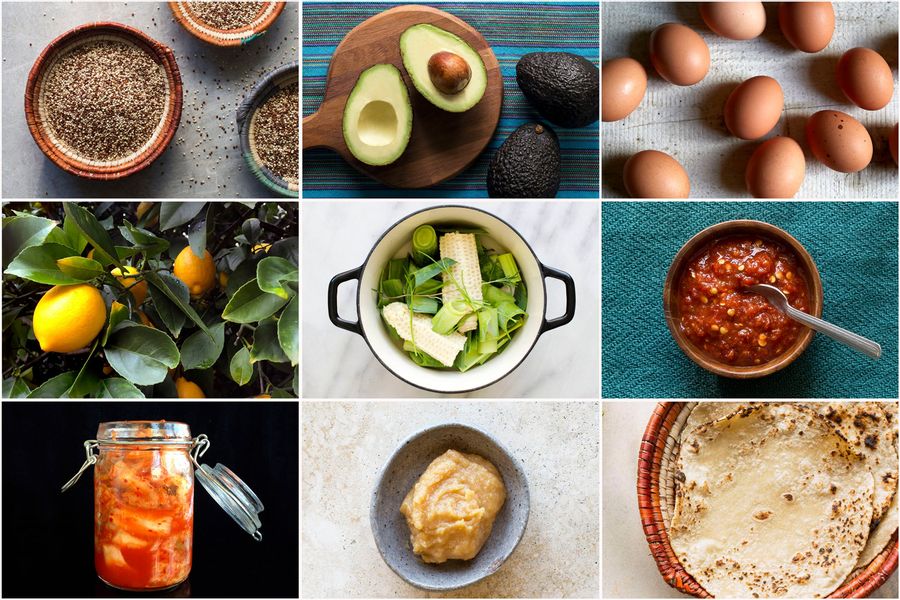 Pantry Essentials for Customizing Your Sun Basket Meals
A Sun Basket meal is more than just a great recipe. Think of it as a bag of groceries that you can use to make lots of different meals. The ingredients for a salad can become a taco, while stir-fry can be turned into a warming soup. We sat down with Executive Chef Justine Kelly and Executive R&D Chef Alan Li to get some suggestions on their favorite basket hacks. The two offered a list of 10 pantry ingredients for making any Sun Basket meal something new.
Chile sauce (Sambal Oelek or Sriracha). There's no chef's secret when it comes to hot sauce. It's just an easy way to add flavor and complexity to a simple meal.
Season eggs, soups, or tacos.
Add to mayonnaise or Greek yogurt for a slightly spicy dip.
Add a teaspoon to marinades, sauces, and salad dressings for a little kick.
Corn tortillas. With fresh tortillas on hand, you can make any night taco night.
This week, turn your Chorizo and Tomatillo Chili with Coconut and Lime into chilaquiles. Cut tortillas into triangles and lightly fry, cover with any leftover chili and top with fried eggs and you have a seriously crowd-pleasing breakfast.
Warm leftovers and toss with scrambled eggs, then wrap in warm tortillas for breakfast tacos. Or skip the eggs and make tacos or quesadillas with the remainder of last night's dinner.
Eggs. "Put an egg on it" are words we live by.
Grains, such as rice (jasmine, basmati, brown), millet, and barley; quinoa; and buckwheat. Grain bowls are trendy for a reason. Think of them as a blank canvas for whatever ingredients you have on hand.
Healthy fats and proteins (nuts, canned beans, frozen edamame, and lentils). Stretch leftovers from a Sun Basket meal by adding good-for-you fats and proteins that keep you feeling full longer.
Toss beans or lentils and toasted almonds with leftover chicken lettuce cups.
Fats and proteins add texture and variety to soups, salads, and vegetarian or vegan stews.
Long-lasting fresh ingredients (garlic, onions, shallots, ginger, lemons, and limes). Some of the simplest ingredients, like garlic and onion, can dramatically boost flavor in many dishes and will keep in the pantry for up to a month.
Ginger stays fresh for months in the freezer. Grate it and add it to soups, cooked greens, and salad dressings.
Keep a few lemons and limes in the crisper drawer to add a squeeze of lime to tacos or a bit of lemon zest to pasta dishes.
Rice noodles and/or rice paper. We love the flavors and versatility of Asian ingredients. Quick-cooking rice noodles and rice paper are a great way to stretch a stir-fry or turn dinner into an easy on-the-go lunch.
Umami ingredients (liquid aminos like coconut and Bragg's, miso, tomato paste, kimchi, Parmesan, and porcini powder). Umami is one of the essential tastes that form the foundation of flavor and is sometimes described as "meaty," which is why umami-rich ingredients are often used in vegetarian recipes.
Add a teaspoon of porcini powder to stews or Parmesan rind to soups.
Top a rice bowl with some funky kimchi.
Whisk miso into melted butter and toss the butter with roasted vegetables.
Vegetable or chicken broth. The obvious reason for keeping stock on hand is to turn meals into a soup or stew, but it's also a great substitute for water in many recipes.
Turn this week's Chicken and New Potato Lettuce Cups into a soup and side salad.
Cook rice and other grains in broth rather than water by swapping out the suggested amount of water for broth and you'll give your meal a boost of flavor.
Vinegars (sherry, rice, or white/red wine) and lemon juice. Acids, like citrus juice and vinegar, can go a long way in focusing the flavors in almost any dish.
Use sherry vinegar to brighten soups and stews.
Toss thinly sliced cucumbers in rice vinegar and sugar for quick pickles.
Add a splash of white wine vinegar to oven fries for a welcome salt-and-vinegar tang.
Tune in for our next episode of Facebook Live on Wednesday, September 20th where we hack a few meals using ingredients from Sun Basket's pantry with food content writer, Ashley Goldsmith.