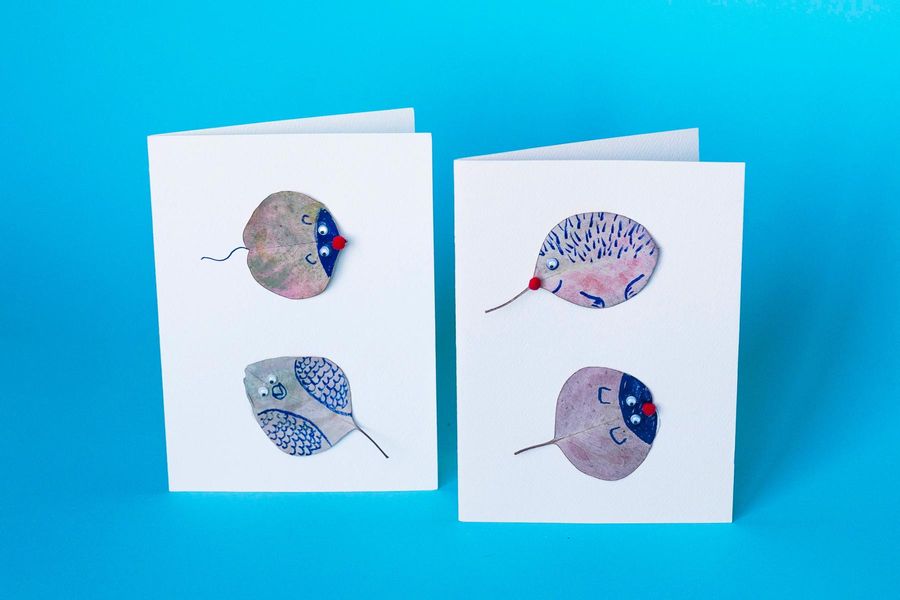 Turn Autumn Leaves into an Animal Kingdom
Let the season's falling leaves inspire a collection of your favorite creatures. A pointed leaf can become a horned owl, while a round eucalyptus leaf makes a cute hedgehog or mouse. Attach the creatures to card stock and hang them on the wall, or turn it into a handmade greeting card.
Materials
An assortment of flat dry leaves
Felt-tip pens and markers
Glue
Googly eyes, optional
Tiny pom-poms, optional
Card stock
1. Decorate the leaves
Place your leaf on a flat surface. Use felt-tip pens or markers to draw your creature. Let the shape of the leaf inspire you or try one of the suggestions below:
To make a hedgehog, draw the fur on one half of the leaf and draw curled legs on the other half, under its belly. Add a red dot or pom-pom for the nose, draw or glue on a an eye, and don't forget to add a smiling mouth!
To make a mouse, draw the face, ears and eyes, or glue on googly eyes. The stem of the leaf can be the mouse's tail. (If your mouse is tailless, simply draw a tail on the card.)
To make the owl, first draw the wings and the beak, then draw or glue on the googly eyes.
2. Display the leaf creatures
Glue the leaf creatures to card stock and hang on the wall, or fold into a greeting card with the leaf creatures on the cover.