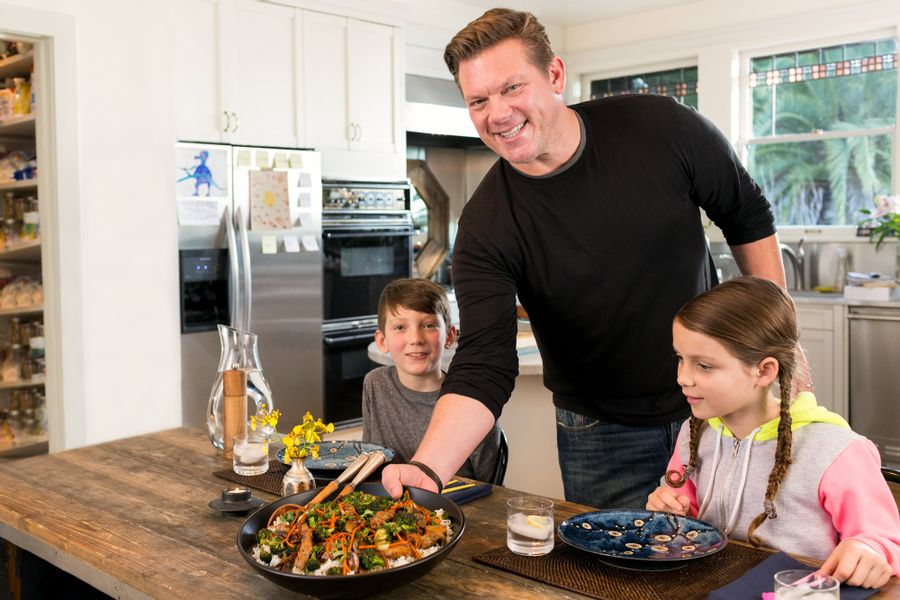 Meet Tyler Florence, Family Guy
Back in 2003, People Magazine called Tyler Florence the "sexiest chef alive." That was before he met his wife and settled down in Marin County, California. These days, Florence spends his nights at home, hanging out in the kitchen with his three kids.
"Cooking for my children means more than just going through the motions of getting dinner on the table." says Florence in his book, Start Fresh: Your Child's Jump Start to Lifelong Healthy Eating. "It's about forging the foundation for a healthy relationship with food that will last for the rest of their lives."
A longtime champion of easy to prepare, delicious food made with fresh ingredients, Florence approaches cooking in a manner very much in line with the way we do things here at Sun Basket.
Now, in collaboration with Chef Justine and our test kitchen team, Florence is developing healthy, kid-friendly meals for Sun Basket's new Family Plan. The menus include some of the Florence family's favorite recipes, including Tolan Florence's (Tyler's wife) turkey meatloaf, spaghetti and meatballs, and, this week, Chicken Teriyaki with Bok Choy and Coconut Rice.
Since settling in Northern California in 2007, Florence has opened a kitchen retail store, started his own line of cookware and wine label, published a few best-selling books, co-founded an organic baby food line, and opened four restaurants.
When he's not checking in on his bistro, Wayfare Tavern in San Francisco's financial district or El Paseo Steakhouse in Mill Valley, he can be found cooking with Chef Justine in Sun Basket's test kitchen live on Facebook or at his home in Corte Madera, making pancakes for his kids. Which, these days, are more than likely made with whole wheat flour.