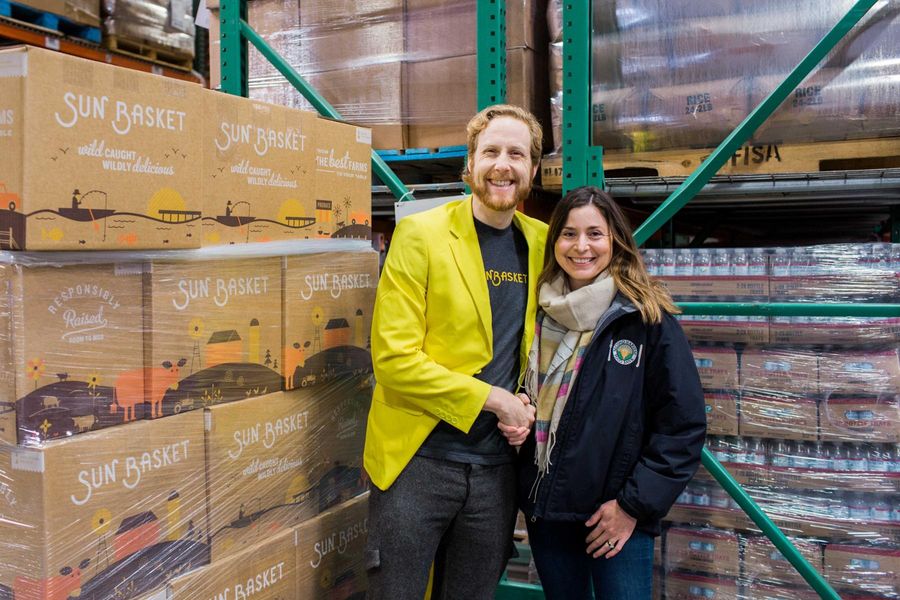 Join Sun Basket in the Fight Against Hunger
Feeding people is our business. That simple act, at the core of everything we do at Sun Basket, brings many responsibilities. In addition to sending high-quality, healthy, organic meals to our customers, we're also called on to fight the food insecurity that affects our communities.
Thanks to ongoing partnerships with both Feeding America and The New Jersey Agricultural Society, Sun Basket is able to send food to those who need it most. Feeding America's mission is to feed our nation's hungry through their member food banks and engage our country in the fight to end hunger. The New Jersey Agricultural Society program, Farmers Against Hunger, provides transportation and support to deliver produce from farms to local food banks.
Each week, food leftover at our East Coast and West Coast distribution centers is donated through Feeding America and Farmers Against Hunger to local food banks within their networks. Our Mid-West facility donates leftover food to Hope Christian Church in Columbia, Illinois.
Customer donations through our donate-your-box program are distributed through Feeding America to Second Harvest Food Bank in Santa Clara, California, or Beacon of Hope In Mt. Holly, New Jersey, where they're used to provide healthy meals to the one in seven Americans facing hunger today.
Thanks to the help of our partners and customers, Sun Basket donated over 239 tons of food in 2017. Including fresh, organic, produce, whole grains, healthy fats, spices, and dairy products. Together we can provide quality food to those who need it most.
If you'd like to donate your Sun Basket, visit your schedule page and click on Forward to donate. Your box will be distributed to one of the millions of households suffering from food insecurity.