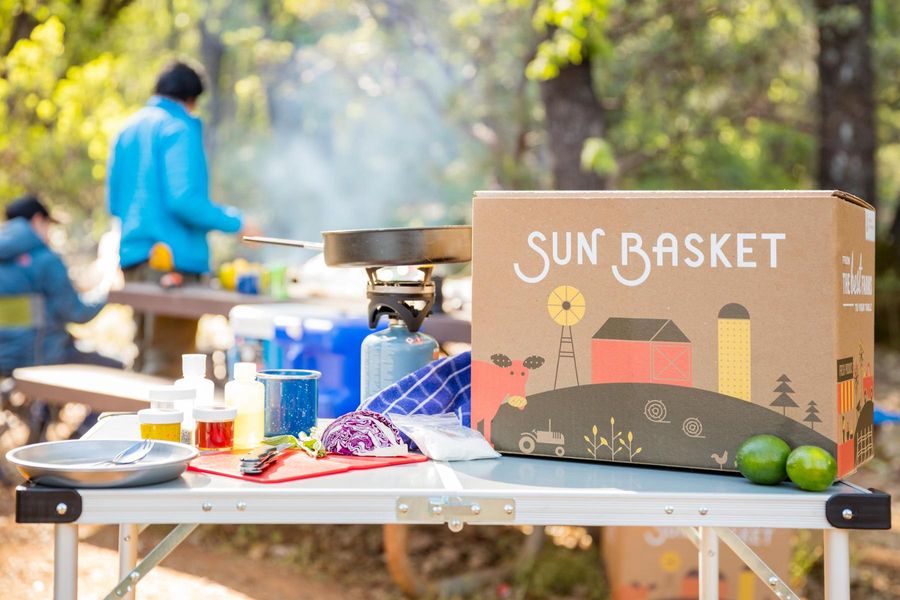 Sun Basket Goes Camping
As the weather warms up, someone on the Sun Basket team always has plans to spend the weekend outside. We have a particular trio Sun Basket staffers who love to go camping, our videographer, Matt Chavez; business analyst, Elton Fong; and our photo team's digital technician, Omar Navarro, recently headed to Lake Shasta on Friday afternoon with a Sun Basket in the back of the car and a mission: to prove you can take your Sun Basket meals and cook them just about anywhere. Here's what Matt discovered that weekend:
No shopping
"The worst part of camping is all the preparation," says Matt, "and after working all week, we don't have a lot of time for that. We ordered a Sun Basket with two bags of the Steak Fajita Lettuce Wraps with Guacamole and we were all set for our dinner Saturday night."
No packing
"The insulated Sun Basket box kept all the food cold, so we had more room in the cooler for beer. Since everything is pre-measured, all we had to bring for cooking was a knife, cutting board, tongs, and a cast-iron pan."
So easy
"We spent all day Saturday hiking and fishing. (I caught a bass, and Omar foraged for wild mushrooms.) We were pretty hungry when we got back to the campsite, and it was great to have the ingredients for the meal organized and ready to cook."
So delicious
"Sun Basket meals are always good, but they're even better when cooked over an open fire."
Easy to clean up
"Because the ingredients for each meal are portioned in just the right amount, there was very little left to clean up and no food to take home. We burned the box and the paper bags for kindling and packed the plastic bags and containers to take home. Omar had the bright idea to reuse the small containers for salt, pepper, and even soap."
Sweet dreams
"I always forget my pillow, so I rolled up the insulation from the box, taped it closed, covered it with a t-shirt, and tucked it under my head."