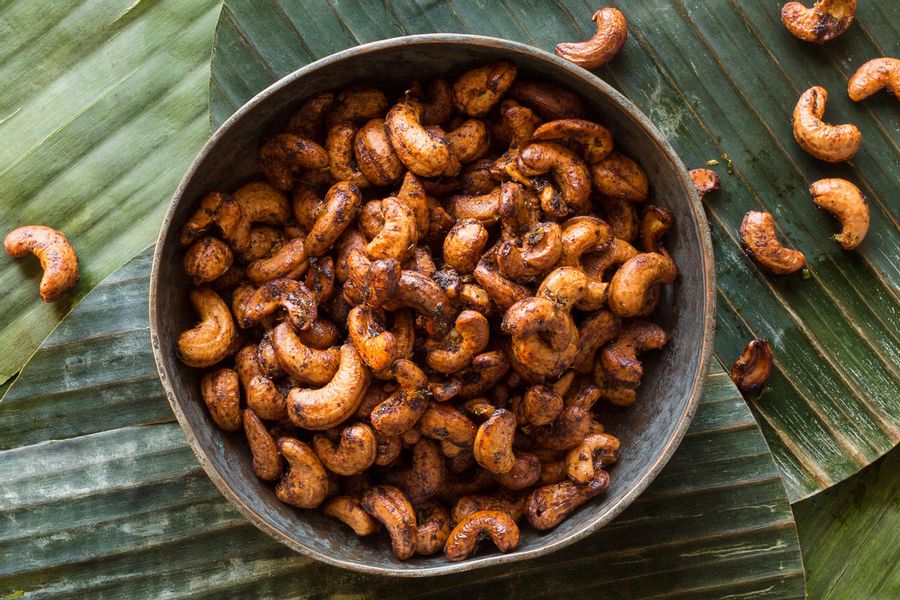 Green curry cashews
Thai curry paste is a go-to item in our pantry. We make sure to always have some on hand to stir it into yogurt for an easy marinade or combine with coconut milk for a delicious soup base that couldn't be quicker to make. Here we've used it to add a kick to these irresistible roasted cashews.
1 lime
2 teaspoons olive oil
1 teaspoon sugar
1 teaspoon green curry paste
½ teaspoon kosher salt
½ teaspoon cayenne pepper
2 cups raw cashews
Heat the oven to 350ºF.
Zest and juice the lime, keeping the zest and juice separate.
In a medium bowl, combine the olive oil, sugar, curry paste, salt, cayenne pepper, and 1 teaspoon lime juice. Stir until blended. Add the cashews and stir to coat.
Spread the cashews on a sheet pan and bake, stirring the cashews and rotating the pan a few times, until lightly browned, 15 to 17 minutes. Remove from the oven, sprinkle the roasted cashews with lime zest, and toss. Let cool completely, 15 to 30 minutes. Transfer to a bowl and enjoy, or store in an airtight container for up to 1 week.