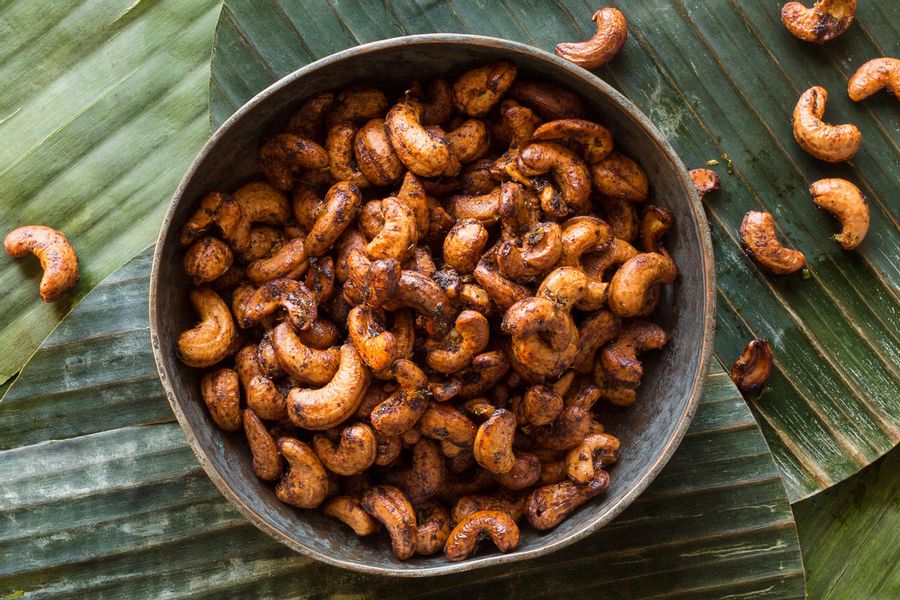 Lime Curry Cashews
Curry paste is a go-to item in our pantry and we make sure to always have some on hand. Stir it into yogurt for an easy marinade or combine it with coconut milk for a delicious soup base that couldn't be quicker to make. Here we've used it to add a kick to these irresistible cashews.
Makes 2 cups
Shopping List
1 lime
2 teaspoons olive oil
1 teaspoon sugar
1 teaspoon green curry paste
½ teaspoon kosher salt
½ teaspoon cayenne pepper
2 cups raw cashews
Tools
Medium bowl, sheet pan, zester
1 Prep and roast the nuts
Heat the oven to 350ºF.
Zest and juice the lime, keeping the zest and juice separate.
In a bowl, combine the olive oil, sugar, curry paste, salt, cayenne pepper, and 1 teaspoon lime juice. Stir until blended. Add the cashews and stir to coat. Spread the cashews on a sheet pan and bake, stirring the cashews and rotating the pan a few times, until lightly browned, 15 to 17 minutes.
2 Serve
Sprinkle the roasted cashews with the lime zest. Let cool completely, 15 to 30 minutes. Transfer to a bowl and enjoy, or store in an airtight container for up to 1 week.
Bonus recipe—ingredients not included in box.