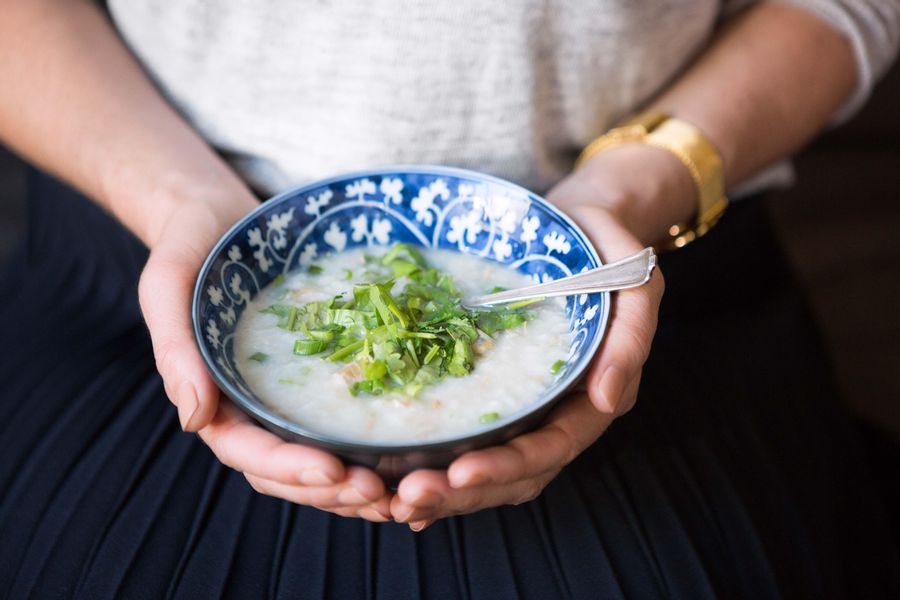 You could use a good jook right now
Sun Basket's Alan Li turns his leftover turkey into Chinese comfort food.
While both our executave chef Justine Kelly and our sous chef Alan Li both have rich traditions for using both the leftover carcas and meat from any remaining turkey at their Thanksgiving feasts, they go in different directions, while still returning to a delicious and comforting spot. Chef Justine's go-to recipe for Turkey Tortilla Soup gets play the day after the feast, and serves a party of friends. Chef Alan grew up celebrating a traditional American Thanksgiving, but the next day his family went straight back to their Southern Chinese roots when his mother made turkey jook from the leftovers. This rice porridge, also known as congee, scores high on the comfort meter. The rice breaks down over the long cooking time and the starch thickens to make a creamy dish that's a blank slate as far as seasonings go. Alan's mom cooks the rice in stock with shredded turkey to give it an added layer of flavor and garnishes it with scallions and herbs. Alan likes to add a generous portion of chile sauce. "The spicy gene skipped a generation," he says. "My grandparents and I love spicy food, but my parents don't at all."


Turkey Jook
Total time: 2 hours
Makes about 2½ quarts, enough to serve 8 to 12

Ingredients
1 cup jasmine rice
8 cups poultry stock or water
¾ pound cooked turkey meat, shredded into bite-size pieces
1 tablespoon fish sauce
Kosher salt and freshly ground white pepper
1 bunch scallions
1 bunch cilantro
Sambal oelek, optional
2 limes

Tools
Large sauce pot (4 quart +)

Wash all produce before use.

Instructions

1 Make the jook
In a large sauce pot, combine the rice with the poultry stock or water and the shredded turkey meat. Bring to a boil, reduce to a simmer, and cook, uncovered, stirring and scraping the bottom every 5 to 10 minutes to prevent sticking or scorching, until the rice has almost completely broken down, and the liquid is quite thick, 60 to 90 minutes. If the rice starts to stick to the bottom of the pot, reduce the heat. If the soup becomes too thick, add more water (it should be the consistency of X, not Y). Remove from the heat.
While the jook cooks, prepare the garnishes.

2 Prep the garnishes; finish the jook
Trim the root ends from the scallions; coarsely chop the scallions.

Coarsely chop the cilantro.

Cut the limes into wedges.
Once the jook is quite thick and the rice has broken down, stir in the fish sauce, and half the scallions and cilantro. Season to taste with white pepper and salt.
3 Serve
Ladle the jook into individual bowls. Garnish with the remaining scallions, cilantro, and as much sambal oelek as you like, if using. Serve with the lime wedges.