Healthy cooking made easy
Organic produce and clean ingredients plus delicious recipes delivered to your door weekly, featuring exclusive options developed in the Williams Sonoma Test Kitchen
Williams Sonoma Kitchen Essentials
Exclusively available through Williams Sonoma, get Sun Basket Executive Chef Justine Kelly's Kitchen Essentials for healthy cooking along with your first delivery.

Microplane Zester
Zest is one of my favorite things. Citrus oil—orange, lemon, lime, grapefruit—imparts an unexpected freshness to any recipe. Zesters are also terrific for grating ginger or hard cheeses like Parmesan.

Lemon Press
Best invention ever! I use a lot of citrus in my recipes and couldn't do it without this essential bartender's tool. I love introducing this to home cooks who haven't discovered it yet.

Garlic Press
It's all about convenience and easy clean-up here. This self-cleaning garlic press crushes garlic in a flash, no knife or cutting board required.

9" Tongs
Another versatile restaurant tool that's migrated to the home kitchen, the shorter length of these tongs affords more manageability for flipping proteins and tossing pasta.
The Best Ingredients
Organic produce and clean ingredients from farms and producers we trust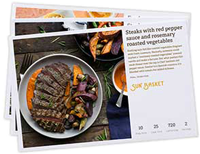 More Choice
Customize your menu each week, including Paleo, Gluten-Free, Vegan, Mediterranean, and more options
Send a Gift
Sign up for a weekly subscription, or send a gift for 1, 2, or 4 weeks

Choose

your recipes each week

No matter your lifestyle, Sun Basket has you covered!
Lean & Clean, Paleo, Gluten-Free, Vegan, and more options

Choose any recipe on the Classic Menu, regardless of your meal plan

Skip a week or cancel any time
Enjoy
convenient

delivery to your door

Skip the grocery store and look forward to cooking again.
Hand-selected organic ingredients arrive fresh in an insulated box

Packaging is 100% recyclable and compostable

No planning, no shopping, just cooking

Cook
delicious

meals in about 30 minutes

Sun Basket makes mealtime fun, easy and delicious.
Quick recipes that are easy to prep and clean up

Pre-portioned ingredients—no food waste!

Delicious, healthy meals you'll be proud to serve
Feel
good

about the food
you're eating
Feel
good

about the food you're eating
We're looking out for you, your family, and the planet.
Organic and sustainable produce from farmers we trust

Responsibly raised meats & sustainably sourced seafood

We give back to our communities through local food banks and employee programs