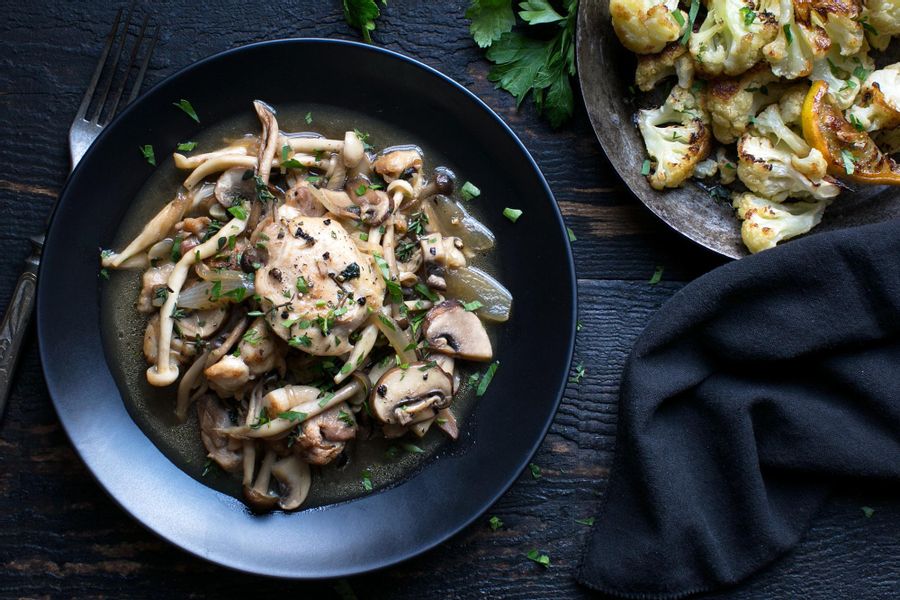 Braised chicken and mushrooms with roasted lemon and cauliflower
Paleo
Gluten Free
Dairy Free
Soy Free
Richly flavored beech mushrooms have a slightly crunchy texture and delicious nutty flavor. When they cook in the same pan used to brown the chicken they take on an added dimension of flavor.
Ingredients
1 lemon
1 pound cauliflower
¾ pounds skinless boneless chicken thighs
1 yellow onion
1-2 garlic cloves
2 sprigs thyme 2 sprigs oregano
3 ounces button mushrooms
3 ounces beech mushrooms
1 cup chicken stock
Instructions
1
Roast the cauliflower and lemon
Heat the oven to 400°F.
Cut lemon into thin half-moon slices.
Cut the cauliflower into bite-sized florets.
On a sheet pan, toss the lemons and cauliflower with oil, salt and pepper. Spread in an even layer and roast in the hot oven until the cauliflower is tender and browned around the edges, 15 to 20 minutes.
While the cauliflower and lemon cook, prepare the chicken.
2
Brown the chicken
Season the chicken on both sides with salt and pepper.
In a frying pan over medium-high heat, warm 2 tablespoon oil until hot but not smoking. Add the chicken and cook, turning once, until cooked golden brown on both sides, 3 to 5 minutes per side. Transfer the chicken to a plate to rest.
While the chicken cooks, prepare the vegetables
3
Prep the vegetables
Peel the onion and cut it into thin slices.
Mince the garlic.
Coarsely chop thyme and oregano leaves.
Cut the button mushrooms in half or quarters./li>
Trim the root ends of the beech mushrooms and break them apart.
4
Make the sauce
In the same pan used to cook the chicken, add the onion, garlic, thyme and oregano and a pinch of salt. Cook until the onion is tender and just caramelized, 5 to 7 minutes.
Return the chicken to the pan along with any juices that accumulated on the plate. Add the mushrooms and chicken stock. Increase the heat to high, bring to a boil and reduce to a simmer. Cook until the stock has reduced by about half and the chicken is no longer pink in the middle, 8 to 10 minutes.
5
Serve
Transfer the chicken to individual plates and top with the mushrooms and sauce. Serve the roasted cauliflower and lemon alongside.
---
Nutrition per serving: Calories: 620, Protein: 39 g, Total Fat: 41 g, Monounsaturated Fat: 26.5 g, Polyunsaturated Fat: 5.5 g, Saturated Fat: 8 g, Cholesterol: 110 mg, Carbohydrates: 25 g, Fiber: 8 g, Added Sugar: 0 g, Sodium: 700 mg