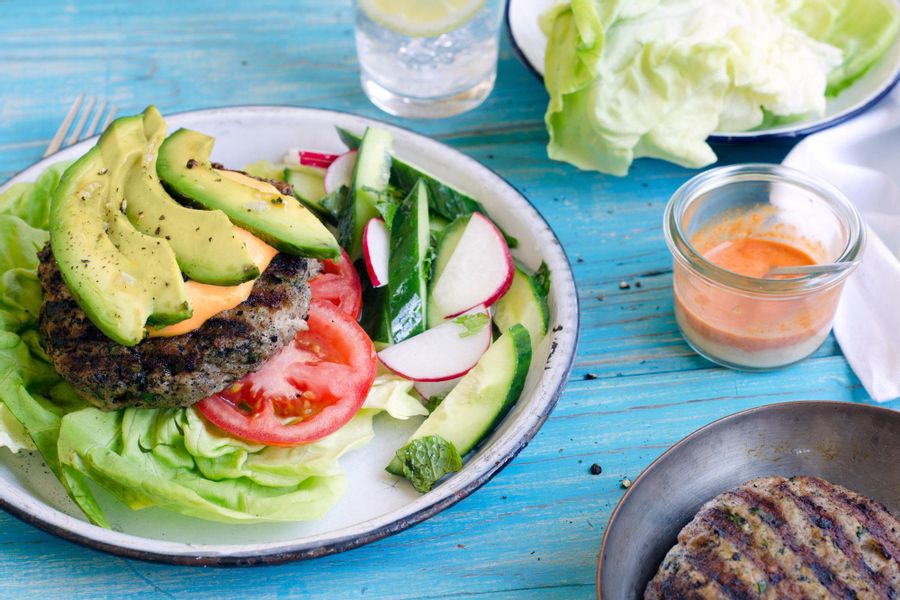 "Protein-style" turkey burgers with avocado
Paleo
Gluten Free
Dairy Free
Soy Free
Low Calorie
Fans of California's In-N-Out Burger may recognize this bun-less burger as a riff on the chain's famous Protein® Style patty. Chef Justine makes this one Sun-Basket style, using low-fat ground turkey instead of beef, and boosting the flavor of the meat with lime zest, cilantro, and a little serrano chile for added heat. She tops it off with her own "secret sauce," a sriracha-laced mayonnaise.
Ingredients
1 to 2 shallots
1 serrano chile (optional)
Fresh cilantro
1 lime
10 ounces ground turkey
1 to 2 cucumbers
2 to 3 red radishes
Fresh mint
1 tomato
1 avocado
2 ounces butter lettuce
Chile mayonnaise (mayonnaise - sriracha chile sauce)
Instructions
1
Season and prep the burgers
Peel and finely chop the shallot.
Remove the ribs and seeds and finely chop the serrano chile, if using.
Coarsely chop the cilantro.
Zest and juice the lime.
In a mixing bowl, combine the ground turkey with the shallot, as much of the serrano chile as you like, cilantro, and lime zest. Season with ½ teaspoon salt. Using wet hands to keep the meat from sticking, shape the turkey into two patties about ½-inch-thick.
2
Cook the burgers
In a frying pan over medium-high heat, warm 1 tablespoon oil until hot but not smoking. Cook the burgers until well browned and no longer pink in the center, about 5 minutes on each side.
While the burgers cook, prepare the toppings and make the salad.
3
Prep the toppings and make the salad
Thinly slice the tomato.
Pit, peel and thinly slice the avocado.
Cut the cucumbers on a diagonal into half-moon slices.
Cut the radishes into half moons.
Chop the mint leaves. Discard the stems.
In a salad bowl, combine the cucumber, radishes and mint. Add the lime juice and 1 tablespoon oil and toss to coat. Season with salt to taste.
4
Serve
Arrange the butter lettuce on individual plates. Top with the tomato slices, burgers, chile mayonnaise and avocado. Serve with the cucumber-radish salad on the side.
---
Nutrition per serving: Calories: 700 Protein: 32g Total Fat: 47g Monounsaturated Fat: 20g Polyunsaturated Fat: 1g Saturated Fat: 16g Cholesterol: 120mg Carbohydrates: 42g Fiber: 9g Added Sugar: 0g Sodium: 1370mg