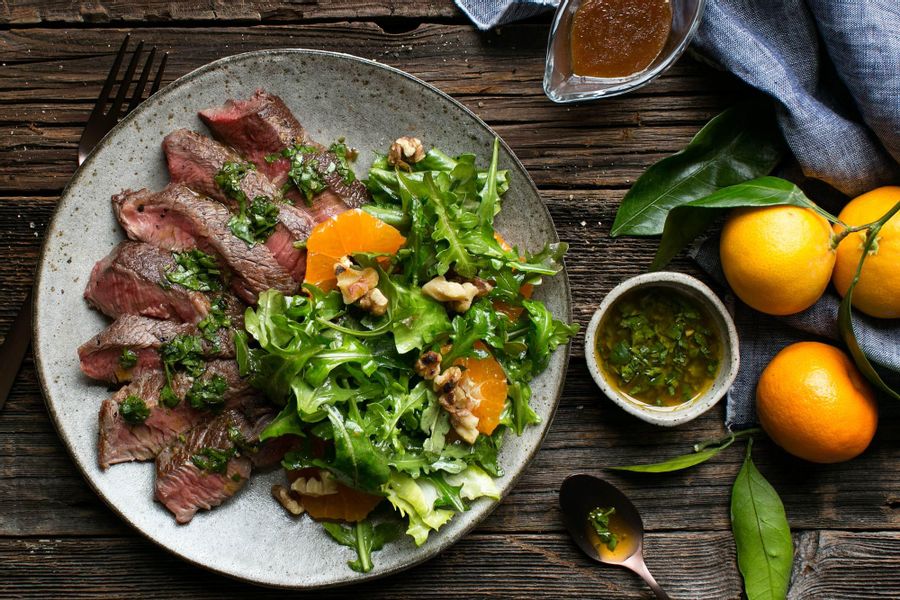 Steak and chimichurri with Satsuma orange and winter greens salad
Paleo
Gluten Free
Dairy Free
Soy Free
Escarole, a leafy green chicory, has a delicately bitter flavor and a slightly crunchy texture that makes it one of our favorite winter vegetables. It's incredibly versatile, we use it in soups and braises, as well as in simple salads like this one made with arugula and sweet-tart satsuma.
Ingredients
2 ounces walnuts
2 sirloin steaks
3-4 satsuma oranges
4 ounces escarole
2 ounces arugula
Salad dressing base (maple syrup - cinnamon - coriander - sherry vinegar)
1 lime
Fresh parsley
Fresh cilantro
Chimichurri base (cumin - sweet paprika - granulated garlic)
Instructions
1
Toast the walnuts
In a frying pan over medium-low heat, toast the walnuts, stirring occasionally, until fragrant and beginning to brown, 4 to 5 minutes. Transfer the nuts to a plate to cool. While the walnuts toast, prepare the salad ingredients.
2
Prep the salad
Peel the orange and cut into ½-inch-thick rounds and then into half moons.
Tear the escarole leaves into 2-inch pieces.
In a mixing bowl, combine the escarole with the arugula and orange slices. In a separate bowl, combine the salad dressing base with 2 tablespoon oil. Season with salt and pepper.
3
Make the chimichurri
Zest and juice the lime.
Finely chop the parsley leaves.
Finely chop the cilantro leaves.
Combine the chimichurri base with the lime zest and juice, parsley, cilantro, and 2 teaspoons oil. Season with salt and pepper.
4
Cook the steaks
Season the steaks on both sides with salt and pepper.
In a frying pan over medium-high heat, warm 1 tablespoon oil until hot but not smoking. Add the steaks and cook until well browned but still pale pink in the middle, 5 to 7 minutes per side.
5
Assemble and serve
Transfer the steaks to individual plates and top with the chimichurri.
Toss the salad ingredients with the salad dressing and walnuts, and serve alongside the steaks.
---
Nutrition per serving: Calories: 740, Protein: 41 g, Total Fat: 51 g, Monounsaturated Fat: 24.5 g, Polyunsaturated Fat: 16 g, Saturated Fat: 8 g, Cholesterol: 90 mg, Carbohydrates: 33 g, Fiber: 8 g, Added Sugar: 6 g, Sodium: 610 mg