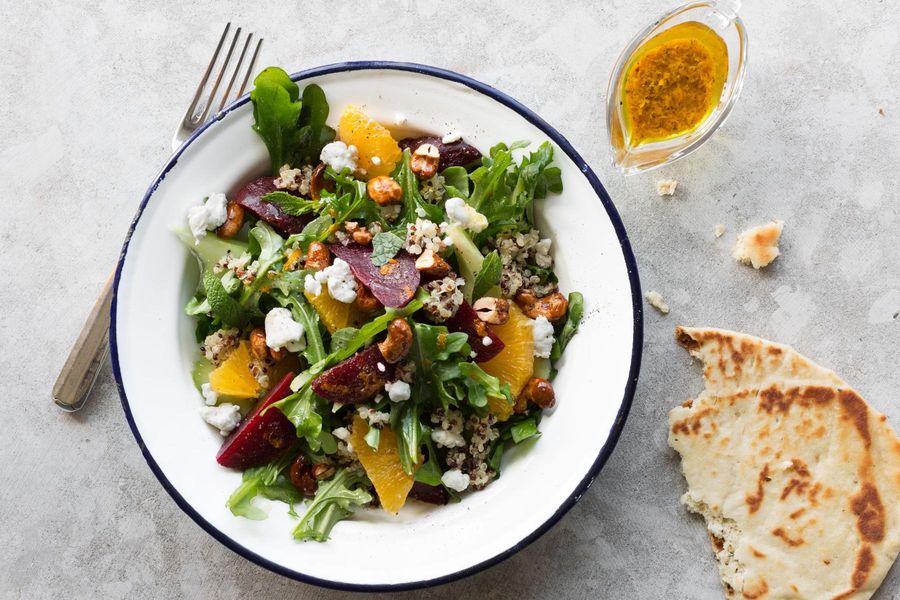 Beet, orange, and quinoa salad with goat cheese and curry vinaigrette
Vegetarian, Soy-Free
2 Servings, 700 Calories/Serving
25 – 35 Minutes
Beet and goat cheese salads started trending in the 1980s, and we're grateful they've never really gone out of style. The sweet root vegetables and the earthy cheese work their magic in this protein-rich quinoa salad, brightened with fresh oranges. Curry powder, the surprising ingredient in our vinaigrette, adds another flavor dimension.
Ingredients
½ cup rainbow quinoa
¼ cup cashews
1 tablespoon honey
1 orange
½ pound peeled roasted Love Beets
1 or 2 celery ribs
Fresh mint
Curry vinaigrette base (sherry vinegar - maple syrup - curry powder)
1 naan
3 ounces baby arugula
⅓ cup crumbled goat cheese
Nutrition per serving
Instructions
1
Cook the quinoa
Heat the oven to 350ºF.
In a fine-mesh strainer, rinse the quinoa.
In a small sauce pot, combine the quinoa and 1 cup lightly salted water. Bring to a boil, reduce to a simmer, cover, and cook until the quinoa is tender and the water is absorbed, 15 to 20 minutes.
While the quinoa cooks, prepare the cashews.
2
Toast the cashews
Lightly oil a sheet pan. In a small bowl, combine the cashews and honey, season with salt, and stir to coat. Spread in an even layer on the prepared sheet pan and toast in the oven until lightly browned, 6 to 8 minutes. Transfer to a plate to cool.
While the cashews toast, prepare the remaining ingredients.
3
Prep the remaining ingredients
Zest the orange. Using your hands or a sharp knife, peel the orange; cut the orange in half lengthwise, then crosswise into ¼-inch-thick half-moons. Discard any seeds.
Cut a small corner from the beet packaging and drain off excess liquid; cut the beets in half, then into ½-inch-thick wedges.
Trim the ends from the celery; cut the celery on the diagonal into ¼-inch-thick slices.
Strip the mint leaves from the stems; coarsely chop the leaves.
4
Make the curry vinaigrette
In a small bowl, stir together the curry vinaigrette base, orange zest, and 2 tablespoons oil. Season to taste with salt and pepper.
5
Toast the naan; assemble the quinoa salad
On the stovetop directly over a flame, or in a dry medium frying or grill pan over medium heat, warm the naan until lightly toasted, about 30 seconds per side. Alternatively, toast it in a toaster. Tear in half.
In a large bowl, toss the quinoa with half the vinaigrette. Stir in the orange slices, beets, celery, mint, arugula, and remaining vinaigrette. Toss well and season to taste with salt and pepper.
6
Serve
Transfer the quinoa salad to individual bowls, garnish with the goat cheese and cashews, and serve with the naan.

Chef's Tip To prevent the beets from staining your cutting board, cover it with waxed or parchment paper before cutting them.
---
Calories: 700, Protein: 19g, Fiber: 10g, Total Fat: 29g, Monounsaturated Fat: 15g, Polyunsaturated Fat: 4g, Saturated Fat: 6g, Cholesterol: 25mg, Sodium: 530mg, Carbohydrates: 89g, Total Sugars: 30g, Added Sugars (Honey; Maple syrup): 13g.
Contains: Milk, Tree Nuts, Wheat