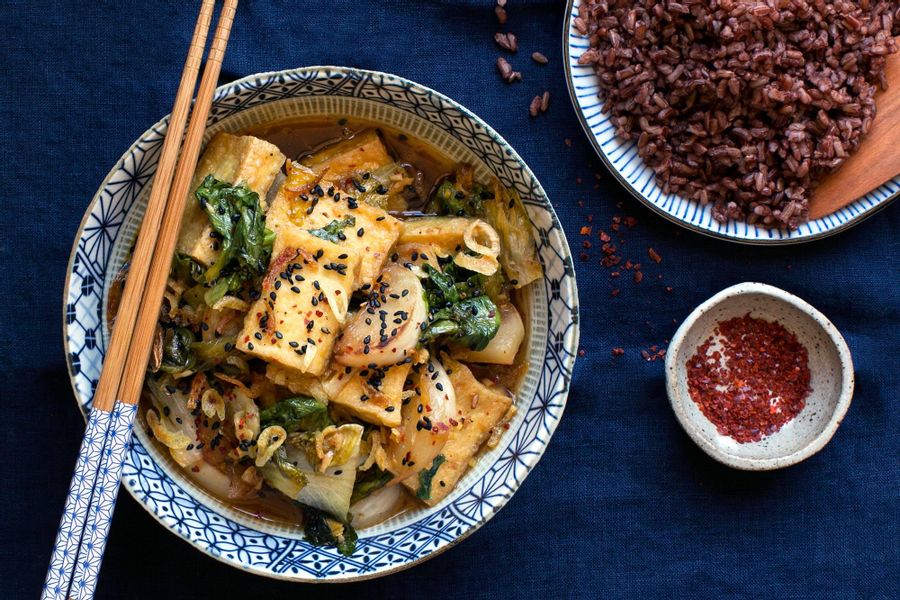 Braised tofu and escarole stir-fry with Bhutan red rice
Stir frying isn't difficult but it does require organizational skills. Get all your ingredients ready and have them close to your stove, so you can work quickly. And don't worry if you don't have a wok, a sauté pan works just fine.
Ingredients
¾ cup Bhutan red rice
1 tablespoon black sesame seeds
12 ounces Hodo Soy firm tofu
10 ounces turnips
2-3 garlic cloves
½ ounce ginger
10 ounces escarole
½ teaspoon kimchee chile flakes
Stir-fry sauce (rice wine vinegar-honey-tamari-mirin)
¼ cup fried shallots
Instructions
1
Cook the rice
In a sauce pot, combine the rice with 1½ cups of salted water. Bring to a boil, reduce to a simmer, cover, and cook until the water has absorbed and the rice is tender, 18 to 20 minutes.
While the rice cooks, toast the sesame seeds and prepare the vegetables for the stir fry.
2
Toast the sesame seeds
In a frying pan over medium heat, cook the black sesame seeds until fragrant and lightly toasted, 3 to 5 minutes. Transfer to a plate to cool.
3
Prep the stir-fry ingredients
Cut the tofu in half lengthwise and then into ½-inch pieces.
Peel the turnips and cut into ½- inch wedges.
Mince the ginger and garlic.
Wash the escarole and chop into 2-inch pieces.
4
Cook the tofu
In a frying pan over medium heat, warm ¼ cup oil until hot but not smoking. Add the tofu and cook, turning once, until golden brown on both sides, 2 to 3 minutes per side. Transfer to a paper-towel lined plate to drain.
5
Cook the stir-fry
Drain all but 2 tablespoons oil from the pan. Add the turnips in single layer and cook, turning once, till tender and golden brown, 3 to 4 minutes on each side. Add the ginger, garlic and chile (if using), and cook until fragrant, about 1 minute. Add the escarole, tofu and stir-fry sauce and cook until the escarole is just wilted, 2 to 3 minutes.
6
Serve
Divide the stir-fry evenly between two plates and garnish with the black sesame seeds and fried shallots. Serve with the rice.
---
Nutrition per serving: Calories: 750, Protein: 29 g, Total Fat: 31 g, Monounsaturated Fat: 13.5 g, Polyunsaturated Fat: 10.5 g, Saturated Fat: 2.5 g, Cholesterol: 0 mg, Carbohydrate: 91 g, Fiber: 14 g, Added Sugar: 10 g, Sodium: 720 mg