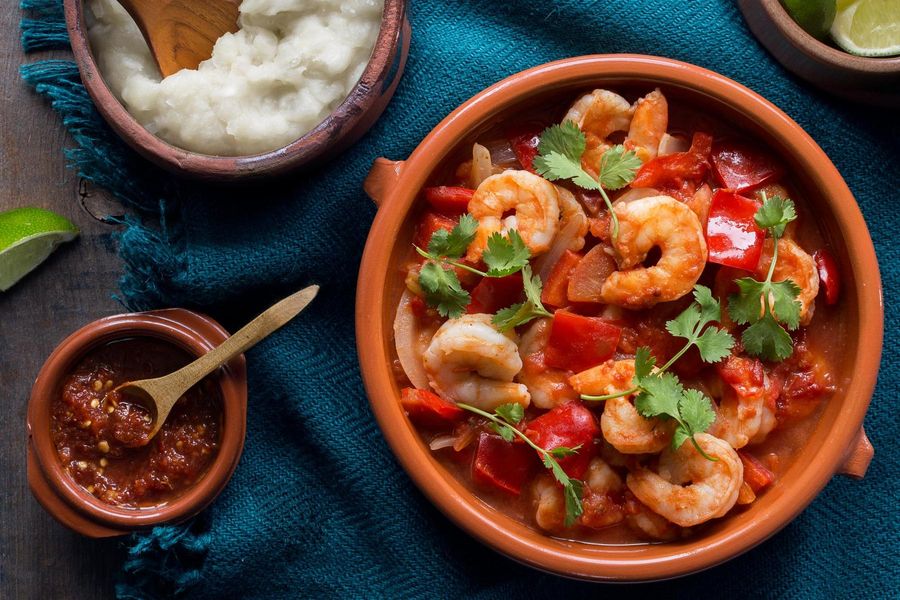 Brazilian shrimp moqueca with yuca mash
Paleo, Gluten-Free, Dairy-Free, Soy-Free
2 Servings, 620 Calories/Serving
25 – 35 Minutes
This paleo Brazilian seafood stew is known for bold, bright flavors, which we balance with our sweet and starchy (and gluten-free) yuca mash.
Ingredients
10 ounces yuca root
½ cup coconut milk
1 yellow onion
1 red bell pepper
3 or 4 cloves peeled fresh garlic
2 or 3 Roma tomatoes (about 8 ounces)
10 ounces wild Gulf shrimp
1 lime
1 tablespoon diced mild green chiles
3 or 4 sprigs fresh cilantro
1 tablespoon sambal oelek (optional)
Ingredient IQ
Yuca root (not to be confused with the house plant, yucca) is the third most popular starch in the world, after rice and corn. Rich in magnesium, potassium, calcium, vitamin C, and various B vitamins, this paleo-approved root is an excellent replacement for other starchy carbohydrates and grains. To read more about yuca and view our video on how to mash it, visit https://www.sunbasket.com/content/article/a-users-guide-to-yuca.
Nutrition per serving
Instructions
1
Cook the yuca mash
Peel the yuca; cut it in half lengthwise, then crosswise into ¼-inch-thick half-moons.
In a small sauce pot, add the yuca, coconut milk, and ¾ cup water. Bring to a boil, reduce to a simmer, cover, and cook until very tender, 12 to 15 minutes. Using a masher, fork, or the back of a spoon, coarsely mash the yuca with the liquid; do not overmash (some lumps are okay). Season to taste with salt and pepper.
While the yuca cooks, prepare the vegetables and shrimp.
2
Prep the vegetables and shrimp
Peel and thinly slice the yellow onion.
Remove the stem, ribs, and seeds from the bell pepper. Cut the pepper lengthwise into ½-inch-wide strips, then crosswise into ½-inch pieces.
Finely chop, press, or grate enough garlic to measure 2 teaspoons.
Cut away the cores from the tomatoes; coarsely chop the tomatoes.
Rinse the shrimp, then drain on a paper-towel-lined plate and pat dry. Season lightly with salt and pepper.
Juice half the lime; cut the remaining half into wedges for garnish.
3
Cook the shrimp moqueca
In a large frying pan over medium heat, warm 2 tablespoons oil until hot but not smoking. Add the onion, bell pepper, and garlic, season with salt and pepper, and cook, stirring occasionally, until the vegetables start to soften, 3 to 4 minutes. Add the tomatoes and green chiles and cook, using the back of a spoon to gently crush the tomatoes, until softened, 3 to 4 minutes.
Add the shrimp and cook, stirring occasionally, until firm and cooked through, 2 to 3 minutes. Remove from the heat and season to taste with salt, pepper, and lime juice.
When the shrimp are almost done, chop the cilantro.
4
Prep the cilantro
Coarsely chop the cilantro.
5
Serve
Transfer the yuca mash to individual bowls and top with the shrimp moqueca. Season with as much sambal oelek as you like, garnish with the cilantro, and serve with the lime wedges.
---
Protein: 29g (58% DV), Fiber: 9g (36% DV), Total Fat: 16g (25% DV), Monounsaturated Fat: 11g, Polyunsaturated Fat: 1.5g, Saturated Fat: 3g (15% DV), Cholesterol: 215mg (72% DV), Sodium: 540mg (23% DV), Carbohydrates: 79g (26% DV), Total Sugars: 14g, Added Sugars: 0g (0% DV).
Contains: Crustacean shellfish