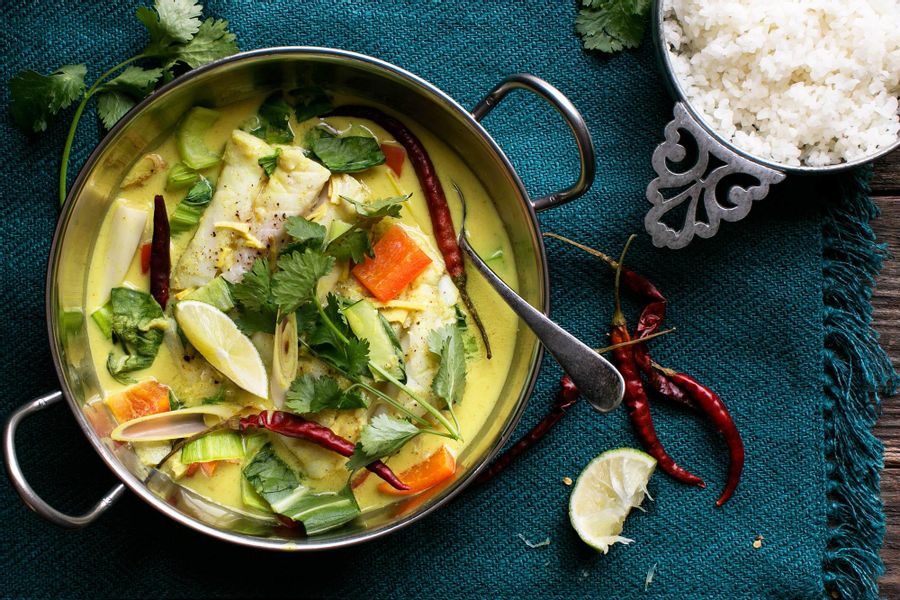 Coconut-braised Pacific cod with broken rice
Softer and stickier than intact grains, broken rice is a by-product of the milling process. The cracked grains absorb more water than traditional rice kernels do and the finished texture is more glutinous. It helps to rinse the grains well to wash out some of the excess starch. Satisfying and flavorful, it's perfect for soaking up all the goodness of this fragrant lemongrass- infused coconut sauce.
Ingredients
1 cup broken rice
2 Pacific cod fillets
1-inch piece fresh ginger
1-2 bell peppers
3 chile de arbol (optional)
Fresh cilantro
1 lemongrass stalk
8 ounces baby bok choy
1 cup coconut milk
½ teaspoon garam masala
1 lime
Instructions
1
Cook rice
Heat the oven to 375°F.
In a strainer, rinse the rice until the water runs clear
In a sauce pot, bring 1½ cups salted water to a boil over high heat. Add the rice, let the water return to a boil, reduce to a simmer, cover, and cook until the rice is tender and the liquid has been absorbed, 15 to 20 minutes.
While the rice cooks, prepare the vegetables.
2
Prep the vegetables
Season the cod on both sides with salt.
Peel and finely chop the ginger.
Cut the bell pepper into ½-inch-thick strips.
Coarsely chop the cilantro leaves.
Cut the root end off the lemongrass, remove the outer layer, and chop the stalk into 2-inch-long pieces.
Cut the bok choy into half-inch pieces.
Juice half the lime and cut the other half into wedges.
3
Bake the cod
In a casserole dish, add the ginger, bell pepper, cilantro, lemongrass, bok choy and coconut milk. Stir in the garam masala and chiles, season with salt, and stir to combine. Submerge the cod in the baking dish along with the other ingredients. Drizzle with 2 teaspoons oil and bake in the hot oven until the fish is flaky and just cooked through, 15 to 20 minutes. Add the lime juice and the cilantro. Season with salt and pepper.
4
Serve
Transfer the rice to individual bowls. Top with the fish, the vegetables, and the sauce. Garnish with the lime wedges and serve.
---
Nutrition per serving: Calories: 670, Protein: 36 g, Total Fat: 14 g, Monounsaturated Fat: 4 g, Polyunsaturated Fat: 1 g, Saturated Fat: 8 g, Cholesterol 80 mg, Carbohydrates: 98 g, Fiber 8 g, Added Sugar: 0 g, Sodium: 900 mg