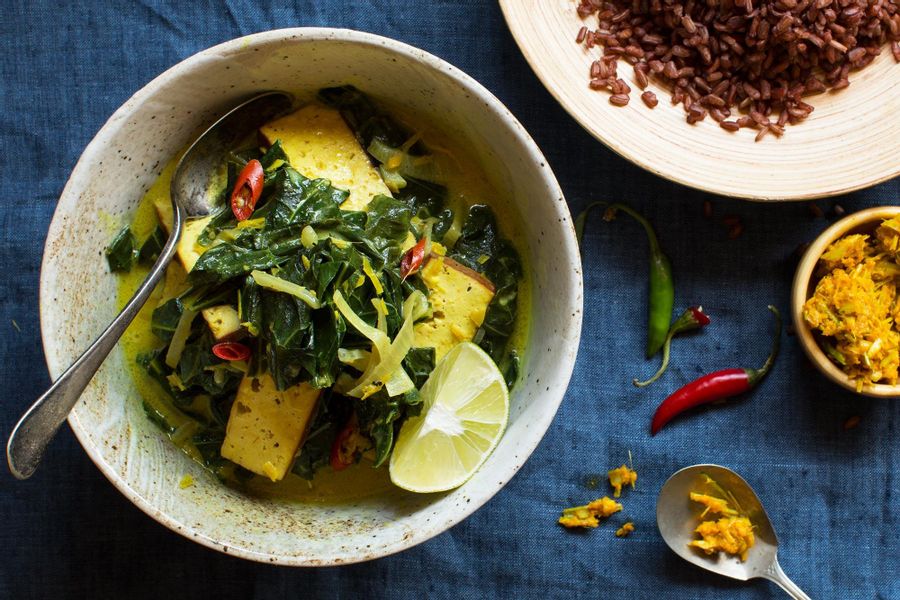 Coconut milk tofu and red rice
Gluten Free
Vegetarian
Dairy Free
While this tofu braised in a lemongrass-infused coconut milk is delicious all on its own, we like it even better when paired with nutty red rice, an heirloom grain grown in Bhutan's Paro Valley. The rice fields there are s irrigated with glacier water that's rich in trace minerals and makes the grain an excellent source of potassium and magnesium.
Ingredients
3/4 cup red rice
1-2 shallots
1-inch piece fresh ginger
1 Fresno chili pepper (optional)
4 ounces cremini mushrooms
12 ounces Hodo Soy firm tofu
5-6 leaves Napa cabbage
Fresh cilantro
1 lime
2 tablespoons lemongrass paste (lemongrass - garlic - ginger - turmeric - oil - kosher salt)
½ cup coconut milk
Instructions
1
Cook the rice
In a sauce pot over high heat, combine the rice and 1½ cups water and season with salt. Bring to a boil, then reduce to a simmer. Cover and cook until the rice is tender, 15 to 20 minutes.
While the rice is cooking, prep the other ingredients.
2
Prep the vegetables
Peel and thinly slice the shallots.
Peel and finely chop the ginger.
Seed and thinly slice the Fresno pepper, if using.
Slice the mushrooms.
Cut the tofu into 1-inch cubes.
Cut the cabbage into 1-inch pieces.
Coarsely chop the cilantro.
Cut the lime into wedges.
3
Cook the vegetables
In a frying pan over medium-high heat, warm 1 tablespoon oil until hot but not smoking. Add the shallots and a pinch of salt. Cook, stirring occasionally, until the shallots just begin to soften and caramelize, 2 to 4 minutes. Stir in the lemongrass paste, ginger, and Fresno pepper to taste, if using, and cook until fragrant, about 1 minute. Add the mushrooms and cook until the mushrooms have browned and released most of their liquid, 3 to 5 minutes.
4
Cook the tofu
Add the coconut milk to the pan along with 1 cup water and the tofu. Cover and cook until the tofu is heated through, 2 to 3 minutes. Add the cabbage, cover, and cook until the cabbage is tender but still crisp, 2 to 3 minutes.
5
Serve
Transfer the tofu and vegetables to individual bowls. Garnish with the cilantro and lime wedges, and serve with the red rice.
---
Nutrition per serving: Calories: 650, Protein: 28 g, Total Fat: 27 g, Monounsaturated Fat: 10 g, Polyunsaturated Fat: 8.5 g, Saturated Fat: 5.5 g, Cholesterol: 0 mg, Carbohydrates: 81 g, Fiber 10 g, Added Sugar: 0 g, Sodium: 760 mg