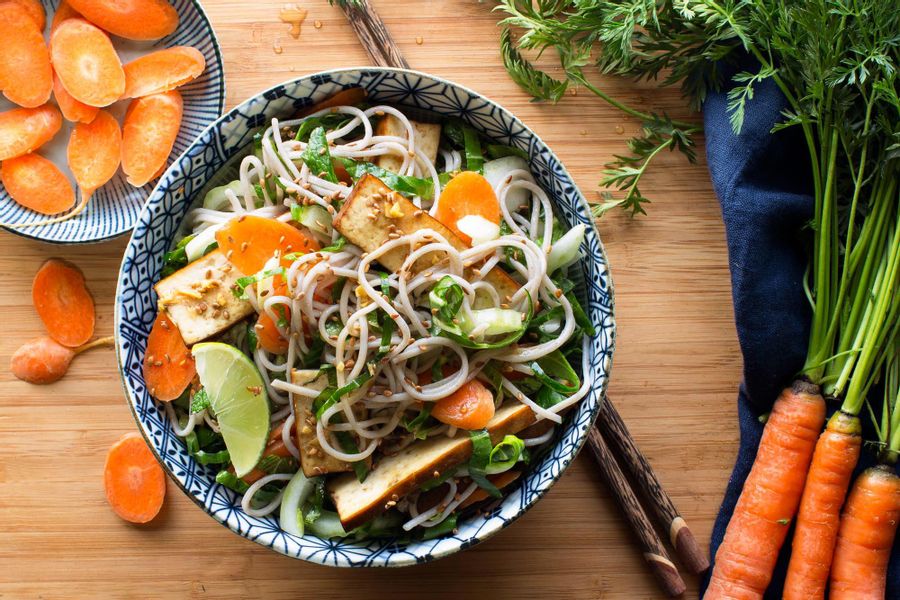 Five-spice braised tofu and soba salad with baby bok choy and mint
vegetarian
gluten free
dairy free
Hodo Soy's braised tofu is seasoned with a traditional Chinese five-spice powder that combines fennel, cinnamon, star anise, Szechuan pepper and cloves for a warming blend of flavors with a gentle heat. The combination of the tofu and our gluten-free buckwheat soba noodles makes this a protein-rich vegetarian meal that's equal parts healthy and satisfying.
Ingredients
5 ounces soba noodles
8 ounces braised Hodo Soy tofu
½ ounce ginger
1-2 carrots
6 ounces baby bok choy
Fresh mint
1 lime
3 tablespoons tamari dressing base (tamari-yellow miso-rice wine vinegar-sesame oil)
1 tablespoon sesame seeds
Instructions
1
Cook the noodles
In a sauce pot, bring 4-quarts salted water to a boil, add the soba noodles and cook until tender, 4 to 5 minutes. When done, drain the noodles in a colander, and run under cold water to stop the cooking. While the water heats, prepare the other ingredients.
2
Prep the tofu and vegetables
Cut the tofu crosswise into thin slices.
Peel the ginger and finely chop.
Scrub the carrots, trim the top and then cut diagonally into thin slices.
Rinse the bok choy, trim the root end; cut in half lengthwise and then into thin, half-moon slices.
Pick the mint leaves from the stems and coarsely the leaves. Discard the stems.
Cut the lime in half; juice one half and cut the other half into wedges.
3
Make the dressing
In a bowl, combine the dressing base, ginger and lime juice, and season with salt.
4
Toast the sesame seeds and brown the tofu
In a dry pan over medium heat, toast the sesame seeds until lightly toasted, 3 to 5 minutes. Transfer to a plate and set aside. In the same pan, warm 1-2 teaspoons oil until hot but not smoking. Add the tofu and cook, turning once, until lightly browned, 1 to 2 minutes on each side. Transfer the tofu to a paper towel-lined plate to drain.
5
Assemble the noodle salad
In a mixing bowl, toss the noodles, tofu, bok choy, carrots, sesame seeds, mint with the desired amount of dressing to coat and until well combined.
6
Serve
Transfer the noodle salad to individual bowls and serve with the lime wedges on the side.
---
Nutrition per serving: Calories 610, Protein: 25 g, Total Fat: 28 g, Monounsaturated Fat: 11 g, Polyunsaturated Fat: 6 g, Saturated Fat: 2 g, Cholesterol: 0 mg, Carbohydrates: 67 g, Fiber: 10 g, Added Sugar: 2 g, Sodium: 1090 mg