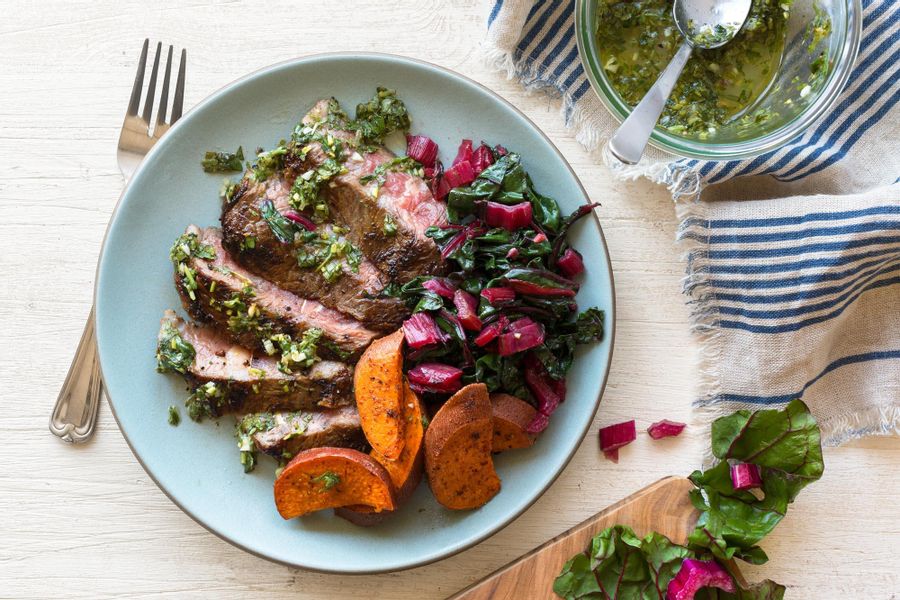 Grilled steaks with chimichurri and harissa-roasted sweet potatoes
Paleo
Gluten Free
Dairy Free
Soy Free
Argentina is famous for its beef, so it makes sense that they have a great steak sauce. Chimichurri is a garlicky blend of parsley and sometimes oregano. We added cilantro to ours, just because, and seasoned it with lime juice instead of the more traditional vinegar. Its zippy flavor is absolute magic with these grilled steaks.
Ingredients
¾ pound Garnet sweet potatoes
Fresh flat-leaf parsley
Fresh oregano
Fresh cilantro
1 to 2 garlic cloves
½ pound chard
1 teaspoon harissa (optional)
1 lime
Two 6-ounce sirloin steaks
Instructions
1
Prep the vegetables
Heat the oven to 425ºF.
Scrub the sweet potatoes, cut in half lengthwise and into ½-inch-thick half-moon slices.
Finely chop the parsley and oregano leaves.
Finely chop the cilantro, including the tender stems.
Finely chop the garlic.
Rinse the chard, strip the leaves from the stems and coarsely chop the leaves and stems. Keep the leaves and stems separate.
2
Cook the potatoes; make the chimichurri
On a sheet pan, toss the potatoes with 1 tablespoon oil and as much of the harissa as you like. Season with salt and pepper and roast in the oven until tender, 20 to 22 minutes. While the potatoes cook, make the chimichurri.
In a bowl, zest and juice the lime.
Add the parsley, oregano, cilantro, half the garlic, 1 to 2 tablespoons oil and stir until well combined. Season to taste with salt and pepper.
3
Cook the steak
Season the steak with salt and pepper.
In a pan over medium heat, warm 1 to 2 teaspoons oil until hot but not smoking. Add the steaks and cook until browned and pink in the middle, 3 to 5 minutes on each side (for medium rare), depending on thickness of the meat. Transfer the steaks to a plate to rest.
4
Cook the chard
In the same pan used to cook the steaks, add 1 to 2 teaspoons oil, if the pan is dry. Add the chard stems, season with salt and cook, stirring occasionally, until starting to soften, 1 to 2 minutes. Stir in the remaining garlic, add the chard leaves and cook until just wilted, 1 to 2 minutes. Season to taste with salt and pepper.
5
Serve
Transfer the steaks, sweet potatoes, and chard to individual plates. Garnish the steaks with the chimichurri and serve.
---
Nutrition per serving: Calories: 520 Protein: 44g Total Fat: 15g Monounsaturated Fat: 8g Polyunsaturated Fat: 1g Saturated Fat: 3.5g Cholesterol: 100mg Carbohydrates: 54g Fiber: 10g Added Sugar: 0g Sodium: 720mg