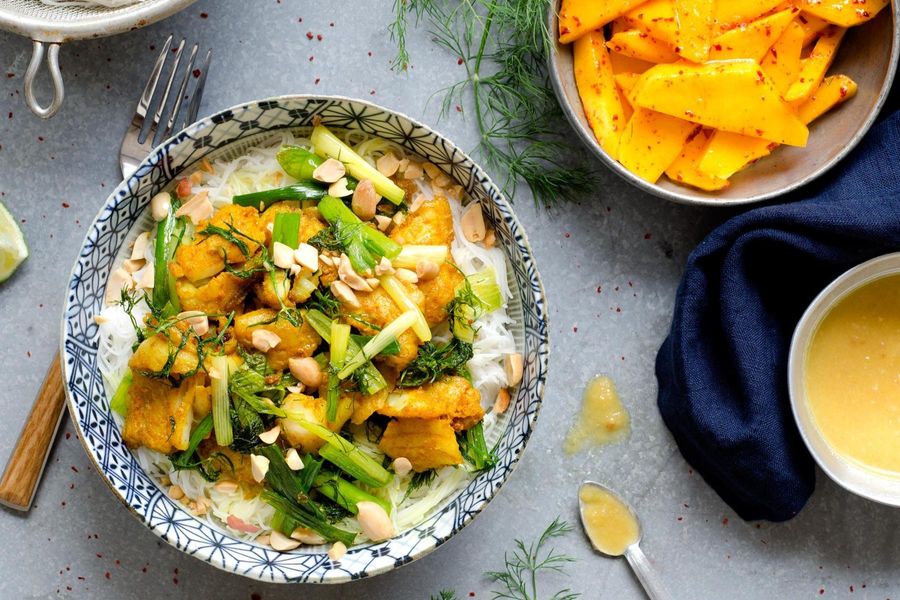 Vietnamese cod with rice noodles and mango salad
Gluten-Free, Dairy-Free, Soy-Free
2 Servings, 740 Calories/Serving
30 Minutes
Chef Justine first tasted this dish, known as cha ca la vong, while traveling in Vietnam. A speciality of Hanoi, the fish is cooked at the table, over a charcoal burner, in a pan of bubbling, turmeric-infused oil. It's served over noodles, with an unforgettable, sweet-salty sauce combining pineapple and anchovies.
In your bag
Two 6-ounce Pacific cod fillets
Marinade base (fish sauce - turmeric)
¼ pound rice noodles
2 scallions
Fresh dill
1 ounce roasted peanuts
1 mango
1 lime
Mango dressing (fish sauce - lime juice - water)
½ teaspoon kimchi chile flakes (optional)
Pineapple-anchovy sauce (pineapple - anchovies - brown sugar - fish sauce - fresh garlic - lime juice)
Nutrition per serving
Instructions
1
Prep the cod
Cut the cod fillets into 1 ½-inch lengths.
In a bowl, combine the marinade base with 2 to 3 tablespoons oil. Set aside 2 tablespoons for the noodles. Add the cod pieces to the bowl and gently stir to coat. Let stand while you prepare the noodles and mango salad.
2
Cook the rice noodles
Bring a pot of salted water to a boil. Add the noodles and cook until tender, 4 to 5 minutes. Drain and rinse with cold water to stop the cooking. Rinse again with very hot tap water to remove excess starch, then rinse a final time with cold water to firm them up. While the noodles cook, start the garnishes.
3
Prep the garnishes; make the salad
Trim the root ends from the scallions; cut the scallions into 1½-inch lengths.
Remove any tough stems from the dill leaves.
Coarsely chop the peanuts.
Peel and pit the mango; cut the flesh into ¼-inch-thick slices.
Zest the lime; juice half and cut the other half into wedges.
In a bowl, combine the mango slices, lime zest and juice, mango dressing, and as much kimchi flakes as you like. Season with salt and pepper and toss to coat.
4
Cook the cod
In a pan over medium-high heat, warm 1 tablespoon oil until hot but not smoking. Add the cod with its marinade and cook until the fish begins to turn opaque, 1 to 2 minutes. Turn the cod, add the scallions to the pan, and cook until the cod is cooked through, 1 to 2 minutes longer. Stir in the dill and remove from the heat.
5
Serve
Transfer the noodles to individual bowls. Spoon the reserved marinade over the noodles and top with the cod, scallions, and dill. Garnish with the peanuts, and serve with the mango salad, lime wedges, and the pineapple-anchovy sauce on the side.
6
Chef's tip
Vietnamese rice noodles are meant to be a little sticky when eaten. Rinsing them alternatively in cold and hot water helps achieve the right texture.
---
Calories: 740, Protein: 39 g, Fiber: 8 g, Total Fat: 27 g, Monounsaturated Fat: 14 g, Polyunsaturated Fat: 7.5 g, Saturated Fat: 3.5 g, Cholesterol: 100 mg, Sodium: 1320 mg, Carbohydrates: 91 g, Added Sugar: 3 g.
Contains: Fish, Peanuts