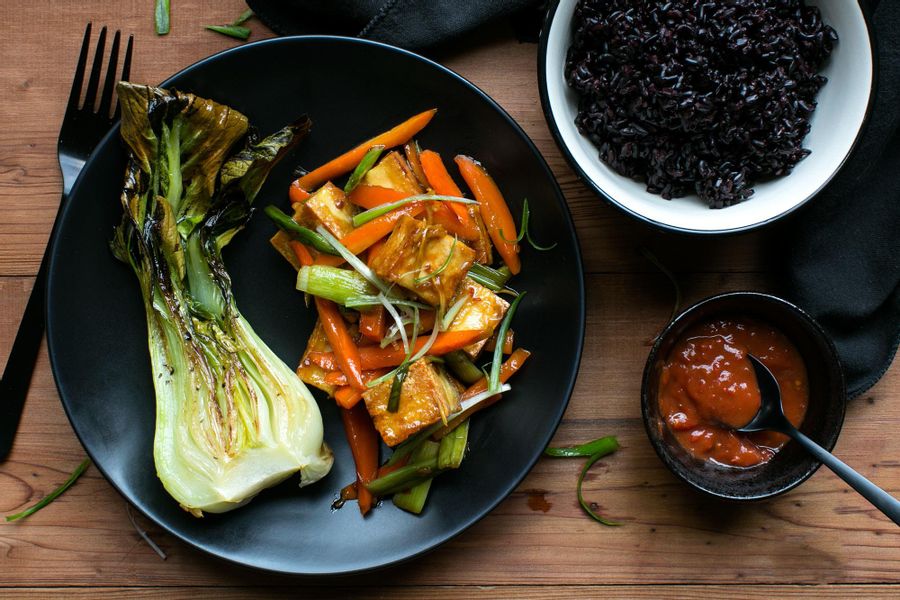 Honey-ginger tofu with roasted bok choy and forbidden rice
Gluten Free
Vegetarian
Dairy Free
Bok choy is commonly associated with stir fries, but it also takes surprisingly well to roasting. The leaves turn crisp, the core becomes tender, and the flavor takes on a delicate sweetness.
Ingredients
¾ cup forbidden rice
1-3 heads baby bok choy
12 ounces Hodo Soy firm tofu
1-inch piece ginger
2 garlic cloves
1 carrot
4 green onions
¼ cup honey-tamari sauce (honey - tamari - rice wine vinegar - mirin - sesame oil)
Sambal chile paste (optional)
Instructions
1
Cook the rice
Heat the oven to 400°F.
In a sauce pot, combine the rice with 1½ cups salted water. Bring to a boil, reduce to a simmer, cover, and cook until the rice is just tender, 25 to 30 minutes. While the rice cooks, roast the bok choy.
2
Roast the bok choy
Rinse and dry the bok choy and cut in half. On a sheet pan, drizzle the bok choy on both sides with oil and season with salt and pepper. Roast in the hot oven until browned and just tender, 12 to 15 minutes.
While the bok choy roasts, prepare the tofu.
3
Prep the stir-fry ingredients
Cut the tofu into 1-inch cubes.
Peel and finely chop the ginger.
Finely chop the garlic.
Thinly slice the carrots.
Thinly slice the green onions.
4
Cook the tofu
In a frying pan over medium-high heat, warm ¼ cup oil until hot but not smoking. Add the tofu and cook, turning occasionally, until browned and slightly crispy, 10 to 12 minutes. Transfer the tofu to a paper-towel-lined plate and pour off all but 1 tablespoon oil.
5
Make the stir-fry
Reduce the heat to medium and add the ginger and garlic. Cook, stirring, until just fragrant, 1 to 2 minutes. Add the carrots, season with salt and pepper, and cook, stirring occasionally, until the carrots have begun to soften and caramelize, 2 to 3 minutes. Return the tofu to the pan. Stir the honey-tamari sauce to make sure all its ingredients are well blended and add it to the pan along with the sambal (if using). Cook until the sauce is syrupy and the tofu and vegetables are well coated, 2 to 3 minutes. Season with salt and pepper. Remove from the heat and fold in the green onions.
6
Serve
Transfer the stir-fry and the bok choy to individual plates. Serve with the rice.
---
Nutrition per serving: Calories 670, Protein: 29 g, Total Fat: 26 g, Monounsaturated Fat: 11.5 g, Polyunsaturated Fat: 11 g, Saturated Fat: 3 g, Cholesterol: 0 mg, Carbohydrates: 87 g, Fiber: 12 g, Added Sugar: 10 g, Sodium: 970 mg