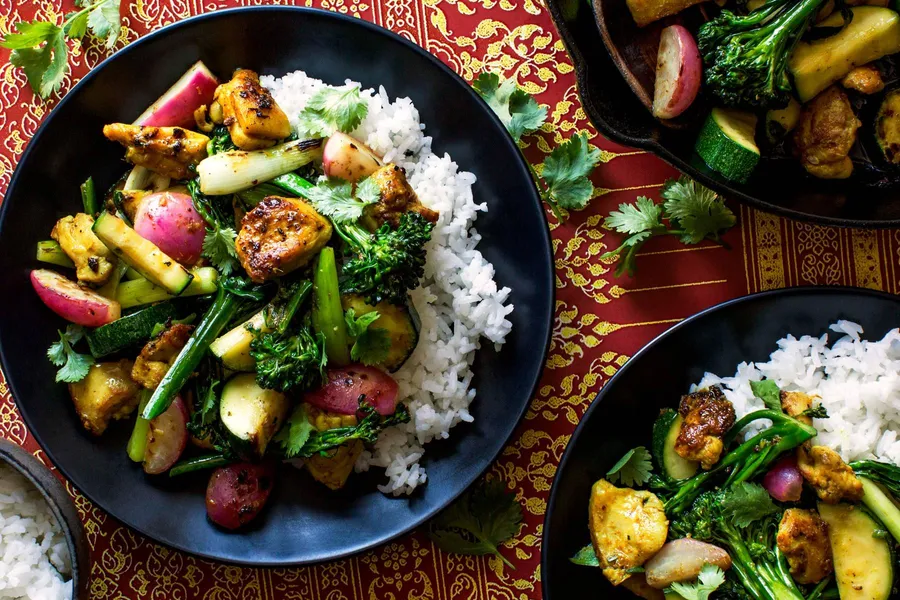 Signature Sauce
Lemongrass chicken stir-fry with baby broccoli and jasmine rice
Gluten-Free, Dairy-Free, Soy-Free
2 Servings, 740 Calories/Serving
30 – 40 Minutes
Our house-made lemongrass paste and stir-fry blend bring potent fragrance and flavor to this easy, gluten-free stir-fry.
Ingredients
¾ cup jasmine rice
10 ounces boneless skinless chicken thigh pieces
Sun Basket lemongrass paste (lemongrass - olive oil - fresh garlic - fresh ginger - turmeric)
2 or 3 red radishes
10 ounces baby broccoli
1 or 2 zucchini (about ¾ pound total)
3 scallions
3 or 4 sprigs fresh cilantro
1 Thai chile (optional)
Stir-fry blend (coconut aminos - fish sauce)
Chef's Tip
To scale back the heat, in Step 3, you can shake out the seeds from the Thai chile after removing the stem (or you can omit the chile altogether).
Nutrition per serving
Instructions
1
Cook the rice
In a fine-mesh strainer, rinse the rice.
In a small sauce pot, combine the rice and 1 cup plus 2 tablespoons water. Bring to a boil, reduce to a simmer, cover, and cook until the rice is tender and the liquid is absorbed, 15 to 20 minutes. Fluff with a fork, cover, and keep warm.
While the rice cooks, prepare the chicken and vegetables.
2
Marinate the chicken
Cut a small corner from the chicken packaging and drain off any excess liquid. Transfer to a plate; pat dry with a paper towel. Season generously with salt and pepper.
In a medium bowl, combine the chicken and lemongrass paste and toss to coat. Let stand while you prepare the vegetables.
3
Prep the vegetables
Trim the ends from the radishes; cut the radishes into quarters.
Trim the root ends from the baby broccoli; cut the broccoli into 2-inch lengths.
Trim the ends from the zucchini; cut the zucchini in half lengthwise, then crosswise into ½-inch-thick half-moons.
Trim the root ends from the scallions; cut the scallions into 2-inch lengths.
Coarsely chop the cilantro for garnish.
If using the Thai chile, remove the stem; finely chop the chile. Wash your hands after handling.
4
Cook the chicken
In a wok or large frying pan over medium-high heat, warm 2 tablespoons oil until hot but not smoking. Add the chicken and cook, stirring occasionally, until browned and cooked through, 6 to 8 minutes. Transfer to a plate. Do not clean the pan.
5
Cook the vegetables
In the same pan used for the chicken, if dry, add 1 to 2 teaspoons oil. Warm over medium-high heat until hot but not smoking. Add the radishes and cook without stirring until lightly browned, 1 to 2 minutes. Add the broccoli and cook, stirring often, until crisp-tender, 2 to 3 minutes. Add the zucchini, scallions, half the stir-fry blend, and as much Thai chile as you like and cook, stirring occasionally, until the zucchini starts to soften, 2 to 3 minutes. Remove from the heat; season to taste with more stir-fry blend, if needed.
6
Serve
Transfer the rice to individual bowls. Top with the vegetables and then the chicken. Garnish with the cilantro and serve.
---
Protein: 41g (82% DV), Fiber: 6g (24% DV), Total Fat: 32g (49% DV), Monounsaturated Fat: 17g, Polyunsaturated Fat: 7g, Saturated Fat: 3.5g (18% DV), Cholesterol: 115mg (38% DV), Sodium: 1060mg (44% DV), Carbohydrates: 72g (24% DV), Total Sugars: 9g, Added Sugars: 0g (0% DV).
Contains: Fish, Tree Nuts