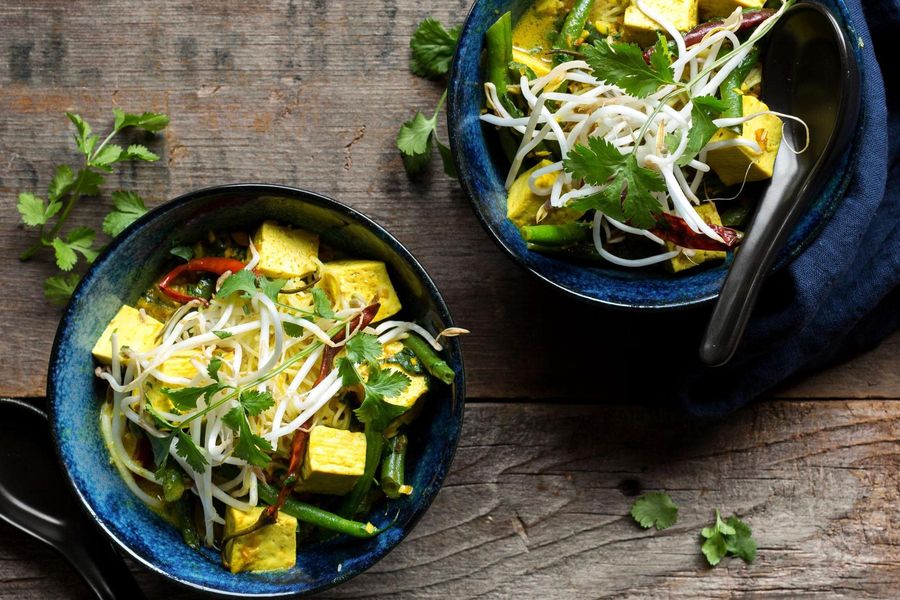 Gluten-Free, Vegetarian, Dairy-Free
2 Servings, 720 Calories/Serving
20 Minutes
In Malaysia, laksa is an iconic street food sold from hawker carts. The name refers both to the soup and to the cilantro-like herb used to season it. Here, Chef Justine uses tofu for protein and seasons the broth with a curried lemongrass paste. Don't be afraid of the five red chiles called for here—because they're left whole, their effect is very mild.
In your bag
¼ pound rice noodles
¼ pound green beans
¾ pound Hodo Soy firm tofu
Laksa leaf
Fresh cilantro
Sun Basket lemongrass paste (lemongrass - fresh garlic - fresh ginger - turmeric - ground coriander - curry powder - olive oil - salt)
4 chiles de arbol (optional)
1 cup coconut milk
1 tablespoon brown sugar
1½ ounces mung bean sprouts
1 lime
Nutrition per serving
Instructions
1
Cook the rice noodles
Bring a medium sauce pot of water to a boil. Add the rice noodles and cook until tender, 5 to 6 minutes. Drain the noodles well and set aside.
While the noodles cook and drain, prepare the remaining ingredients.
2
Prep the remaining ingredients
Trim the stem ends from the green beans; cut the beans into 1-inch pieces.
Rinse the tofu and drain on a paper-towel-lined plate; cut the tofu into 1-inch cubes.
Strip the laksa leaf from the stem; coarsely chop the leaf.
Coarsely chop the cilantro; divide the cilantro into 2 equal portions, one for the sauce and one for the garnish.
3
Make the lemongrass sauce; cook the beans and tofu
In a large frying pan or wok over medium heat, warm 1 tablespoon oil until hot but not smoking. Stir in the lemongrass paste and cook until fragrant, 1 to 2 minutes. Add the green beans and as many dried chiles as you like. Season with salt and cook, stirring occasionally, until the beans are heated through, 2 to 3 minutes.
Add the tofu, coconut milk, brown sugar, and 1 cup water and bring to a boil. Reduce to a simmer and cook, stirring occasionally, until the beans are just tender and the tofu is heated through, 6 to 7 minutes. Remove from the heat and stir in the laksa and half the cilantro; season to taste with salt.
While the sauce, beans and tofu cook, prepare the remaining garnishes.
4
Prep the remaining garnishes
Rinse the mung bean sprouts.
Cut the lime into wedges.
5
Serve
Transfer the noodles to individual bowls and top with the tofu mixture and lemongrass sauce. Garnish with the bean sprouts and the reserved cilantro. Serve with the lime wedges.

Chef's Tip While pasta water is almost always salted in Italian cooking, in many Asian cultures, the water is never salted for noodles or rice. Instead, the seasonings come from the sauces and condiments that accompany them.
---
Calories: 720, Protein: 23 g, Total Fat: 38 g, Monounsaturated Fat: 18 g, Polyunsaturated Fat: 8.5 g, Saturated Fat: 11 g, Cholesterol: 0 mg, Carbohydrates: 72 g, Fiber: 7 g, Added Sugar (Brown Sugar): 6 g, Sodium: 700 mg

Contains: soy