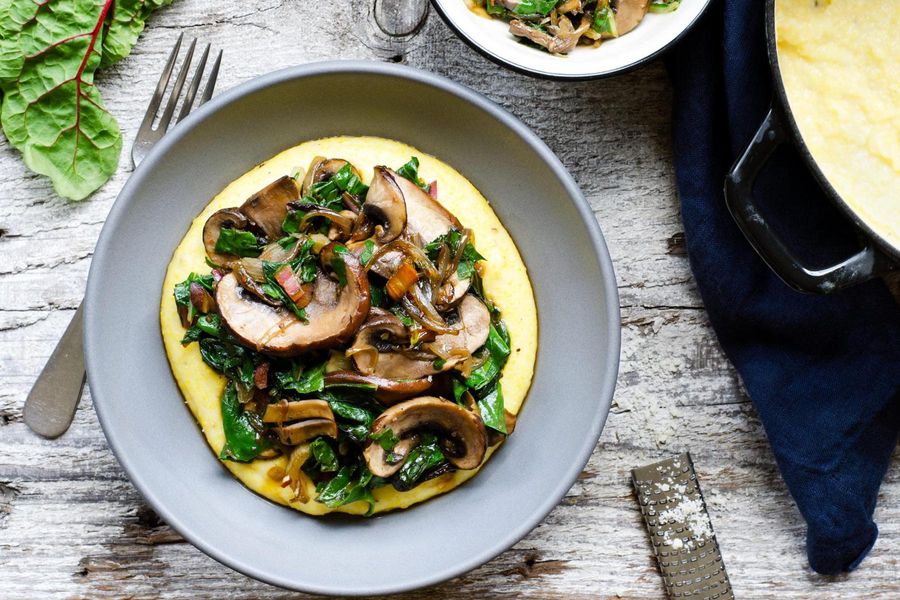 Polenta with mascarpone, chard, and portobello mushrooms
Vegetarian, Gluten-Free, Soy-Free
2 Servings, 510 Calories/Serving
35 Minutes
Polenta is just a fancy name for cornmeal mush, one of the most delicious and comforting foods around. It's also full of fiber. Meaty portobellos are loaded with B vitamins; antioxidant-rich chard, plus an indulgent finish of mascarpone, all place this dish at the perfect intersection of nutrition and flavor.
In your bag
½ cup polenta
¼ cup grated Parmesan
2 tablespoons mascarpone
1 to 2 shallots
½ pound Swiss chard
1 to 2 garlic cloves
½ pound portobello mushrooms
½ teaspoon Aleppo chile (optional)
1 teaspoon sherry vinegar
Nutrition per serving
Instructions
1
Cook the polenta
In a pot over high heat, bring 2½ cups salted water to a boil. Add the polenta in a thin stream, whisking. Reduce to a simmer, cover, and simmer, whisking occasionally, until the polenta is tender and the mixture is thick and creamy, 22 to 25 minutes. Remove from the heat, stir in the Parmesan and mascarpone, and season to taste with salt and pepper. While the polenta cooks, prepare the vegetables.
2
Prep the vegetables
Peel and chop the shallot.
Strip the chard leaves from the stems; coarsely chop the leaves and thinly slice the stems, keeping them separate.
Finely chop the garlic.
Remove stems from the portobellos; cut the caps into ¼-inch-thick slices.
3
Cook the vegetables
In a frying pan over medium-high heat, warm 2 to 3 tablespoons oil until hot but not smoking. Add the shallot, chard stems, garlic, and as much Aleppo pepper as you like. Season with salt and cook, stirring occasionally, until just softened, 3 to 4 minutes.
Add the portobellos, season with salt, and cook, stirring occasionally, until the mushrooms are soft and the shallot mixture is lightly caramelized, 5 to 6 minutes.
Stir in the chard leaves and ¼ cup of water and cook until the leaves are just wilted and most of the liquid has evaporated, 3 to 4 minutes. Remove from the heat and stir in the sherry vinegar. Season to taste with more salt and pepper, if needed.
4
Serve
Transfer the polenta to individual shallow bowls. Top with the warm vegetables and serve.
---
Calories: 510, Protein: 16 g, Fiber: 6 g, Total Fat: 30 g, Monounsaturated Fat: 11 g, Polyunsaturated Fat: 1.5 g, Saturated Fat: 10 g, Cholesterol: 40 mg, Sodium: 1100 mg, Carbohydrates: 46 g, Added Sugar: 0 g.
Contains: Milk