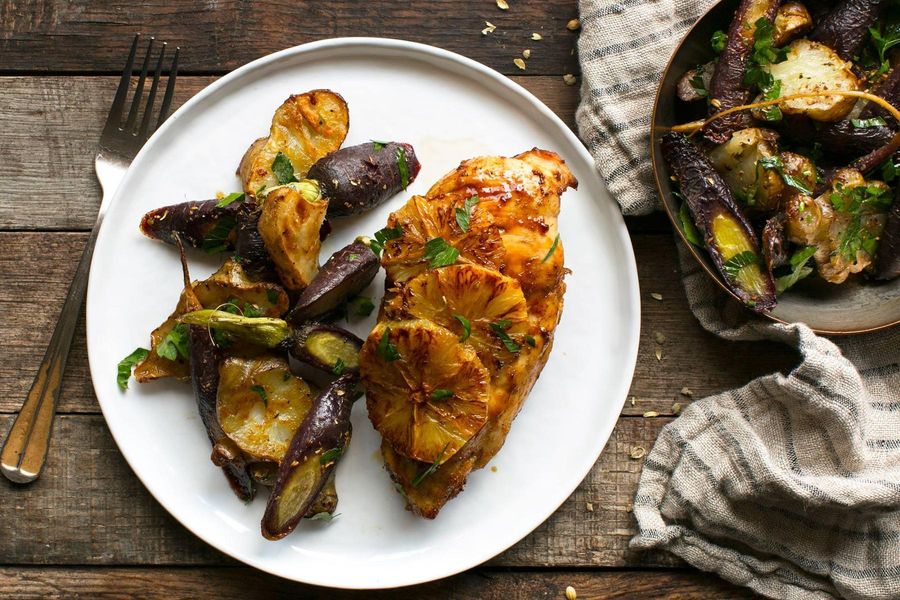 Roast chicken with caramelized orange and roasted winter vegetables
Paleo, Gluten-Free, Dairy-Free, Soy-Free
2 Servings, 600 Calories/Serving
35 Minutes
A sweet-and-sour glaze of maple syrup, allspice and apple cider vinegar adds a boost of flavor to the orange in this festive winter dish. While roasting the chicken and vegetables at the same time is what make this a quick recipe with minimal cleanup, the chicken should cook faster than the vegetables, so be sure to remove it first from the oven.
In your bag
2 oranges
¼ cup glaze base (maple syrup - apple cider vinegar - allspice)
2-3 rainbow carrots
1-2 sunchokes
2 chicken breasts
Fresh flat-leaf parsley
teaspoons whole coriander seeds
Nutrition per serving
Instructions
1
Cook the glaze
Heat the oven to 425°F.
Zest and juice 1 orange over a small bowl.
Combine the zest and juice of the orange with the glaze base. Warm a frying pan over medium heat until hot but not smoking. Add the glaze ingredients and cook until reduced by half and thickened in consistency, 5 to 7 minutes. Set aside.
2
Prep the vegetables and the remaining orange
Wash and scrub the carrots and sunchokes and cut both into ½-inch rounds. Toss the vegetables in 2 tablespoon oil and season with salt and pepper.
Peel the remaining orange and slice into ½-inch rounds. Toss the rounds in 2 tablespoons of the reduced glaze and set aside.
3
Cook the chicken and vegetables
Rub both sides of the chicken with the remaining glaze and season with salt and pepper.
Spread the sunchokes and carrots in an even layer on one side of a sheet pan. Place the chicken on the other side. Transfer the pan to the hot oven and cook until the vegetables are tender, the glaze has caramelized, and the chicken is cooked through — 10 to 12 minutes for the chicken and 15 to 17 minutes for the vegetables. Rotate the pan halfway through to ensure even cooking, and check the chicken for doneness after 10 minutes.
While the chicken and vegetables cook, toast the coriander and the orange rounds.
4
Toast the coriander seeds and fry the orange rounds
In a clean frying pan over medium heat, toast the coriander until golden and fragrant, 5 to 7 minutes. Transfer the coriander to a work surface and crush with the back of a wooden spoon or spatula.
In the same pan over medium-high heat, warm 1 tablespoon oil until hot but not smoking. Gently add the orange rounds. Cook the rounds until slightly charred and caramelized, about 1 minute each side. Toss with the toasted coriander seeds and parsley.
5
Finish the dish and serve
Transfer the chicken to individual plates. Top each chicken breast with half the orange rounds and serve the vegetables on the side.
---
Calories: 600, Protein: 40 g, Fiber: 10 g, Total Fat: 16 g, Monounsaturated Fat: 10.5 g, Polyunsaturated Fat: 2.0 g, Saturated Fat: 3 g, Cholesterol: 95 mg, Sodium: 660 mg, Carbohydrates: 76 g, Added Sugar: 18 g.