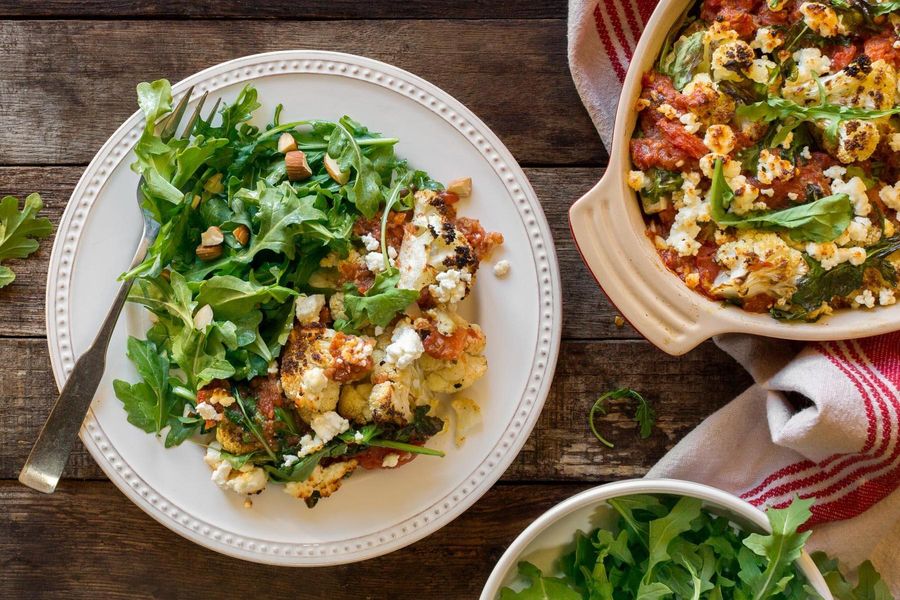 Cauliflower and goat cheese gratin with arugula-almond salad
Gluten-Free, Vegetarian, Soy-Free
2 Servings, 660 Calories/Serving
40 – 50 Minutes
Cauliflower becomes an almost entirely different vegetable when it's seared in a hot pan or roasted. At the risk of offending ordinary steamed cauliflower, we prefer it with its edges browned and caramelized; the interior tastes somehow more buttery. Those crisp edges are the key to this flavorful gratin. Be sure to let the finished dish rest before serving so that the flavors can meld.
Ingredients
1 pound cauliflower
1 to 2 shallots
Peeled fresh garlic
Fresh thyme
Gratin spice blend (cinnamon - coriander)
1 cup diced tomatoes
1 pasture-raised organic egg
3 ounces baby arugula
2½ ounces goat cheese
1 ounce roasted almonds
2 teaspoons balsamic vinegar
Nutrition per serving
Instructions
1
Prep the cauliflower
Heat the oven to 450°F.
Cut the cauliflower into florets.
On a sheet pan, drizzle the cauliflower with 1 to 2 tablespoons oil and season with salt and pepper. Spread in an even layer. Roast until browned, 18 to 20 minutes. Transfer the cauliflower to a large bowl; do not turn off the oven. While the cauliflower roasts, prepare the tomato base for the gratin.
2
Cook the tomatoes
Peel and chop the shallot.
Finely chop enough garlic to measure 1½ teaspoons.
Strip the thyme leaves from the stems; coarsely chop the leaves.
In a large frying pan over medium heat, warm 2 tablespoons butter or oil until hot but not smoking. Add the shallot, garlic, thyme, and gratin spice blend. Cook, stirring occasionally, until the shallots are just tender, 3 to 4 minutes. Stir in the tomatoes and simmer until most of the liquid is evaporated, 4 to 5 minutes. Remove from the heat and season to taste with salt and pepper. While the tomatoes cook, start assembling the gratin.
3
Assemble the gratin
Lightly butter or oil the baking dish.
In a small bowl, beat the egg and season with salt.
Coarsely chop one-fourth of the arugula.
To the bowl with the cauliflower, add the cooked tomato mixture, beaten egg, chopped arugula, and two-thirds of the goat cheese. Stir to blend. Scrape the mixture into the prepared baking dish. Crumble the remaining goat cheese on top. Cook in the hot oven until hot and bubbling, 12 to 15 minutes. Remove from the oven and let rest for at least 5 minutes before serving. While the gratin rests, prepare the salad.
4
Make the salad
Coarsely chop the almonds.
In a large bowl, whisk the balsamic vinegar with 2 tablespoons oil. Add the almonds and remaining arugula and toss to coat. Season to taste with salt and pepper, if needed.
5
Serve
Spoon the gratin onto individual plates and serve with the salad on the side.
---
Calories: 660, Protein: 22 g, Fiber: 9 g, Total Fat: 51 g, Monounsaturated Fat: 31.5 g, Polyunsaturated Fat: 5.5 g, Saturated Fat: 13 g, Cholesterol: 110 mg, Sodium: 800 mg, Carbohydrates: 33 g, Added Sugar: 1 g.
Contains: Milk, Eggs, Tree Nuts