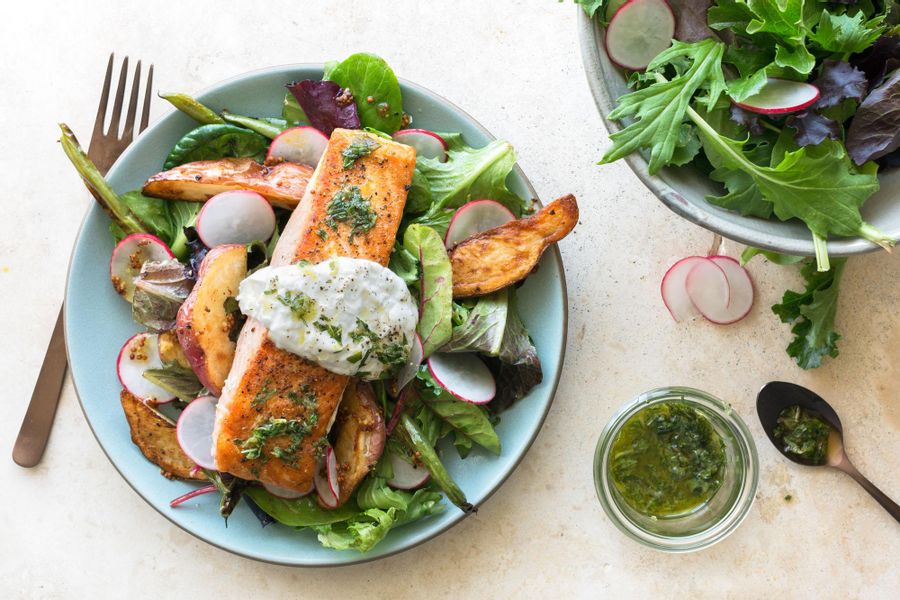 Salmon with roasted new potatoes and green beans
New potatoes are freshly harvested and, unlike their fully grown counterparts, they keep their shape when cooked. They're also sweeter because their sugars haven't yet converted into starch, which makes them great for salads like this one.
Ingredients
10 ounces new potatoes
5 ounces green beans
2 to 3 red radishes
Fresh mint
1 lemon
Sherry vinaigrette (sherry vinegar - whole-grain mustard)
Two 6-ounce wild Alaskan salmon fillets
2 ounces mixed baby greens
¼ cup Greek yogurt
Instructions
1
Prep the vegetables
Heat the oven to 450ºF.
Scrub the potatoes and cut into quarters.
Trim the stem ends of the green beans.
Trim the ends of the radishes and cut into thin slices.
Finely chop the mint leaves.
Zest the lemon and juice half.
2
Roast the potatoes and green beans
In a mixing bowl, toss the potatoes with 1 tablespoon oil and season with salt and pepper. Spread on a sheet pan and roast for 10 minutes. Add the green beans to the sheet pan, toss with the potatoes and cook until the vegetables are lightly browned and tender, 18 to 20 minutes total. Transfer to a plate to cool slightly. While the vegetables cook, make the vinaigrette, lemon-mint sauce, and cook the salmon.
3
Make the vinaigrette and the sauce
In a bowl, combine the sherry vinaigrette and two tablespoons oil. Season with salt and pepper to taste.
In a second bowl, combine the mint, lemon zest, 1 tablespoon lemon juice, and 1 tablespoon oil. Season to taste with salt and pepper. Stir until well combined.
4
Cook the salmon
Pat the salmon dry and season with salt and pepper.
In a pan over medium heat, warm 1 to 2 tablespoons oil until hot but not smoking. Add the salmon and cook until opaque, 4 to 5 minutes per side, depending on the thickness of the fish. While the salmon cooks, make the salad.
5
Assemble the salad
In a bowl, combine the cooked green beans and potatoes, mixed baby greens, and radishes with as much of the vinaigrette as you like. Toss to coat and season to taste with salt and pepper.
6
Serve
Transfer the salad to individual plates. Top with the salmon, garnish with the lemon-mint sauce and yogurt and serve.
---
Nutrition per serving: Calories: 580 Protein: 43g Total Fat: 28g Monounsaturated Fat: 12g Polyunsaturated Fat: 4g Saturated Fat: 4.5g Cholesterol: 105mg Carbohydrates: 41g Fiber: 7g Added Sugar: 1g Sodium: 560mg