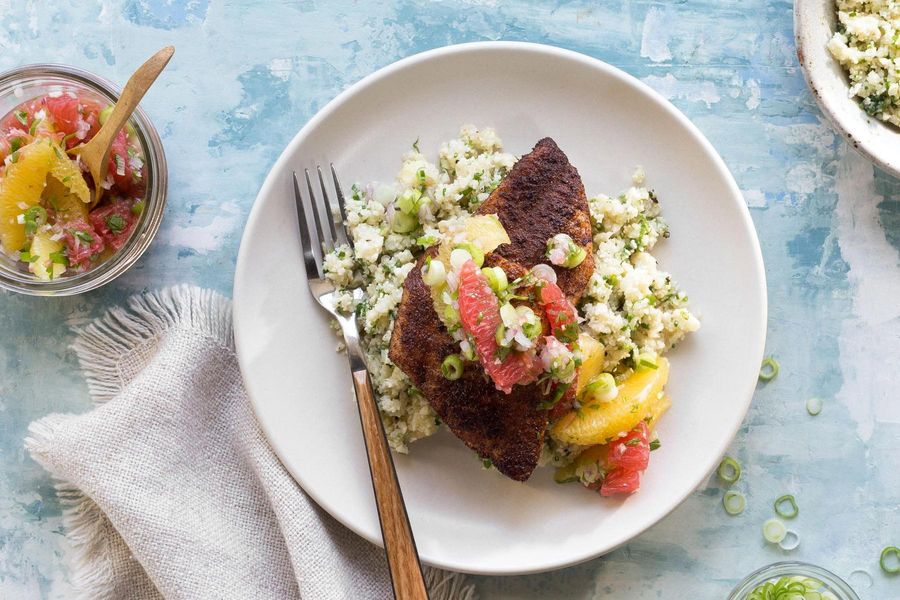 Our Nutritionist's Favorite
Spicy blackened sole with citrus pico de gallo and herbed cauliflower "rice"
Paleo, Gluten-Free, Dairy-Free, Soy-Free, Spicy
2 Servings, 540 Calories/Serving
30 – 40 Minutes
Blackened fish might sound like a classic from a hundred years ago, but it was invented by the brilliant Cajun chef Paul Prudhomme in the 1980s, when he dredged and pan-fried catfish fillets in a potent mix of cayenne and paprika. Here, Sun Basket R&D chef Paul Conte gives the dish a delicious Mexican spin, swapping in earthy ancho and pasilla negro chiles for the Cajun blackening spices. Our staff nutritionist, Kaley Todd, loves it because the blend adds so much flavor without any added sodium.
Ingredients
1 grapefruit
2 scallions
1 satsuma mandarin
1 to 2 shallots
Peeled fresh garlic
Fresh cilantro
Fresh chives
¾ pound cauliflower "rice"
Two 5-ounce sole fillets
Blackening spice blend (ancho chile powder - pasilla negro chile powder - sweet smoked paprika - granulated garlic - cumin)
Nutrition per serving
Instructions
1
Make the pico de gallo
Using your hands or a sharp knife, peel the grapefruit; working over a medium bowl, cut between the membranes to release the segments into the bowl. Squeeze the membranes to release any juice. Discard any seeds.
Trim the root ends from the scallions; thinly slice the scallions. Add 1 tablespoon to the bowl with the grapefruit. Set aside the rest for the cauliflower "rice."
Peel the mandarin and separate the fruit into segments.
Peel and finely chop the shallot.
Finely chop, press, or grate enough garlic to measure ½ teaspoon.
Coarsely chop the cilantro.
To the bowl with the grapefruit and scallions, add the mandarin, shallot, garlic, and cilantro. Drizzle with 1 tablespoon oil and stir well to combine. Season to taste with salt and pepper.
2
Cook the herbed cauliflower "rice"
In a medium sauce pot over medium heat, warm 1½ tablespoon oil until hot but not smoking. Add the remaining scallions and cook, stirring occasionally, until beginning to soften, 2 to 3 minutes. Add the cauliflower "rice," season with salt and pepper, and cook, stirring occasionally, until the cauliflower starts to soften, 5 to 7 minutes. Remove from the heat and stir in the chives and 1 tablespoon oil.
While the cauliflower "rice" cooks, prepare the sole.
3
Prep and cook the blackened sole
Pat the sole dry with a paper towel; season generously with salt and pepper and sprinkle with all of the blackening spice blend, coating the fillets well.
In a large frying pan over medium-high heat, warm 1 to 2 tablespoons oil until hot but not smoking. Add the sole, reduce the heat to medium-low, and cook until the sole is cooked through, 2 to 3 minutes per side.
4
Serve
Transfer the cauliflower "rice" to individual plates. Top with the sole, spoon the citrus pico de gallo over the fish, and serve.
---
Calories 540, Protein: 22 g, Fiber: 9 g, Total Fat: 35 g, Monounsaturated Fat: 25 g, Polyunsaturated Fat: 3.5 g, Saturated Fat: 5 g, Cholesterol: 55 mg, Sodium: 700, Carbohydrates: 42 g, Added Sugar: 0 g.
Contains: Fish