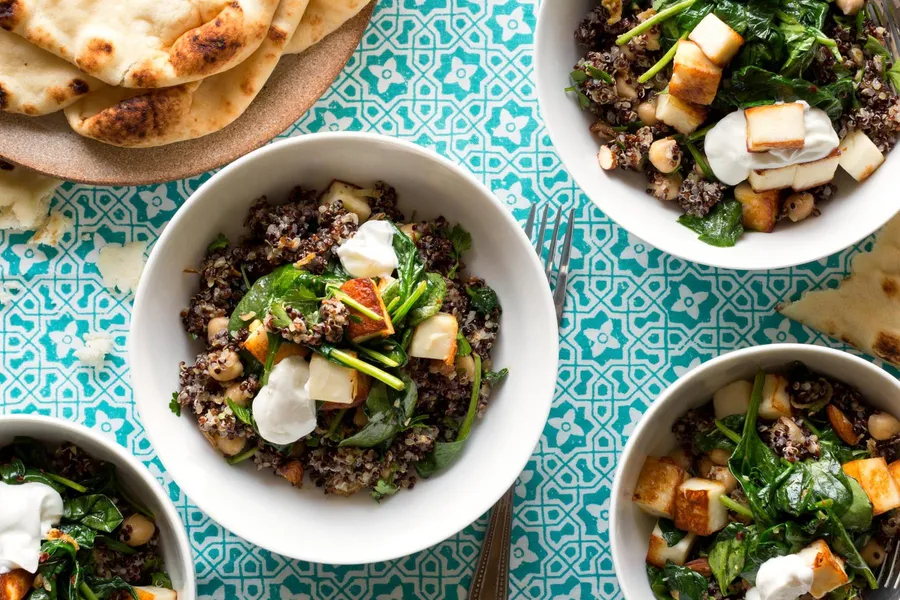 Spinach paneer with quinoa and naan
Vegetarian
4 Servings, 710 Calories/Serving
30 – 40 Minutes
This classic Indian comfort food is rich in protein; first it's studded with paneer, an Indian cow's milk cheese, that's piled onto steamed quinoa stirred with chickpeas. For a creamy finish, Chef Justine dollops the paneer with Greek yogurt before serving.
In your bag
1 cup rainbow quinoa
2 naan
7 ounces paneer
Peeled fresh garlic
Fresh ginger
1 lemon
½ teaspoon Marash chile flakes (optional)
½ pound baby spinach
1 cup cooked chickpeas
Fresh flat-leaf parsley
2 tablespoons roasted almonds
¼ cup fried shallots (contain soy)
½ cup Greek yogurt
Nutrition per serving
Instructions
1
Cook the quinoa
Heat the oven to 350ºF.
In a fine-mesh strainer, rinse the quinoa.
In a medium sauce pot, combine the quinoa and 2 cups lightly salted water. Bring to a boil, reduce to a simmer, cover, and cook until the quinoa is tender and the water is absorbed, 15 to 20 minutes. Fluff with a fork, cover, and keep warm.
While the quinoa cooks, prepare the naan.
2
Toast the naan
On a sheet pan, lay the naan side by side and heat in the oven until warm, 8 to 10 minutes. Transfer to a cutting board and cut or tear the naan in half or into smaller pieces, if desired.
While the naan toasts, make the spinach paneer.
3
Brown the paneer; cook the spinach
Cut the paneer into ½-inch cubes.
Finely chop, press, or grate enough garlic to measure 1 tablespoon.
Grate or peel and finely chop the ginger.
Juice the lemon; set aside half for the quinoa.
In a large frying pan over high heat, warm 1 tablespoon oil until hot but not smoking. Add the paneer, reduce the heat to medium, and cook, turning once, until golden brown, 2 to 3 minutes per side. Transfer to a plate.
In the same pan, warm 2 to 3 teaspoons oil over medium heat until hot but not smoking. Stir in the garlic, ginger, and as much Marash chile as you like and cook until fragrant, about 1 minute. Stir in the spinach and half the lemon juice and cook until the spinach wilts, about 1 minute. Remove from the heat, gently stir in the paneer, and season to taste with salt and pepper.
4
Finish the quinoa
Rinse the chickpeas.
Strip the parsley leaves from the stems; coarsely tear the leaves.
Coarsely chop the almonds; set aside for garnish.
In a medium bowl, combine the quinoa, chickpeas, parsley, fried shallots, remaining lemon juice, and 1 to 2 tablespoons oil and toss to coat. Season to taste with salt and pepper.
5
Serve
Transfer the quinoa to individual bowls and top with the spinach paneer. Garnish with the yogurt and almonds and serve the naan on the side.
Kids can!
Rinse the quinoa and chickpeas.
Juice the lemon.
Strip the parsley leaves from the stems.
Dress the quinoa.
Serve the meal.
---
Calories: 710, Protein: 30 g, Fiber: 8 g, Total Fat: 34 g, Monounsaturated Fat: 10.5 g, Polyunsaturated Fat: 4 g, Saturated Fat: 12 g, Cholesterol: 55 mg, Sodium: 580 mg, Carbohydrates: 71 g, Added Sugar: 0 g.
Contains: Milk, Tree Nuts, Wheat, Soybeans