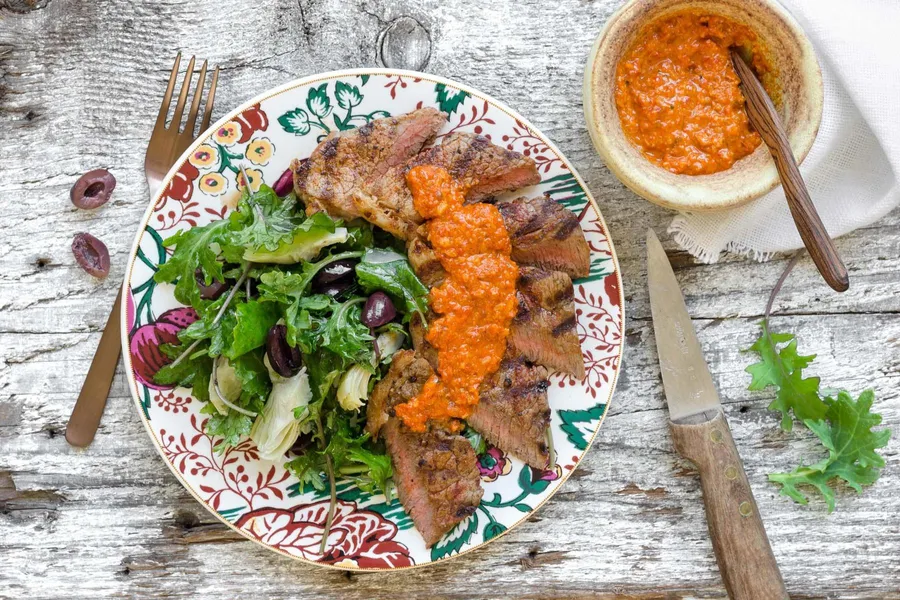 Steak with romesco sauce and kale salad
Paleo, Gluten-Free, Dairy-Free
2 Servings, 560 Calories/Serving
10 Minutes
Romesco, a sauce of roasted peppers thickened with almonds and seasoned with paprika and vinegar, has its roots in Catalonia, Spain. It's got enough heft to stand up to a beef-y grilled steak and a hearty kale salad, but the truth is that's it's good on almost everything.
In your bag
2 boneless sirloin steaks
Steak seasoning
3 ounces baby kale
3 ounces marinated artichokes
1½ ounces kalamata olives
1 tablespoon balsamic vinegar
1/4 cup romesco sauce
Nutrition per serving
Instructions
1
Cook the steak
Season the meat with the steak seasoning mix and salt and pepper. In a 12-inch cast iron skillet or grill pan over medium high heat, warm 1 tablespoon oil until hot but not smoking. Cook the steaks in the hot pan until well seared and still pink inside, about 5 minutes on each side. While the steak cooks, prepare the salad.
2
Make the kale salad
In a large mixing bowl, combine the kale with the artichokes and olives. In a small bowl, mix the balsamic vinegar with 1 tablespoon oil and season with salt and pepper. Add this dressing to the bowl with the kale salad and toss until all the ingredients are well coated.
3
Serve
Let the steaks rest for 5 minutes before slicing against the grain. Serve with the kale salad and the romesco sauce.