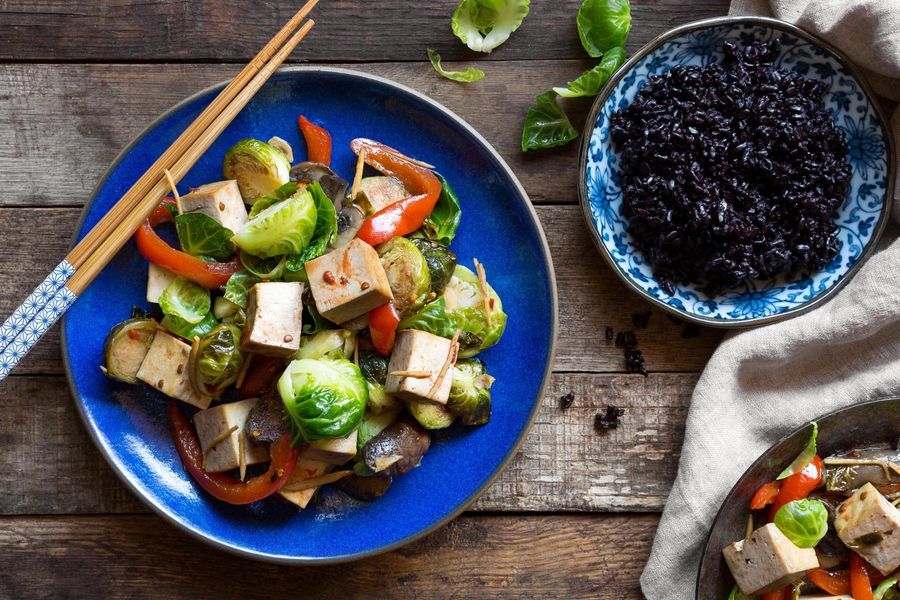 Tofu stir-fry with Brussels sprouts, cremini mushrooms, and black rice
Gluten-Free, Vegetarian, Dairy-Free
2 Servings, 680 Calories/Serving
30 – 40 Minutes
If you've never stir-fried Brussels sprouts before, you're in for a treat. The compact heads hold their shape against the heat, while their layers of leaves collect the flavors of the ginger, garlic, and our custom stir-fry sauce.
In your bag
¾ cup Lotus Foods Forbidden black rice
10 ounces Brussels sprouts
2½ ounces cremini mushrooms
1 red bell pepper
¾ pound Hodo Soy firm tofu
Fresh ginger
Peeled fresh garlic
Sun Basket stir-fry sauce (mirin - gluten-free tamari - rice vinegar - sesame oil)
1 teaspoon sambal oelek (optional)
Nutrition per serving
Instructions
1
Make the rice
In a strainer, rinse the black rice.
In a medium pot, combine the rice with 1½ cups salted water. Bring to a boil, reduce to a simmer, and cook until the rice is tender and the liquid is absorbed, 25 to 30 minutes. While the rice cooks, make the stir-fry.
2
Prep the stir-fry ingredients
Trim the root ends from the Brussels sprouts; cut the Brussels sprouts in half, and any large halves into quarters.
Trim the ends from the mushroom stems; cut the mushrooms into ¼-inch-thick slices.
Remove the stem, ribs, and seeds from the bell pepper; cut the pepper into thin strips.
Cut the tofu into 1-inch cubes.
3
Cook the Brussels sprouts
In a wok or large pan over medium heat, warm 1 to 2 tablespoons oil until hot but not smoking. Add the Brussels sprouts, season with salt and pepper, and cook, stirring occasionally, until browned and just beginning to soften, 8 to 10 minutes.
While the Brussels sprouts cook, prepare the ginger and garlic.
4
Prep the ginger and garlic; finish the stir-fry
Peel and very thinly slice the ginger. Cut the slices into very thin strips.
Thinly slice enough garlic to measure 1 teaspoon.
To the pan with the Brussels sprouts, if dry, add 2 to 3 teaspoons more oil and warm over medium-high heat. Stir in the mushrooms, bell pepper, ginger, and garlic and cook, stirring occasionally, until the vegetables begin to soften, 4 to 6 minutes. Add the tofu, stir-fry sauce, and ½ cup water and simmer vigorously until the sauce has reduced by half, 5 to 7 minutes. Stir in as much sambal oelek as you like.
5
Serve
Transfer the stir-fry to individual plates and serve with the rice.
6
Chef's tip
If you don't feel like chopping, in Step 4, use a fine-toothed grater to grate the garlic and ginger instead. You don't even need to peel the ginger before grating it; the fine teeth of the grater will separate the flesh from the coarse peel all on its own.
---
Calories: 680, Protein: 31 g, Total Fat: 22 g, Monounsaturated Fat: 12.5 g, Polyunsaturated Fat: 11.5 g, Saturated Fat: 3.5 g, Cholesterol: 0 mg, Carbohydrates: 82 g, Fiber: 13 g, Added Sugar (Mirin): 1 g, Sodium: 660 mg

Contains: soy