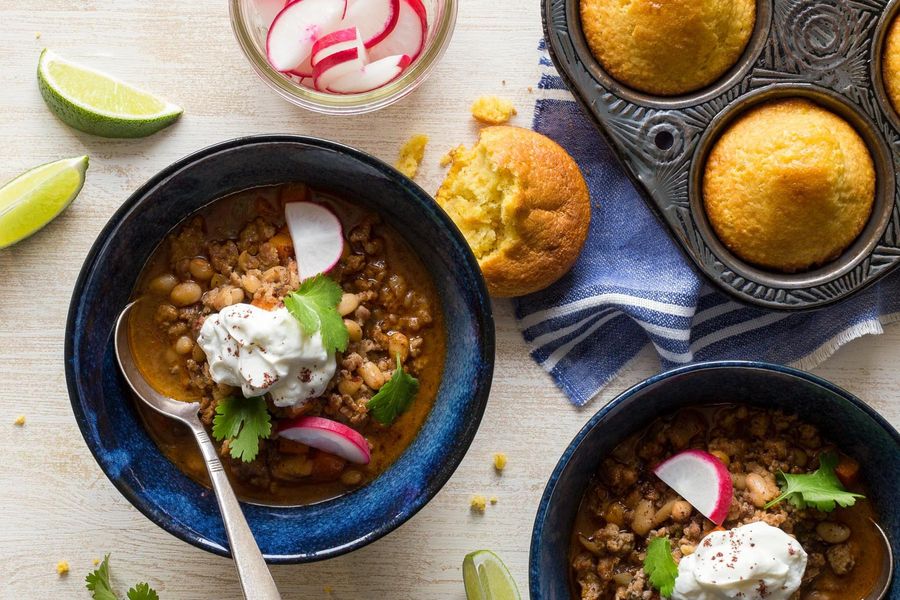 Turkey and white bean chili with cornbread
Soy-Free
2 Servings, 470 Calories/Serving
2 Minutes
Creamy white beans and dark meat ground turkey bring lean protein and rich flavor to this easy one-pot chili. Our housemade mix gets you fresh-from-the-oven cornbread in little more than the 15 or so minutes it takes to bake. Any chili or cornbread leftovers are wonderful for tomorrow's lunch. Note that the cornbread requires only a quarter of the box of milk; save the rest for another use.
In your bag
1 cup milk
1 pasture-raised organic egg
Cornbread mix (all-purpose flour - cornmeal - sugar - baking powder - salt)
10 ounces ground turkey
¾ cup cooked white beans
½ cup mirepoix (onions - carrots - celery)
1 tablespoon tomato paste
Chili spice blend (chili powder - coriander - cumin - granulated garlic)
1 cup chicken broth
2 or 3 red radishes
Fresh cilantro
1 lime
¼ cup Greek yogurt
½ teaspoon sumac
Nutrition per serving
Instructions
1
Make the cornbread
Heat the oven to 400ºF.
Lightly grease 4 wells of a muffin pan or a small baking dish with butter or neutral oil.
Measure out ¼ cup milk; save the rest for another use.
In a medium bowl, using a whisk or fork, mix together the egg, ¼ cup milk, and 1½ tablespoons neutral oil. Add the cornbread mix and stir until just combined. Pour the cornbread batter into the greased muffin pan (fill 4 wells about three-fourths full) or baking dish. Bake until golden brown and a toothpick or knife inserted into the center comes out clean, 12 to 15 minutes. Let cool in the pan for 10 minutes; if you used a baking dish, cut the cornbread into squares.
While the cornbread bakes and cools, prepare the chili.
2
Cook the chili
Cut a small corner from the ground turkey packaging and drain off any excess liquid. Transfer to a plate; pat dry with a paper towel.
Rinse the white beans.
In a large sauce pot over medium-high heat, warm 2 tablespoons olive oil until hot but not smoking. Add the turkey, season with salt and pepper, and cook, stirring to break up the meat, until lightly browned but not yet cooked through, 2 to 4 minutes. Add the mirepoix, tomato paste, and chili spice blend, season with salt and pepper, and cook until fragrant, 1 to 2 minutes.
Add the chicken broth, white beans, and ¼ cup water and bring to a boil. Reduce to a simmer and cook, stirring occasionally, until the chili thickens, 8 to 10 minutes. Season to taste with salt and pepper.
While the chili simmers, prepare the garnishes.
3
Prep the garnishes
Trim the ends from the radishes. Cut the radishes in half, then cut the halves into thin half-moons.
Coarsely chop the cilantro.
Cut the lime into wedges.
4
Serve
Transfer the chili to individual bowls; garnish with the yogurt, radishes, cilantro, and sumac. Serve with the lime wedges and cornbread.
---
Calories: 470, Protein: 25 g, Total Fat: 25 g, Monounsaturated Fat: 14 g, Polyunsaturated Fat: 5 g, Saturated Fat: 4 g, Cholesterol: 115 mg, Carbohydrates: 40 g, Fiber: 6 g, Added Sugar (Cornbread mix; Chicken broth contains trace amounts of organic cane sugar): 8 g, Sodium: 530 mg
Contains: milk, wheat, eggs