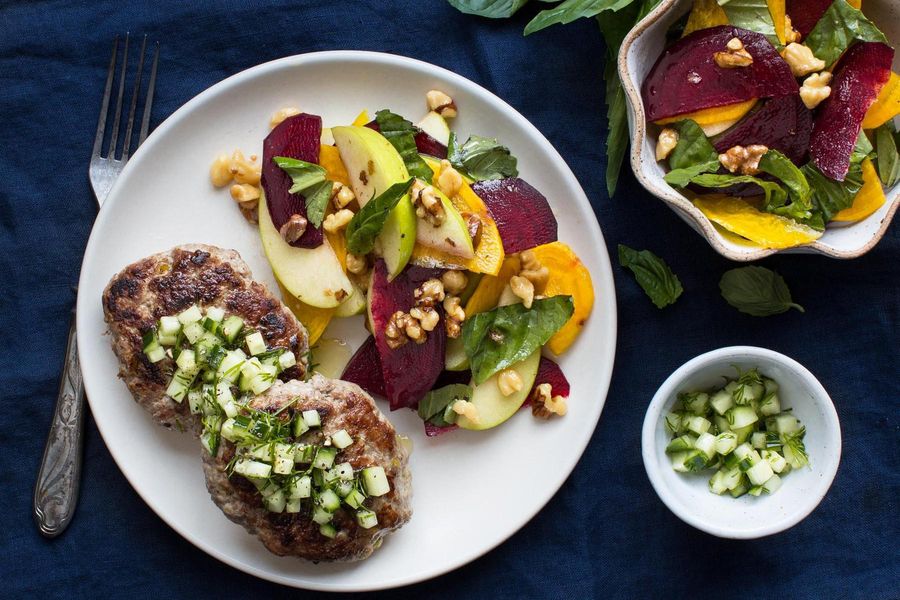 Turkey-apple patties with beet-apple salad and walnut vinaigrette
Paleo, Gluten-Free, Dairy-Free, Soy-Free
2 Servings, 610 Calories/Serving
25 – 35 Minutes
Green apples are one of our favorite ingredients to cook with, for their tartness, juiciness, and crisp texture (they're one of the best apples for pies). Here, they do double duty: grated, they add moisture and sweetness to the spiced patties. Sliced, they add crunch and acidity to the beet salad. Rinsing the beets and patting them dry before chopping them should help keep the salad (and your cutting board) from turning completely purple.
Ingredients
2 green apples
10 ounces ground turkey
Turkey spice blend (ground sage - ground ginger - allspice - dried thyme - black pepper - salt)
¼ pound Persian cucumber
1 lemon
Fresh dill
1/2 pound roasted peeled Love Beets
1 ounce walnuts
Fresh basil
2 teaspoons sherry vinegar
Nutrition per serving
Instructions
1
Prep the apple for the turkey patties
Cut 1 apple into quarters; cut out the core. Coarsely grate the apple, including the skin.
Transfer the grated apple to a strainer; with the back of a spoon, press out as much of the liquid as possible. Alternatively, squeeze the apple in a kitchen towel.
2
Assemble the patties
Drain the ground turkey on a paper-towel-lined plate.
In a medium bowl, combine the ground turkey with the grated apple and the turkey spice blend. Mix until well combined. Using damp hands, shape the mixture into 4 patties about 1 inch thick.
3
Cook the patties
In a large pan over medium heat, warm 1 tablespoon oil until hot but not smoking. Add the patties and cook until well browned and cooked through, 4 to 6 minutes per side.
While the pan heats and the patties cook, prepare the cucumber salsa.
4
Make the cucumber salsa
Trim the ends from the cucumber; cut the cucumber in half, the halves into ¼-inch-thick strips, then the strips into ¼-inch cubes.
Juice the lemon.
Coarsely chop the dill.
In a small bowl, combine the cucumber, dill, 2 to 3 teaspoons lemon juice, and 2 to 3 teaspoons oil. Season to taste with salt and pepper.
5
Make the beet-apple salad
Rinse the beets and pat dry with a paper towel; cut them in half, then thinly slice the halves.
Cut the remaining apple in half and cut out the core; thinly slice the fruit.
Coarsely chop the walnuts.
Strip the basil leaves from the stems; coarsely chop the leaves.
In a medium bowl, combine the sherry vinegar with 1 tablespoon oil. Add the beets, walnuts, apple, and basil, and toss to coat. Season to taste with salt and pepper.
6
Serve
Transfer the turkey patties to individual plates. Top the patties with the cucumber salsa, and serve with the beet-apple salad alongside.
---
Calories: 610, Protein: 34 g, Fiber: 10 g, Total Fat: 35 g, Monounsaturated Fat: 15 g, Polyunsaturated Fat: 11.5 g, Saturated Fat: 6 g, Cholesterol: 100 mg, Sodium: 860 mg, Carbohydrates: 45 g, Added Sugar: 0 g.
Contains: Tree Nuts