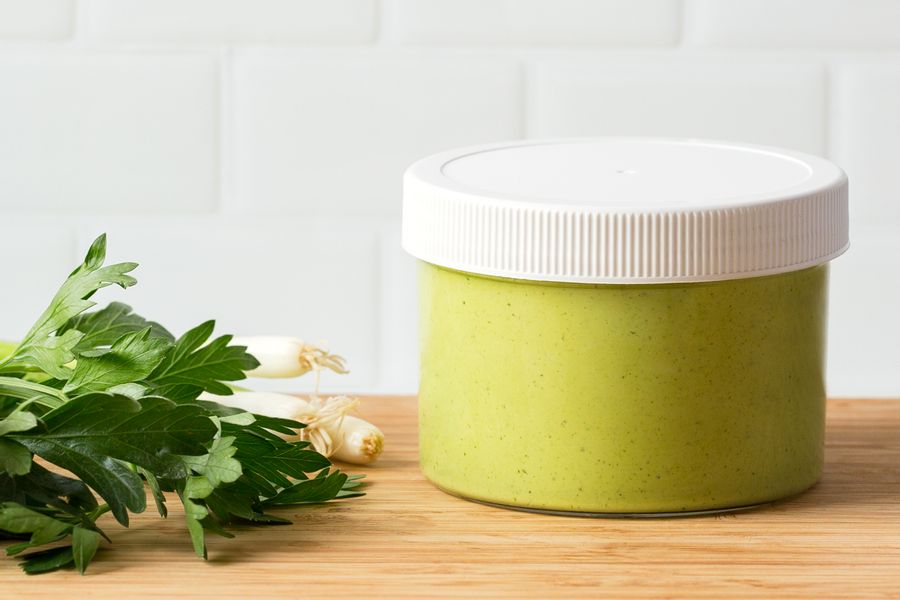 Signature Sauce
Sun Basket Green Goddess Dressing
Gluten-Free, Dairy-Free, Soy-Free, Paleo
8 Servings, 120 Calories/Serving
We give a new paleo twist to old-school green goddess dressing thanks to Primal Kitchen's paleo mayo, made with avocado oil and organic eggs.
Ingredients
Paleo mayo
Fresh flat-leaf parsley
Apple cider vinegar
Scallions
Anchovy (packed in olive oil and drained)
Fresh garlic
Kosher salt
Suggested Uses
Green goddess roasted chicken breasts
Season boneless skinless chicken breasts with salt and pepper. Using 2 tablespoons green goddess dressing for each chicken breast, coat all over with the dressing. Roast in a 400°F oven until the meat is opaque and cooked through, 15 to 18 minutes. Transfer to a cutting board to rest for 5 minutes, then thickly slice crosswise. Serve with any remaining dressing on the side.
Green goddess deviled eggs
Using 1 tablespoon green goddess dressing for each hard-cooked egg, peel and halve up to 16 eggs for 8 ounces (1 cup) dressing. Working over a bowl, carefully scoop out the yolks. Add the green goddess dressing to the yolks; using the fork or the back of a spoon, mash the yolk mixture until smooth. Season to taste with salt and pepper. Using a spoon or a piping bag, fill each egg white half with about 1½ teaspoons egg yolk mixture. Arrange on a platter, garnish with sweet paprika or finely chopped fresh chives, and serve.
Try it as a dip or sauce for the following:
Raw vegetable sticks
Steamed vegetables
Poached salmon
Pan-seared steak
Roast pork