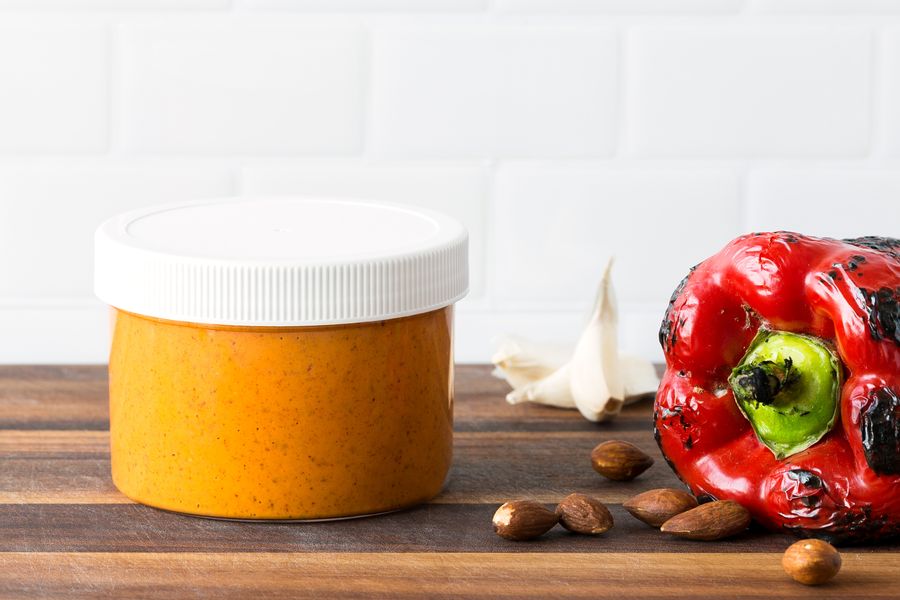 Signature Sauce
Sun Basket Romesco
Gluten-Free, Dairy-Free, Soy-Free, Paleo, Vegan
8 Servings, 140 Calories/Serving
Perfect drizzled over grilled vegetables, fish, or steak, our romesco sauce is made with roasted red peppers, garlic, sweet smoked paprika, and almonds.
Ingredients
Roasted red peppers
Roasted almonds
Extra virgin olive oil
Sherry vinegar
Fresh garlic
Sweet smoked paprika
Kosher salt
Suggested Uses
Romesco potato salad
Using ¼ cup romesco per 3 boiled small whole new potatoes per person (about ½ pound total), toss the romesco with the warm potatoes, season to taste with salt and pepper, and serve.
Romesco deviled eggs
Using 1 tablespoon romesco for each hard-cooked egg, peel and halve up to 8 hard-cooked eggs for 4 ounces sauce (½ cup) and up to 16 hard-cooked eggs for 8 ounces (1 cup). Working over a bowl, carefully scoop out the yolks. Add the romesco and stir until smooth. Season to taste with salt and pepper. Using a spoon or a piping bag, fill each egg white half with about 2 teaspoons egg yolk mixture. Arrange on a platter and serve.
Also try it as a dip or sauce with the following:
Grilled vegetables
Seafood
Chicken
Pork
A BLT sandwich
Bruschette