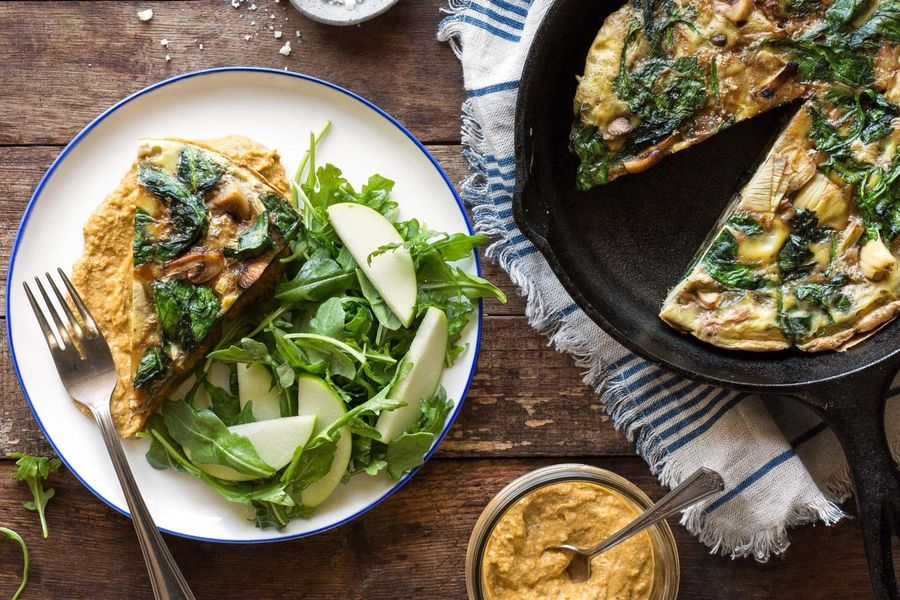 20-Minute Meal
Breakfast for dinner: artichoke-mushroom frittata
Paleo, Gluten-Free, Vegetarian, Soy-Free, Dairy-Free
2 Servings, 720 Calories/Serving
20 Minutes
This lush frittata cooks in 20 minutes (or less) because we've taken care of most of the work for you, from the cooked artichoke hearts to our customer favorite, our briny artichoke romesco. A fast apple and arugula salad balances the richness. If you have any leftovers, the frittata is great for breakfast or lunch the next day.
In your bag
3 ounces white button mushrooms
6 pasture-raised organic eggs
3 ounces quartered cooked artichoke hearts
¼ pound baby spinach
1 Granny Smith apple
1 lemon
2 ounces baby arugula
Sun Basket artichoke romesco (artichoke hearts - roasted almonds - sherry vinegar - olive oil - arugula - fresh garlic - sweet smoked paprika - salt)
Nutrition per serving
Instructions
1
Prep the frittata ingredients
Cut the mushrooms into quarters.
Crack the eggs into a medium bowl, season with salt and pepper, and lightly beat with a whisk or fork until blended.
2
Cook the frittata
In a medium frying pan over medium-high heat, warm 2 tablespoons oil until hot but not smoking. Add the mushrooms and artichokes and cook, stirring once or twice, until just starting to brown, 2 to 3 minutes. Stir in the spinach and cook until wilted, 1 to 2 minutes. Spread the ingredients in the pan in a single layer. Pour in the eggs, reduce the heat to medium, cover, and cook until the eggs have set, 3 to 5 minutes. Remove from the heat and let cool for 5 minutes.
While the frittata cooks and cools, prepare the salad.
3
Make the apple-arugula salad
Cut the apple into quarters and remove the core; cut the apple into ¼-inch cubes.
Working over a medium bowl, zest and juice the lemon.
To the bowl with the lemon zest and juice, add 1 to 2 tablespoons oil, season with salt and pepper, and stir well. Add the apple and arugula and toss to coat. Season to taste with salt and pepper.
4
Serve
Spoon the artichoke romesco onto individual plates. Cut the frittata into wedges, place the wedges on top of the romesco, and serve with the salad on the side.

Chef's Tip To avoid wilting, toss the arugula with the lemon juice right before serving. If you have a nonstick frying pan, this frittata is an ideal opportunity to put it to use.
---
Calories 720, Protein: 26 g, Fiber: 10 g, Total Fat: 56 g, Monounsaturated Fat: 37 g, Polyunsaturated Fat: 7.5 g, Saturated Fat: 10 g, Cholesterol: 490 mg, Sodium: 1560 mg, Carbohydrates: 29 g, Added Sugar: 0 g.
Contains: Eggs, Tree Nuts