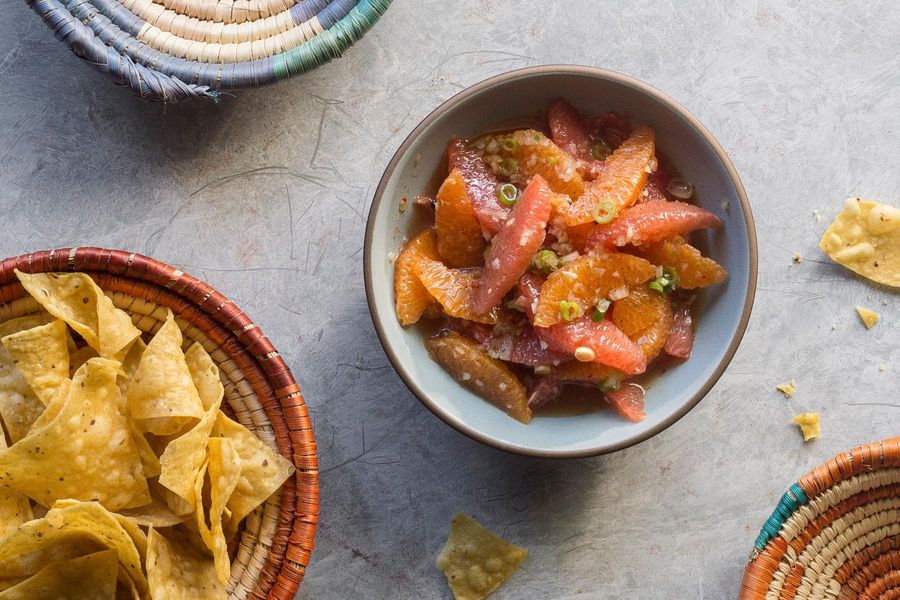 Grapefruit-orange pico de gallo
Vegetarian, Gluten-Free
12 - 13 Servings, 30 Calories/Serving
10 – 15 Minutes
In her brilliant book, Oaxaca de Gusto, Mexican food authority Diana Kennedy shares a recipe for a delicious and unusual grapefruit salsa. Its simplicity and fresh, bold flavors struck us immediately as a Sun Basket-worthy recipe. Cara cara oranges are a favorite around here, so we added one to the mix. The result is incredibly versatile. We love it on fish, spooned into tacos, and poured over crunchy fresh greens for an easy salad to serve beside a pork chop or tofu steak.
In your bag
1 grapefruit
1 Cara Cara orange
1 small shallot
1 scallion
1 peeled clove garlic
¼ to ½ teaspoon chipotle chile powder-  optional1/8 teaspoon Pasilla negro chile powder - optional
Olive oil
Kosher salt
Nutrition per serving
Instructions
1
Prep the citrus
Using a knife, and working over a bowl, cut away the peel from the grapefruit and orange, then cut between the membranes to release the segments into the bowl. Discard any seeds. Squeeze the membranes to release any juice.
Peel and finely chop the shallot.
Trim the root end from the scallion; thinly slice the white and light green parts of the scallion.
Finely chop the garlic.
2
Serve
Serve at once or cover and refrigerate for up to 3 to 4 days.
---
Calories: 30, Protein: 0 g, Fiber: 1 g, Total Fat: 1 g, Monounsaturated Fat: 1 g, Polyunsaturated Fat: 0 g, Saturated Fat: 0 g, Cholesterol: 0 mg, Sodium: 40 mg, Carbohydrates: 4 g, Added Sugar: 0 g.