Our Apple Cider Soda is Fall's New Favorite Drink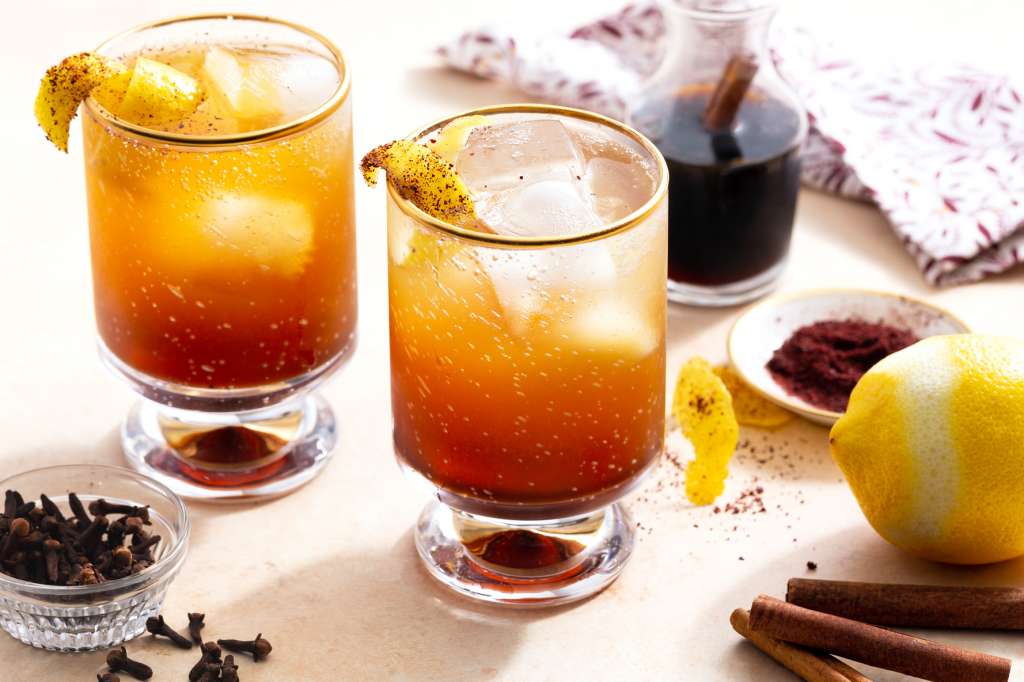 This refreshing soda tastes like the first crisp, cool day of autumn captured in a glass. For the best flavor, be sure to use unpasteurized apple cider, not apple juice. Instead of refined sugar, we sweeten it with sucanat (the name is an initialism of sugarcane natural), dried sugar cane juice that has a molasses-like flavor. Apple cider vinegar balances out the sweetness with a bracing, acidic kick. It's best enjoyed icy cold after a long walk in the woods. 
Apple Cider Soda Recipe
Serves 4
Shopping list
1 teaspoon sumac
½ cup sucanat
3 whole cloves
1 cinnamon stick
½ cup water
1 organic lemon
4 cups ice
4 cups cold-pressed organic apple cider
1 cup plain sparkling water 
6 teaspoons apple cider vinegar
Tools
Peeler, fine-mesh strainer, small bowl, small sauce pot
1. Make the simple syrup
Divide the sumac into two equal portions; use half for the syrup and half for the garnish.
To a small sauce pot add the sucanat, half the sumac, cloves, cinnamon stick, and water. Over medium-high heat, bring to a boil, then remove from the heat and let cool to room temperature. Strain the syrup into a heatproof measuring cup. Discard the solids.   
2. Prep the lemon garnish
Using a peeler, remove six ½-inch wide by 2-inch long strips of the zest from the lemon, being careful to remove only the outermost yellow layer, leaving behind the bitter white pith.  
In a small bowl, combine the lemon peel and the remaining sumac and toss to coat.
3. Serve
Fill 4 tall glasses with ice. Add 1 cup apple cider to ¼ cup sparkling water. Stir in 1 tablespoon simple syrup and 1½ teaspoons apple cider vinegar to each glass, garnish with the lemon peel, and serve. Store the remaining simple syrup in an airtight container for up to 1 week. 
Bonus recipe—ingredients not included in box.  
Nutrition per serving: Calories: 100, Protein: 0g (0% DV), Fiber: 1g (4% DV), Total Fat: 0g (0% DV), Monounsaturated Fat: 0g, Polyunsaturated Fat: 0g, Saturated Fat: 0g (0% DV), Cholesterol: 0mg (0% DV), Sodium: 35mg (1% DV), Carbohydrates: 24g (8% DV), Total Sugars: 22g, Added Sugars (sucanat): 21g (42% DV). Not a significant source of trans fat.