Turmeric Pickled Eggs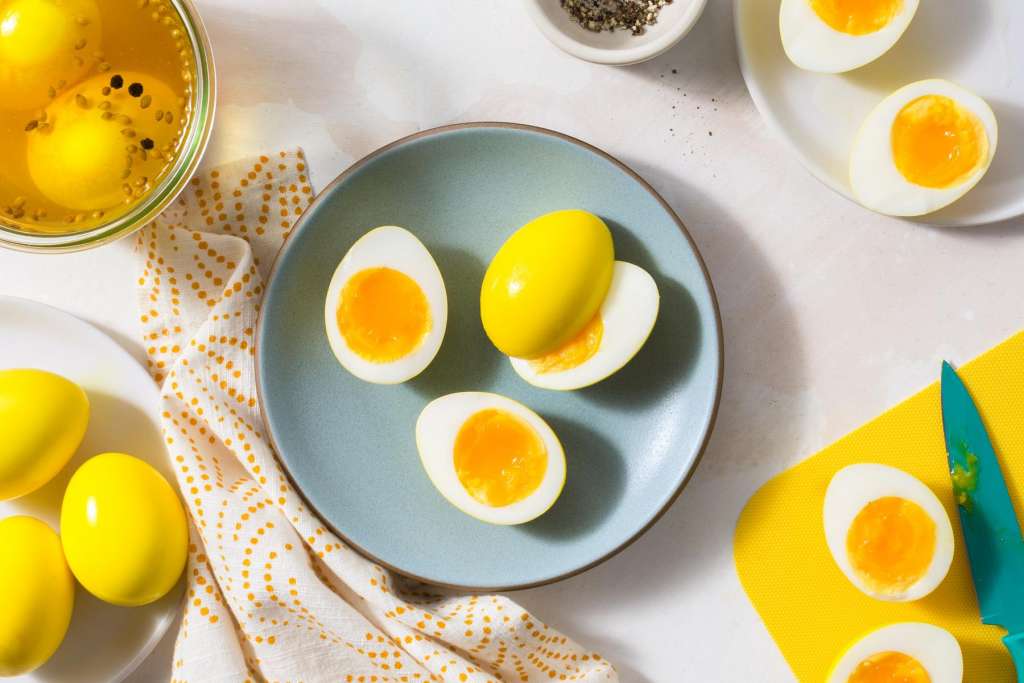 Who needs a goose when you can make your own golden eggs? We added turmeric to a simple pickle brine to make these brilliantly-colored eggs with a vinegary bite. They make a great snack all on their own, but we recommend using them however you use hard-cooked eggs; in egg salad, on a sandwich, with a grain bowl. They also make out-of-this-world deviled eggs, particularly when you stir a little garam masala into the mashed yolks. 
Turmeric Pickled Eggs Recipe
Serves 6
Shopping List
1⅓ cups distilled white or apple cider vinegar
½ cup water
2 tablespoons coconut sugar
1 teaspoon kosher salt
2 teaspoons yellow mustard seeds 
2 teaspoons coriander seeds 
2 teaspoons ground turmeric or 1 tablespoon grated fresh turmeric 
1 tablespoon black peppercorns
6 eggs
Tools
Small bowl, small sauce pot, medium sauce pot, resealable 1-quart jar
1 Make the brine
In a small sauce pot, combine the vinegar, water, coconut sugar, and salt. Bring to a boil, stirring to dissolve the sugar and salt. Remove from the heat and stir in the mustard seeds, coriander seeds, turmeric, and peppercorns. Let cool to room temperature, while you cook the eggs.
2 Cook the eggs
Bring a medium sauce pot of water to a boil and fill a small bowl with ice water. Carefully lower the eggs into the boiling water and cook for exactly 8 minutes for semi-firm eggs (for hard-cooked eggs, cook for 2 to 4 minutes longer). Transfer the eggs to the ice water to cool. Carefully peel the eggs.
3 Pickle the eggs
Put the peeled eggs in a clean, resealable 1-quart jar. Cover with the cooled brine, close the jar, and refrigerate for at least 2 hours or up to 3 days before serving. 
4 Serve 
Remove the pickled eggs from the brine and serve. See our headnote for some egg-cellent serving suggestions. 
Nutrition per serving: Calories: 70, Protein: 5g (10% DV), Fiber: 0g (0% DV), Total Fat: 3.5g (5% DV), Monounsaturated Fat: 1.5g, Polyunsaturated Fat: 0.5g, Saturated Fat: 1g (5% DV), Cholesterol: 155mg (52% DV), Sodium: 95mg (4% DV), Carbohydrates: 1g (0% DV), Total Sugars: 1g, Added Sugars: 1g (2% DV). Not a significant source of trans fat.
Bonus recipe—ingredients not included in box.