Jamaican Sorrel Punch Recipe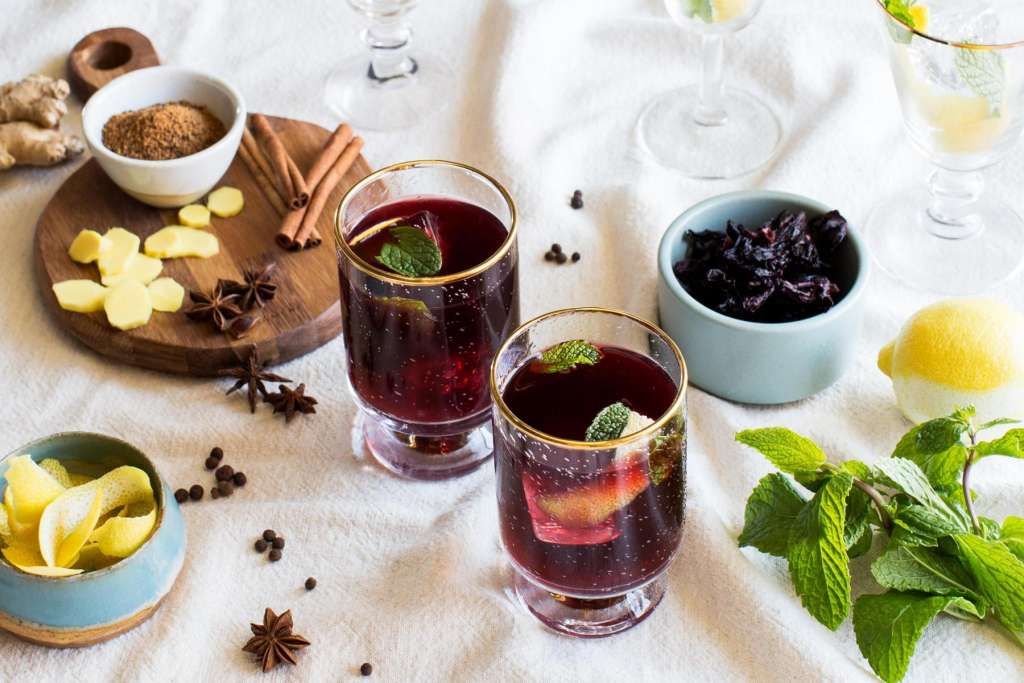 Christmas in Jamacia means that sorrel punch is on the table. Made with antioxidant-rich dried sorrel flowers (aka hibiscus), it's got a bright red color and a warm, spicy flavor thanks to the fresh ginger and the combination of star anise, cinnamon, and allspice. Cold brewing makes the flavor softer and less astringent than it would be if you steeped the flowers in hot water. Consider pouring it into a clean wine bottle and giving it as a gift, or serve it in a big bowl at your holiday party. If you like to plan ahead, make the punch up to 3 days before the festivities. 
Jamaican Sorrel Punch 
Serves 6 to 8
Shopping list
2-inch piece fresh ginger
2 cups dried sorrel (hibiscus) flowers (about 3 ounces)
2 whole star anise
2 cinnamon sticks
4 allspice berries
Small bunch fresh mint (3 or 4 sprigs)
1 lemon
⅔ cup organic coconut sugar, plus more to taste
2 cups Jamaican white rum, optional
8 cups cold water
4 cups ice
Tools
Fine-toothed grater, optional, peeler, fine-mesh strainer, large bowl or 3-quart container with a lid, small sauce pot, serving pitcher or small punch bowl
1. Prep the ginger; steep the flowers and spices
Grate or peel and thinly slice the ginger. 
In a large bowl or a 3-quart container with a lid, stir together 8 cups cold water and the ginger, hibiscus flowers, star anise, cinnamon sticks, and allspice. Cover and let steep for at least 2 hours at room temperature or overnight in the refrigerator.
2. Prep the mint and lemon; make the punch 
Strip the mint leaves from the stems. 
Using a peeler, peel the skin from the lemon, taking care not to remove any of the bitter white pith; save the fruit for another use. 
Set a fine-mesh strainer over a pitcher or a small punch bowl. Strain the liquid, pressing on the solids; discard the ginger, flowers, and spices. Add the mint, lemon peel, and as much coconut sugar as you like to the punch and stir until the sugar is dissolved. If using, add the white rum and stir to combine. Add the ice to the punch.
Serve
Ladle the punch into individual glasses and serve. Alternatively, set out the punch bowl and invite everyone to serve themselves.
Nutrition per serving: Calories: 80, Protein: 1g (2% DV), Fiber: 2g (8% DV), Total Fat: 0g (0% DV), Monounsaturated Fat: 0g, Polyunsaturated Fat: 0g, Saturated Fat: 0g (0% DV), Cholesterol: 0mg (0% DV), Sodium: 20mg (1% DV) (does not include pantry salt; for reference, ¼ teaspoon kosher salt added to the recipe averages 240mg per serving, or 10% DV), Carbohydrates: 20g (7% DV), Total Sugars: 8g, Added Sugars (Coconut sugar): 6g (12% DV). Not a significant source of trans fat.
Bonus recipe—ingredients not included in box.