Tirokafteri – Spicy Feta Dip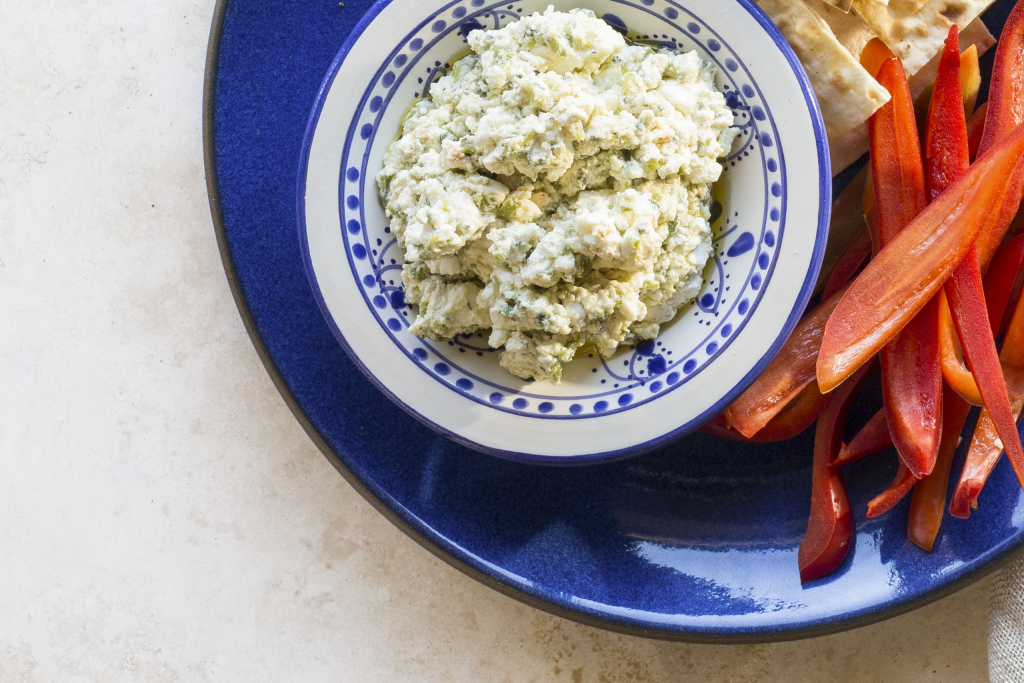 We like to think of this as Greek-style pimiento cheese, with feta standing in for cheddar (tirokafteri literally means "spicy cheese"). We like to turn up the flavor with a roasted a poblano chile and add a pinch of cayenne pepper. If you prefer a milder (and faster) version, swap out the poblano for a jarred sweet roasted red pepper. Serve it as a meze or appetizer with seeded lavash at your next gathering.
Tirokafteri – Spicy Feta Dip Recipe
Makes about 1 cup
Ingredients:
For the cheese spread:
5 ounces feta cheese, preferably Greek 
3 tablespoons Greek yogurt
2 tablespoons olive oil (extra virgin, if you've got it)
1 small poblano chile (approximately 2 ounces)
Kosher salt
1/8 tsp cayenne pepper, optional
For serving:
1 red bell pepper
1 to 2 pieces lavash flatbread
Olive oil, for drizzling, optional
Instructions:

1  Prep the feta; roast the poblano pepper
Light a gas burner or preheat the broiler to high. 
Let the feta come to room temperature.
On the stovetop over the flame, or under the broiler, roast the poblano chile, turning frequently, until charred on all sides. Transfer to a bowl and cover with a plate or plastic wrap; let steam and cool, 10 to 15 minutes. (If using jarred roasted red pepper, move on to prepping the red bell pepper after bringing the feta to room temperature.)
While the poblano cools, prepare the red bell pepper and lavash.
2  Prep the red bell pepper; toast the lavash
Heat the oven to 350°F.
Remove the stem, ribs, and seeds from the red bell pepper; cut the pepper into ¼-inch-thick strips.  
Cut the lavash into 2-inch squares. 
On a sheet pan, spread the lavash squares in an even layer and lightly brush or drizzle them with oil, if desired. Toast in the oven until crisped and golden brown, 10 to 12 minutes. Transfer to a plate. While the lavash toasts, finish the dip.
3  Finish the feta dip
Using a small, sharp knife or your hands, remove the stem, charred skin, and seeds from the poblano. Finely chop the poblano.
In a medium bowl, combine the poblano with the feta, Greek yogurt, and olive oil; stir until blended. Season to taste with salt and as much cayenne as you like.
4  Serve
Transfer the feta mixture to a bowl and serve with the lavash chips and red bell pepper strips alongside. The dip can also be covered and refrigerated for up to 4 days.
Chef's Tip: If you are pressed for time and own a food processor, in step 3, instead of chopping the poblano by hand, process it to a coarse paste, then add the feta, Greek yogurt, and olive oil, and pulse a few times until blended.
 
Nutrition per serving (about 2 Tablespoon of dip): Calories: 70, Protein: 4 g, Total Fat: 6 g, Monounsaturated Fat: 3 g, Polyunsaturated Fat: .5 g, Saturated Fat: 2.5 g, Cholesterol: 5 mg, Carbohydrates: 1 g, Fiber: 0 g, Added Sugar: 0 g, Sodium: 280 mg
Diets: Gluten Free, Vegetarian, Soy Free 
Allergens: milk, wheat